Banks Power Presence at PRI
All the news from this year's Performance Racing Industry Show in Orlando, Florida By Doug Stokes The just-concluded 2009 Performance Read more
The Banks Blue Motor
Replicating one of circle-jet boat racing most successful and most celebrated engines — a 454 cubic inch, twin-turboed, 2,000 horsepower Read more
Engine and More Engines
A number of large crates have been delivered with the latest versions of the most popular light truck diesel engines Read more
FORD POWER STROKE 6.0L Part 3: Cylinder Head Install
This month we install the rebuilt heads using ARP studs and a new gasket set, and reinstall or replace valvetrain Read more
FINDING A BALANCE - THE ART AND SCIENCE OF ENGINE BALANCING
Competent motor builders stack the decks in their favor by using every trick in the book to make their power Read more
New Banks iQ Device Wins Three 2009 SEMA Global Media Awards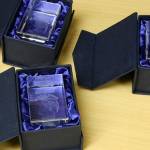 The new Banks iQ wins three SEMA Global Media Awards. Las Vegas, Nevada - - In addition to all the Read more
New Banks iQ Device Wins Three 2009 SEMA Global Media Awards
The new Banks iQ wins three SEMA Global Media Awards. Las Vegas, Nevada - - In addition to all the Read more
Banks ACE Shop Floor Layout Changes
Special Room Is Built For New Diesel Injector Test Bench. Ultra high pressure electronically-controlled fuel injection using a "common rail" Read more
FORD POWER STROKE 6.0L Part 2: Evaluating Injectors and Rebuilding the Cylinder Heads
Part two of the 6.0L Power Stroke re-build project, were we find out what failed and what didn't, and see Read more
TOTAL TOWING CONTROL
Banks SpeedBrake Uses VGT Technology for Improved Stopping Power (on an LMM-powered Chevy 2500HD). Thanks to the diesel aftermarket, many Read more
Banks Power Twin Turbo Power for Las Vegas Trike
Perfect! It's Halloween week and we get to strap the Great Pumpkin (Trike Bike) down on the Banks Engineering "rack" Read more
Designs and Designers
With large numbers of new Banks Power products coming on line annually and a like number of very short-run specialized Read more
Banks iQ is a Breakthrough
The Banks iQ is here and you've never seen anything like it. Click to discover more about the product that Read more
Famed Hot Rodder Sees Opportunity in Clean Diesel Tech
From The New York Times: We sat down with Gale Banks and came away with a genuine hot-rodder's perspective on Read more
The Bosch-Banks Sidewinder Jetta TDI
Bosch asks Banks to take a look at a diesel powered machine as it comes from Volkswagen. They drop a Read more
Ford 6.4L Techni-Cooler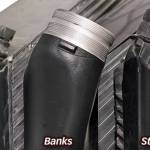 Banks Techni-Cooler is the best aftermarket improvement you can make, especially if you climb steep hills or do heavy-duty towing. Read more
FORD POWER STROKE 6.0L Part 1: What Fails and Why
In this 6.0L Power Stroke re-build project, find out what failed and what didn't, and see the opportunities for upgrades. Read more
It is Alive - Banks Marine Engine in the Dyno Cel
How did the V-8 monster diesel engine spring to life? Here's the inside story. By Kevin Callahan By the time Read more
Diesel Directions
MOTOR PRESS GUILD Luncheon Meeting with Bosch and Banks. Listen to the audio! Photos:  By Pete Lyons and Albert Wong Read more
Adam Carolla Podcast with Gale Banks
Gale Banks Hangs With Funnyman Adam Carolla on his "Carcast" Show and talks about the Banks Sidewinder S-10 drag truck Read more
Adam Carolla Podcast with Gale Banks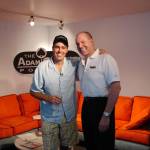 Gale Banks Hangs With Funnyman Adam Carolla on his "Carcast" Show and talks about the Banks Sidewinder S-10 drag truck Read more
Secret Spy Photos of Banks Power Marine Turbo-diesel Revealed
We'll give you the full inside scoop when the crew can stop and take a breath, but there's a really Read more
The Banks Engine Test Cells - State of the Art and Ever-Changing
There are a number of areas located throughout the 11+ acre Banks design and manufacturing facility that are dedicated specifically Read more
Two SpeedBrake reviews
The Banks SpeedBrake is reviewed in Diesel World and in Trailer Life. (on a 2008 Chevy 2500HD then a 2006 Read more
QUICK STOPPING – QUICKER INSTALL
Diesel technology has continued to evolve. Gone are the days of mechanical injection, and now a computer controls the cycles Read more
Slow Down with SpeedBrake
The Sophisticated Engine Brake for Diesels (on an '07 Chevrolet Duramax). By Joe Burnside A COMMONLY OVERLOOKED PERFORMANCE ENHANCEMENT FOR Read more
The Banks Environmental Test Chamber
This unusual-looking unit is an "environmental test chamber," the electronic equivalent of one Banks' engine dynamometers, it's the place where Read more
Banks Dodge High-Ram
  New Banks CNC Ported 3" & 3½" High-Rams Kick Major Ass! WE'VE CREATED A MONSTER! The Banks High-Rams are Read more
Desert Diesel Nationals
The NHRDA's Season Opener in Phoenix saw the Banks Sidewinder S-10 set a record. The National Hot Rod Diesel Association Read more
Stopping Power
How to install the new Banks SpeedBrake (on an '08 Chevy Silverado 2500 HD). DIESEL TRUCKS TYPICALLY ARE USED FOR Read more
Tow Rig Stopping Power
The Banks Brake with CBC-Smartlock makes the job easy (for the '04-07 Dodge Ram). We've been toying with this particular Read more
Gale Banks Joins Racing Legends Signing Pinewood Racer for SEMA Charity Auction
The highly-anticipated second annual SEMA Pinewood Drag Race, presented by eBay Motors, will be held on August 1, 2009, at Read more
Late-Breaking News
Diesel World magazine gives an update on the industry, including the NHRDA event where the Banks S-10 had a 7.77 Read more
Gale Banks Helps Open Pep Boys' First "Speed Shop" – New Division To Feature Full Line Of Banks Power Products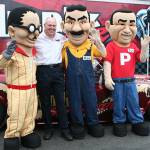 Gale Banks was on hand on Saturday May 30 and Sunday May 31 to help celebrate the grand opening of Read more
Wally Parks NHRA Motorsports Museum
"Banks Power: The First 50 Years" is a very thorough exhibit containing memorabilia from the Banks long career and features Read more
Banks SpeedBrake
New Electronic Device For GM's Duramax Uses The Turbocharger To Slow the Vehicle In recent years the diesel engines used Read more
Warrior In Repose
(From the Archives - 04.12.02) We have told you about some of the exciting projects currently under construction in the Banks race shop, but we have some good skeletons in the closet here at Banks, too. Read more
Mercedes Pro Mod (From the Archives - Circa 2002) Mercedes Benz 500-SL Time Machine Combining the technology of the Stealth Fighter, the class of Mercedes Benz and the engineering prowess of Banks, this project is the ultimate blend of Funny Car and Pro Stock. Years ahead of its time in design and construction, the Benz project has been literally hand-crafted by Banks' own speed demon, Rick "Speed" Lefever. Read more
Banks Talks Tech
(From the Archives - 11.19.04) Diesel — The Performance Choice Some old ideas about performance are slow to die. The very idea that diesel engines could replace exotic gasoline engines as the top performing powerplants in cars, light trucks, and SUVs seems ludicrous to many automotive enthusiasts. How could a slow, smelly diesel ever hope to compete against an overhead cam, high-revving, high-compression, sophisticated gasoline engine? And the concept of a diesel as a racing engine seems to be pure heresy! What, enthusiasts ask, has the world come to? Read more
Banks Talks Tech - Turbo Wastegate
(From the Archives - Circa December 2004) How a Turbo Wastegate Works The common turbocharger wastegate would seem like the height of simplicity, but high performance can add complications. Let's begin by describing what a turbo wastegate is. A wastegate is essentially a device that bypasses some exhaust flow around the turbine section of a turbocharger to control maximum boost. A wastegate is usually controlled by a pressure actuator that is connected to manifold pressure. Read more
What makes a good exhaust brake?
(From the Archives - Circa November 2004) As the owner of a diesel engine-powered pickup, such as the Duramax, you already know that there is precious little braking effect when you back off the throttle. Even driving in Tow/Haul mode on automatic transmission-equipped vehicles does not significantly increase engine braking. Driving with the vehicle heavily loaded, or while pulling a trailer, down a long grade can seriously test your vehicle's braking system as you continually apply the brakes to keep downhill speed in check. Read more
The Gearhead Bash
(From the Archives - 07.26.02) For many years, since establishing their Shady Grove Farm in Bradbury, California, Gale and family have held a large Christmas party for relatives, friends, co-workers, and associates. Since many of these people tended to be gearheads of one type or another, they'd arrive in a broad variety of interesting vehicles. Read more
Brandons Power Stroke Wins Truck Pull
(From the Archives - 11.01.02) A few weeks ago we showed and told you about Brandon Mojarro's 2001 Ford F-250 Power Stroke 4x4 shortbed pickup and how well he was doing at local truck pull competitions with a Banks PowerPack and Level 5 Big Hoss chip being his only engine modifications. Read more
Bonneville Speed Week 2002
(From the Archives - 08.16.02) The big news this week is Bonneville, better known since 1949 as Speed Week. In fact today (Friday) is the last day of running, so I don't really have final results. Gale went out last weekend for the opening days. Gale can't stay away from Bonneville. He's been competing there since the early '60s. He has set many different records in several classes, and actually still holds two current records that have stood for more than ten years each (including what was, for a long time, the world's fastest production-bodied car and the world's fastest pickup). Read more
Six-Gun takes 3rd at Baja 1000
David Downs Goliath at Baja (From the Archives - Circa November 2004) A virtually stock 2003 Cummins diesel-powered Dodge Ram 2500 4X4 Pickup truck takes 3rd Place in the "Stock Full" class at 2004 Baja 1000. The truck is equipped with Banks' Six-Gun Bundle. Read more
Interaction
(From the Archives - 01.25.02) I have a confession to make (I know some of you are into confessional mode). Before I started this job, I didn't know how to use a computer as anything other than a typewriter. My computer at home is connected only to itself. I write to disc. If I had to email something, I handed the disc to my wife and asked her to do it, please. Read more
Crazy Magazine Stunt
(From the Archives - 03.01.02) As I said in my introduction, the Friday Night News won't necessarily talk about what's happening this week at Gale Banks Engineering. We might talk about what's happening now, what's in the future, or what happened in the past. Here's one from a decade and a half ago. Read more
Header Flanges
(From the Archives - 04.05.02) You might think that discussing header flanges is about as exciting as listening to a lengthy dissertation on muffler bearings. In most cases, you'd be right. But when I toured the tube shop here at Banks, the first thing that got my attention were the header flanges. They're the thickest and flattest I've ever seen. There are several reasons for this. Read more
"Banks Power - The first 50 years" Opens at Wally Parks NHRA Museum
50 years of automotive and marine engineering innovation was put on display at the Wally Parks NHRA Motorsports Museum to Read more
FINAL PREPS ...
It might not look like it in these pictures, but, when these shots were taken, the Banks Top Diesel Dragster was only a few hours away from going into the trailer for its first trip to the test track. Read more
Built for Speed - Two Banks Machines for the Price of One
Remember the Stray Cats' smash hit album Built for Speed? Even Brian Setzer himself couldn't fathom the speeds that the Banks machines are capable of. Last time I left you with the first firing of the Banks Top Diesel Dragster engine. The guys weren't just starting this thing up just to hear it purr. The dragster will run soon; very soon. In fact, you're going to get two Banks machines for the price of one. Read more
2,500 Horsepower Unleashed:
  Banks' New Top Diesel Dragster AND Record-Shattering S-10 Pickup ... Both To Compete! Saturday, May 9 - "TS Performance Read more
Gentlemen, start your (dragster) engines
The beast hath reared its ugly head. Okay, it's not so ugly. It is quite a beautiful sight. But that sound! I wanted to savor it, like a good cigar, or my favorite flavor of ice cream. The sound permeated every inch of the race shop. Read more
Some Serious Progress Being Made On The Banks Top Dragster...
April 2009, After a strong reception at its spectacular unveiling at the SEMA Show last November, the new Banks Sidewinder Top Diesel Dragster had to wait its turn in line while the Banks S-10 Sidewinder Pickup* went out to the starting line a few last times to finish up its development work with the powerful GMC Duramax engine that will also power the Dragster. Read more
This Just In From Jay Leno's Garage
Burbank, California March 21, 2009 - When Jay Leno calls from the Big Dog Garage and asks: "What's new?" No one jokes back: "New York, New Jersey, or New Brunswick." What Gale Banks answered back was the news that his diesel-powered Chevy S-10 Duramax-powered drag truck had just set both a new ET number and a top speed record. Leno immediately answered back with a invitation for Banks to bring the speedy Sidewinder out to Jay's Garage for a twelve (plus) minute walk-around of the machine. Quite a day Jay! Read more
Destination: Capitol of California
I'm writing this from my hotel room in Sacramento, Ca. See, Gale and I were invited to participate in an event Bosch is putting on here at the state's capital called California Diesel Days. The intention of this outing is to raise the awareness of the legislative group in the toughest and most mandated "Green" state in the Union... Read more
Arm Wrestling or Q and A
Some of you might have had the chance to see the webcast, while others... well you were probably at work since it was in the middle of the day. For those of you who missed it, or were working for the man, I'll post video on the whole thing once I get it in. There were great presentations from all of the panel members, including one from BMW explaining how today's diesel works. Very simple explanation, and easily understood... Read more
Swimming at the Boat Show or Taking the Marine Engine Plunge
Well, it's been a long time coming but we finally were there: the Miami International Boat Show. Well... we visited the thing for a few years in a row as a guest of General Motors, but this year we were on display and officially showing off our marinized Duramax diesel engine which we will be testing soon. Read more
Gale Banks To Moderate Clean Diesel Automaker Roundtable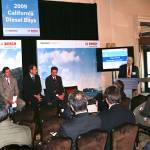 Gale Banks has been chosen to moderate the Clean Diesel Automaker Roundtable at the upcoming California Diesel Days Read more
Greener than green or bio-shocked
There are certain moments that you remember from your youthful days that are so vivid that you can actually recall every detail of that point in time: what you were wearing, what something smelled like, etc. These events can be good, bad, important or just plain trivial. As for me I have many of those "scrapbook" memories taking up valuable space on the hard drive in my head, but one especially stands out in this day and age that we're in. Read more
0 - 50 Years in 63 1/2 Feet...
Azusa, California - - No, it's not the Bayeux Tapestry, but perhaps it might be considered as the American motorsports equivalent of it. It's the colorful 63 and-a-half-foot long, five foot tall, timeline-history of Gale Banks Engineering that stretches a full 50 years and features over 400 illustrations that go all the way back to 1958! Read more
Stock intake manifold vs. Banks Big Hoss
Hey again guys and gals. I'm getting some questions as to how the stock intake manifold compares to the Banks Big Hoss manifold. I could go on and on about the details but I figured that a picture is worth a thousand words so here's the comparison (if you can really call it that). I do need to point out here that these are for hardcore engine builds ONLY. This is for you guys wanting 1000hp+ without having to run 100psi of boost. This isn't something you can bolt on in an hour for your daily driver. These parts are straight off our drag race/road race trucks. Caution: LOTS OF PICTURES! Read more
This Just In From Jay Leno's Garage
Gale takes the Sidewinder S-10 drag truck over to Jay Leno's for some fun and burnouts. https://www.youtube.com/watch?v=bYBSog51how Burbank, California March Read more
The Snake on the Wall
There it was, all 19 (and change) feet of gleaming black carbon fiber: the Banks Top Diesel Sidewinder main body, floating there in space, 6 feet high with that really "speed hungry" looking snake on the side that seems spitting out a warning to watch out for some Duramax diesel-powered drag racing speed in the very near future. Read more
7 seconds - Part 3
Gale Banks himself just arrived. As you can imagine it didn't take long for the group of people looking at the truck to immediately start talking with Gale. I have to admit that working for Gale Banks is a little strange, but in a good way. Growing up, my father, an old school hot-rodder himself would talk about him all the time. He would tell me how fast his engines were, how many world records he had, show me articles in Hot Rod magazine about him. Heck he even had one of Gale's early twin turbo systems for our boat, and now I work for "the man" himself. Read more
7 seconds - Part 2
It's Saturday March 7th 2009 and we're back at the SpeedWorld drag strip in Wittman Arizona. It's time to go racing. Being as this is my first diesel only event I'm really not sure what to expect. Oh sure, I've been to some NHRA events before, but the only diesels there were in the parking lot and were hooked up to the race trailers. Here we've got both. Diesel trucks towing trailers loaded with, well, diesel trucks. Ok, not all of them. The crew from Texas Diesel Power just arrived with their diesel powered Funny Car, and another crew just showed up with a diesel powered "rat-rod". I must admit both of those cars are so very cool, I'd love to go over and check them both out, but we have work to do. Read more
Marine Animal
Going quicker and faster than any other diesel-powered vehicle on the dragstrip is the obvious incentive for building the Sidewinder Read more
Seven Seconds - Part 1
Seven seconds. It doesn't sound like a long period of time does it? Think about it for a minute. Seven seconds. It actually takes longer then seven seconds to even write out the words "seven seconds". It takes me longer than that to unlock my truck, put on my seat belt, and start the ignition. But in the short span of just about seven seconds, the Banks Sidewinder S-10 drag truck has gone from a dead stop to over 180 miles per hour... Read more
Banks Sidewinder S-10 Breaks Its Own Record
BANKS SIDEWINDER S-10 BREAKS ITS OWN RECORD(S) STUNNING 7.770-SECOND RUN AT 180 MILES-PER-HOUR! BANKS SIDEWINDER S-10 BREAKS ITS OWN RECORD(S) Read more
Gale Banks Receives 2009 Distinguished Service Citation
The Automotive Hall of Fame has selected Gale Banks to receive one of their 2009 Distinguished Service Citations. The Automotive Read more
World's Fastest Diesel-Powered Drag Truck will "Ride Again" at NHRDA Nationals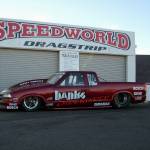 March 7th Event To Feature Famous Record-Setting Banks S-10 Sidewinder Azusa, California - -  Perhaps diesel drag racing's most recognizable Read more
"MARINE" MEDIA ADVISORY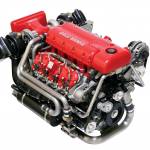 Banks Power exhibited a very cool new "Banks Marine" power unit at the just-concluded Miami International Boat Show. MARINE MEDIA Read more
BANKS NEW GM-DURAMAX MARINE V-8 ENGINE ON EXHIBIT AT 2009 MIAMI INTERNATIONAL BOAT SHOW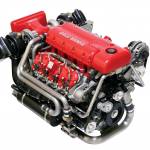 Banks Power will take part in the Miami International Boat Show at the Miami Beach Convention Center February 12 -16. Read more
The Banks Brake
THE BANKS BRAKE Upon inspection I found the casting (cast iron) of the brake's elbow was massive, and the surfaces Read more
Automotive Hall of Fame Announces 2009 Distinguished Service Citation Recipients and 2008 Industry Leader of the Year
  The Automotive Hall of Fame will award its 2009 Distinguished Service Citation Recipients and recognize its 2008 Industry Leader Read more
BANKS RECEIVES 2009 DISTINGUISHED SERVICE CITATION FROM AUTOMOTIVE HALL OF FAME
Gale Banks today received a 2009 Distinguished Service Citation from The Automotive Hall of Fame at their annual luncheon held Read more
Gale Banks to be honored by Automotive Hall of Fame
Gale Banks set to receive the Automotove Hall of Fame's 2009 Distinguished Service Citation in New Orleans. AZUSA - In Read more
The World's Quickest Diesel Pickup Breaks New Ground
The words "fast" and "diesel" aren't commonly spoken in the same breath. Diesel trucks, the Clydesdales of the truck world, Read more