Gale Banks Helps Open Pep Boys' First "Speed Shop" – New Division To Feature Full Line Of Banks Power Products
Gale Banks was on hand on Saturday May 30 and Sunday May 31 to help celebrate the grand opening of Pep Boy's first-ever dedicated Speed Shop in downtown Los Angeles.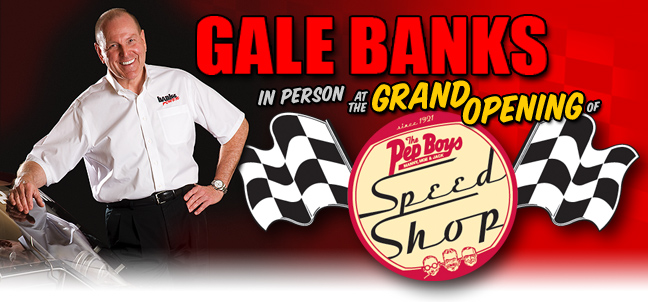 Azusa, Calif. (June 1, 2009) – – Gale Banks was one of the honored guests who took part in a ribbon-cutting ceremony this past Saturday as part of the Pep Boys' newest adventure in automotive parts marketing: their first-ever dedicated Speed Shop located right in the heart of downtown Los Angeles.
Banks was there along with such motoring luminaries as the "King of the Kustomizers" George Barris, Car Crazy TV's own Barry Meguiar, "The Queen of Cars" Genevieve Chappell, motoring TV host Adrianne "AJ" Janic, and drift driving star Casper Canul.
To celebrate the event the Pep Boys turned one of their huge parking lots into a combination car show, manufacturer's midway, and concert; with hundreds of colorful custom cars, a live DJ, free hot dogs, popcorn, balloons, and even temporary Pep Boys tattoos for the kids.
In creating their new Speed Shop, Pep Boys loaded up its larger-than-average store on Washington Boulevard in Los Angeles with hundreds of hyper performance related products that, until last weekend, could only be found online or at independent specialty shops.
With this first location Pep Boys has combined the old-time feel of  a traditional speed shop and the latest in performance products and accessories. The location was designed to serve southern California auto enthusiasts with all they need in performance for their rides, from muscle cars and hot rods to sport compacts and imports, to trucks and off-roaders. Located at 1200 West Washington Boulevard in downtown Los Angeles, this first-of-its-kind location is staffed by speed shop professionals, experts who really know their performance products.
"This enhancement of our business is a natural fit for Pep Boys," said Pep Boys' Senior VP of Merchandising and Marketing Scott Webb. "There's a high demand for specialty performance products like the ones that Banks Power offers, and we're excited to combine our retail automotive knowledge with our service expertise to make this Speed Shop a truly one-stop-shopping experience for all of our enthusiast customers."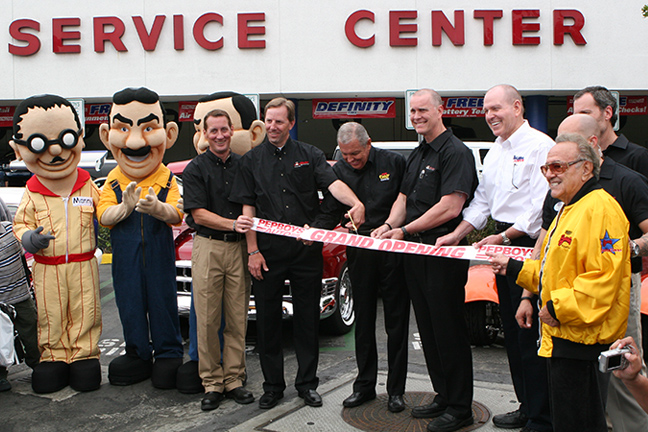 Gale Banks made personal appearances at the new Pep Boys Speed Shop both Saturday and Sunday to meet customers and to talk about the Banks Power line of performance products that Pep Boys now carry. A special autograph card was designed and printed for use at the Pep Boys event; Banks personalized hundreds for the fans over the course of the two-day event.
To aid in the "visuals" at this gala grand opening, Banks brought one of his record-setting Sidewinder Duramax-powered drag racing machines along. His sleek and purposeful Banks Sidewinder Chevy S-10 Pickup went into the record books with at scalding 7.77-second/180 mile-per-hour run at the Speedworld Dragstrip in Whittman, Arizona, in early March making it the quickest/fastest diesel-powered drag racing pickup truck on the planet.
Gale Banks is well-known in the high-performance world for having pioneered innovations, techniques, and systems which produce power through increased efficiency.  His championing of the use of twin-turbochargers on both gasoline and diesel-fueled engines fostered a whole industry, his long-time personal mantra of "guilt-free performance" rings clearer as each year goes by. A member of the SEMA Board of Directors, Banks was recently honored by being named by the Automotive Hall of Fame as a recipient of a 2009 Distinguished Service Citation.