Banks Power Presence at PRI
All the news from this year's Performance Racing Industry Show in Orlando, Florida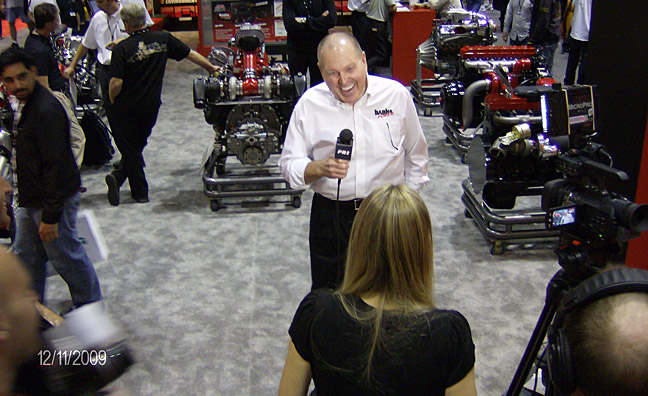 By Doug Stokes
The just-concluded 2009 Performance Racing Industry Show ("PRI") in Orlando was an unqualified success for Banks Power. The show team of product experts, product engineers, and top company executives met with hundreds and hundreds of both long-time and first-time show-goers from all facets of the automotive high-performance industry.
"Our show area was constantly full of attendees from independent speed shops, national parts chains, dealers, distributors, installers, suppliers, and other manufacturers," said Banks Marketing Manager John Espino. "Our new high performance line of Banks Duramax Diesel V-8 engines captured a huge amount of the attention; and our hot new Banks iQ, which debuted at the SEMA Show about a month earlier, was in constant demand for demonstration runs," Espino explained.
The remarkable Banks iQ interface device, nicknamed "the Dashboard PC", operated like one, providing multiple engine condition readings as well as well as exercising complete control over products like the Banks Brake as well as the Banks SixGun, AutoMind, and EconoMind diesel tuners.

On Wednesday afternoon before the official show opening PRI held it's Industry Roundtable, an annual gathering of industry leaders in the high performance/racing business. This year Gale Banks was asked to sit on the distinguished panel that included 1986 Indianapolis 500 winner Bobby Rahal, along with Speed TV host Dave Despain; Robert Davis, Senior VP, Product Development, Mazda North America; Tom Knox, VP, Business Development, IMG; and Scooter Brothers, Director of R&D, Competition Cams; with TV motorsports analyst Jeff Hammond acting the moderator. As always, the event turned out to be a very good reason for getting to Orlando a day early.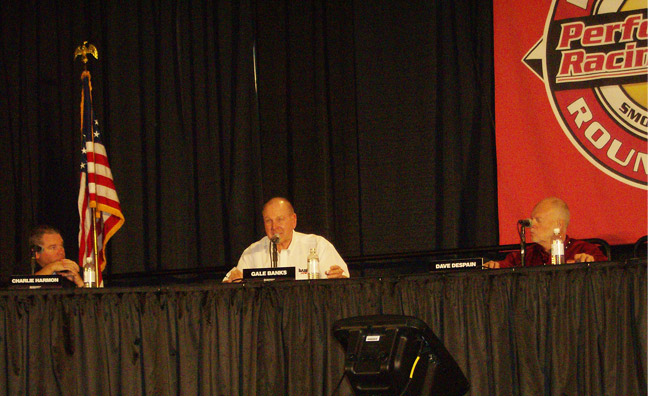 Here's an excerpt from event founder and operator Steve Lewis's personal post-show note to Gale Banks:
"Gale: Thank you for being a part of our Industry Roundtable panel this year. It was one fine panel comprised of a great group of very bright and important folk that really understand the inner workings of the racing market. Your stature and understanding of what makes this racing market 'tick' was well received by the audience and your fellow Industry Roundtable panel members. You bring so much to the plate when you speak and it is so important for our audience to hear first hand your view of life and the racing market. -Steve Lewis PRI
Of course Mister Banks deemed it a great honor to be asked to serve and personally had a great time offering his personal view of the performance business.
On Friday of the three-day PRI show, Banks led a special seminar entitled: "Gale Banks Talks Turbos" the talk which started at 10 a.m. and was set to run the standard one hour time to 11, "… went a little long," with the attendees not allowing Banks stop "talking Turbos" until a little before the noon hour. It seemed that everyone in his audience sensed that they had a golden opportunity to ask the legendary innovator to share many of his well-kept performance secrets.
The impromptu overtime session also allowed a round of questions regarding his just-announced method of blending supercharging and turbocharging to deepen and extend the powerband of his unique Duramax-based diesel V-8 engines.
(but … more on that next Friday)
Like the SEMA Show the annual PRI Show is a "trade only" show, and not open to the general public. However, what is shown, discussed, and dreamed up there is always widely reported in the enthusiast press with the best and brightest products of the new crop making their way into the hands of the public very shortly thereafter.
We'll let Steve have the (second) last word here:
"If you were to judge the strength of the racing industry from this PRI Trade Show, racing is ramping up for a better year in 2010," said Steve Lewis, the Show's producer. "We'd like to thank all the exhibitors for their ingenious innovations in racing technology, and all the creative displays. And we'd like to thank all the buyers from across the US, and around the world, that came to the PRI Trade Show to shop the latest advances in racing components, motorsports engineering and precision machining."
To which we can only add that the specialized trade shows as well as the open-to-the-public shows that Banks attends all over the country each year are very much the lifeblood of the performance industry. We hope to see all of our friends from BOTH worlds next show.