Banks Power exhibited a very cool new "Banks Marine" power unit at the just-concluded Miami International Boat Show.
MARINE MEDIA ADVISORY: Here's a little bit of "insider information" for you: … Banks Marine (a division of Gale Banks Engineering) exhibited a very cool new power unit at the recently-concluded Miami International Boat Show
Highly-motivated performance: The engine is a 6.6-liter, V-8, common rail, diesel. The brilliant red and black unit at the show featured twin turbos (long a Banks high-performance signature), and a compact shape which brought with it a new methodology of calculating high performance boating power: Horsepower per cubic foot of space that a power unit takes up.
Tough and tested: You are correct if you have by now guessed that, under that beautiful Banks Marine Engines intake plenum, is one of the toughest, most tested, most reliable, most coveted, V-8 light diesel engines in captivity, the General Motors Duramax.
Oh yes, we talked "inside info." earlier, so here it is: That cool Banks Marine motor that everyone was drooling over at the Miami Boat Show how started life destined for the underhood area of a new General Motors pickup. Gale Banks and his engineering team have stepped in and fully "marinized" it.
 Winning efforts: Much of the new technology in the 6.6 liter Duramax engine that the Banks race team used to set after all kinds of diesel drag racing records in 2007 and '08 on land, has been brought to bear in this marine engine.  Power with durability is the idea as well as the outcome.

Everyone got a real good look: The new Banks engine was, by all accounts, a huge hit at the Miami Convention Center, with show-goers from all over the map stopping by the Banks Marine display to get their own look at this all-new, marine-specific powerplant.

Trucks and boats: When these powerplants become commercially available, all of the "Banks Brothers" (and sisters!) are going to be able to tow their best boat out to the lake, the ocean, or the river using all that sweet, smooth, strong power of their Bank-equipped pickup … They'll launch their boat, kick their new cool engine over, and – – Just like that, be enjoying Banks (Marine) Power on the water just like they do every day on land.
"Banks Is Back In Boats" Now there's a headline to write home about!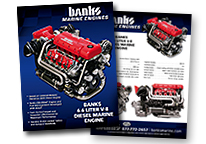 Get the Banks Marine Engine spec sheet! <Page 1 and page 2>

A shot taken before the exhibit opened gives a clear view of  the Banks Duramax marine engine
on the left, and the Banks Duramax truck engine on the right.
---
Read what Diesel Power magazine
has to say about the Banks Super-Turbo »