Diesel World
August 2009
The NHRDA's Season Opener in Phoenix saw the Banks Sidewinder S-10 set a record.
The National Hot Rod Diesel Association (NHRDA) kicked off its 2009 MBRP Diesel Drag Race Series at Speedworld in Whittman, Arizona, just north of Phoenix, on March 7. The second-annual Desert Diesel Nationals attracted nearly 1,000 spectators and well over 60 competitors to Speedworld's quarter-mile desert dragstrip.
Among the notables that came out for what was essentially the first diesel event of the season, was Gale Banks' record-setting Pro Stock S-10, John Robinson's Texas Diesel Power funny car and Wide Open Performance's Zane Koch of Utah, which brought down his record-setting 7.3L Power Stroke Ford. The event also attracted folks from the cold country to enjoy a day of racing under the Arizona sun in 75-degree weather. Among them was the bright-orange Dodge from CT Performance of Alberta, Canada. and a wild Cummins-powered rat rod designed and built by Steve Darnell of Billings, Montana, which made its first public debut in Phoenix.
The event, sponsored by ITP Diesel, Strictly Diesel, Diesel Hardware, Midway Chevrolet, Alternative Auto Care, Torco Race Fuels, Sanderson Ford, Real Image Hydroprinting, Texas Diesel Power, Underground Diesel, UTI and Jefferson State Diesel. featured a full day of drag racing, along with a vendor row, and an on-site dyno from Jefferson State Diesel. Four divisions raced at Phoenix, including Pro Stock, Pro Street, Super Street and Sportsman ET.
When the smoke cleared, Wes Anderson, at the wheel of the Banks Pro Stock S- 10, set another national record with a 7.77-second pass at 180 mph. Banks Engineering founder, Gale Banks, was on hand to witness the record run, and spent a good portion of the day signing autographs and bench racing with the locals. Anderson squared up against the wild '28 Cummins-powered rat rod in the Pro Stock final, which ran a respectable 12.75 at 102 mph-not bad for the car's first time on the track.
The NHRDA carries national sponsorship from MBRP Exhaust, PASS Fuel Systems, AFE, Grand Rock Exhaust, South Bend Clutch, Dynomite Diesel Performance, BD Diesel Power, Randy's Off Road Mr. Deez Motorsports, and Diesel Tech.   For more information on the events and next year's Desert Diesel Nationals, visit the Web site at: www.nhrda.com.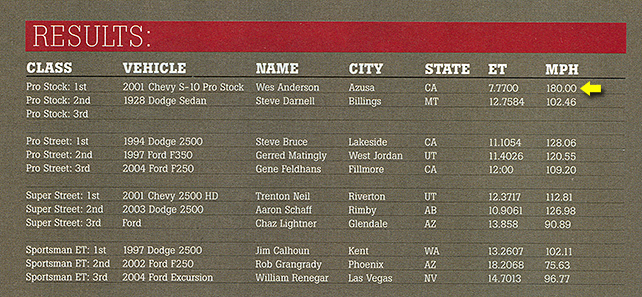 Visit Diesel World magazine online!