Adam Carolla Podcast with Gale Banks
Gale Banks Hangs With Funnyman Adam Carolla on his "Carcast" Show and talks about the Banks Sidewinder S-10 drag truck and the Banks-powered VW Jetta TDI and more!

Azusa, Calif. – – Well-known star of stage, screen, radio, and the TV dance floor Adam Carolla this week welcomed special guest Gale Banks to the Carcast section of his popular "Adam Carolla Podcast."  You can click the Carcast icon to the right to listen to the podcast (the file may take a few minutes to load depending on your connection speed). While Gale was with Adam the Carcast crew grabbed a video camera and captured the two car nuts looking at the Banks Sidewinder S-10 drag truck and the Banks-powered VW Jetta TDI. You can watch that below.
Banks joined the effervescent Carolla on site at his San Fernando Valley studio for some wide-ranging one-on-one car talk that centered on new clean diesel, Banks' use of motorsports competition to prove (and improve) consumer products that his Banks Power company produces, and his almost legendary ability to wring extreme performance out of any engine that comes into his possession.
Banks brought two of his latest creations along for the show.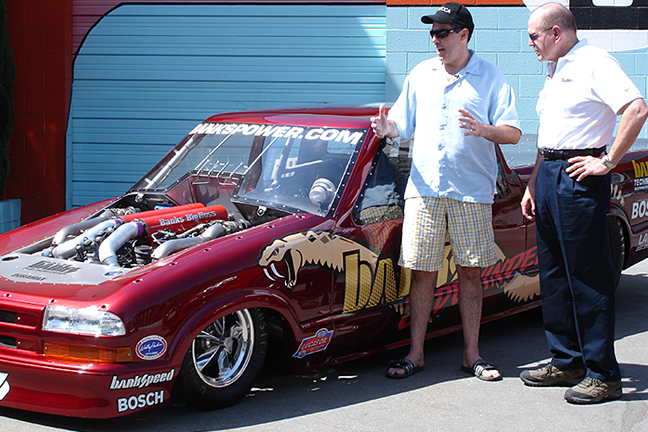 The first was a street-legal 2009 Volkswagen Jetta TDI that he and his band of tuning wizards in nearby Azusa, have been bulking up a bit in the horsepower and handling department.  Banks let on to Carolla that along the way, "somehow" the cool-looking, hotted-up diesel SportWagon became his personal "ride" and how much fun he has driving the machine to and from a home that he's building in Yosemite.
He also brought his decidedly NOT street legal Chevrolet S-10 Sidewinder pickup drag truck.  This certified (and some say certifiable!) national record holder in the quarter mile has traveled that distance in 7.77 seconds blasting up to one hundred and eighty miles an hour in the process!  Those numbers very easily have made the dark red machine with the menacing snake on its side the quickest and fastest diesel-powered pickup in drag racing.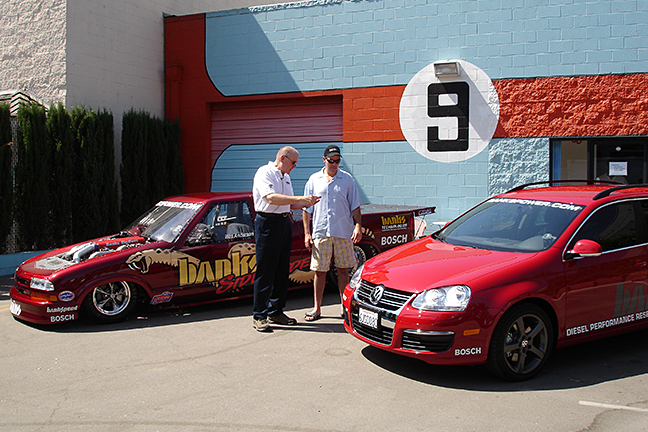 As with any Adam Carolla TV interview, expectations going in were for the unexpected.  The show is loosely entitled a "Carcast," but with Carolla asking the questions (and Banks answering them), there was plenty of fun had and plenty of subjects broached on both sides of the microphone!
Listen to the audio podcast »
(the file may take a few minutes to load depending on your connection speed)