FORD POWER STROKE 6.0L Part 3: Cylinder Head Install
Diesel World
December 2009
This month we install the rebuilt heads using ARP studs and a new gasket set, and reinstall or replace valvetrain components as necessary.
As we saw last month, head gasket failure was not the cause of the problems with this particular Ford/Navistar 6.0L diesel engine. In fact, upon inspection the head gasket was described as "pristine" by our mechanic at the Banks Powerhouse, although we managed to find a little bit of seepage in one area. Be that was it may, the decision was made to replace the standard torque-to-limit head bolts with ARP studs, which are designed to minimize risk of blown head gaskets in 6.0L engines.
The ARP studs are considered to be especially appropriate when high-performance, elevated boost levels or racing is part of the anticipated use. Using studs will make it much easier to assemble the engine with the cylinder head gasket assured of proper alignment. Studs also provide accurate and consistent torque loading.
"There are a couple of reasons you would want to change a fastener," said Chris Raskey at ARP. "One is you want a clamping load to keep the gasket in; the other is you want to use it over again instead of buying a new set every time," Raskey told us.
As the urban legend says, the problem with 6.0L Power Stokes is the number of head bolts, or lack thereof, in comparison to other diesel powerplants. One mechanic, who rebuilds Ford engines for dealerships, told us the fact that the head bolts pass through an aluminum carrier is also problematic, because the two materials expand at different rates. Another mechanic pointed to leaking EGR coolers as one of the biggest causes of head gasket failure on the 6.0L Power Stroke.
Click below to continue reading…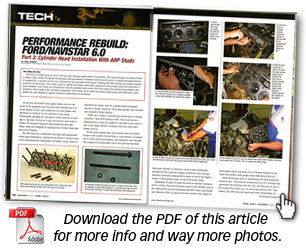 ---
Catch the entire story…

| | | | | |
| --- | --- | --- | --- | --- |
| | | | | |
| part one | part two | part three | part four | part five |
---
Visit Diesel World magazine online!