Ward's Automotive "10 Best Engines" awards luncheon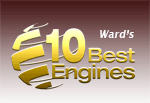 Gale Banks delivers keynote speech at Ward's Automotive "10 Best Engines" awards luncheon.
News item update! Photos from the presentation:
Gale Banks delivers the keynote address at
Ward's Top 10 Engines of 2009 awards show.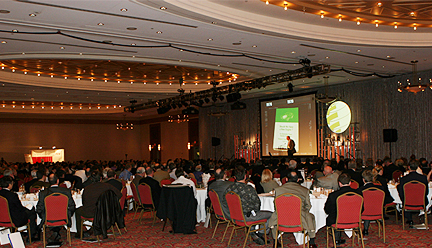 Gale speaks to a packed room.
See below for original news story…
---
December 30, 2008 — GALE BANKS WILL PRESENT THE KEYNOTE ADDRESS AT WARD'S AUTOMOTIVE "10 BEST ENGINES" AWARDS LUNCHEON – NORTH AMERICAN INTERNATIONAL AUTO SHOW JAN 14 – DETROIT
The founder and president of Banks Power in Azusa, California, Gale Banks, will be the keynote speaker for Ward's Automotive "10 Best Engines" awards luncheon on Wednesday, January 14, 2009. The event is held annually in Detroit amid a flurry of media and industry activities centered around the huge North American International Auto Show.
Now in its 14th year, the Ward's 10 Best Engines list recognizes not only great powertrains but the people who create them. "… That's because behind every great engine is a team of dedicated engineers and smart management willing to focus their energies on even the most daunting tasks," said Tom Murphy of Ward's.
The special event, organized to recognize excellence "…in conventional and advanced powertrain development in mainstream vehicles under $54,000." is very well attended by journalists from around the world and top automotive executives in equal proportions.
Banks' invitation to keynote the Ren Center awards ceremony was prompted by his long-standing reputation for the engineering of additional power and increased efficiency from both gasoline and diesel engines. Calling on lessons learned in his 50 years in the business, his talk to the luncheon guests will be fueled by a broad range of personal experience and passion as well as his practical insights on the subject.
A clear vision for the near future of personal transportation will also be touched on by Banks in this appearance before this influential industry group. He will comment his own involvement as a committee member of the Automotive XPrize Committee, as well as some of the mid- and long- range research being done by his company.
Year after year this unique Ward's luncheon is considered a "must attend" occasion for industry leaders during North American International Auto Show week in "Motor City".
See the engines that made the list at www.wardsauto.com
BACKGROUNDER:
WARD'S has covered the auto industry for more than 80 years and publishes many news, data, and analysis products. These publications include monthly magazines (the widely read WARD'S AutoWorld) and weekly and twice-monthly newsletters (WARD'S Automotive Reports, WARD'S Engine and Vehicle Technology Update). Ward's also offers subscriptions to database products (e.g. WARD'S AutoInfoBank) and a continually updated website (WardsAuto.com). Their widely trusted reporting and data has earned Ward's Automotive Group a reputation as THE SOURCE for global auto industry news, statistics and analysis.