Replicating one of circle-jet boat racing most successful and most celebrated engines — a 454 cubic inch, twin-turboed, 2,000 horsepower big block Chevy.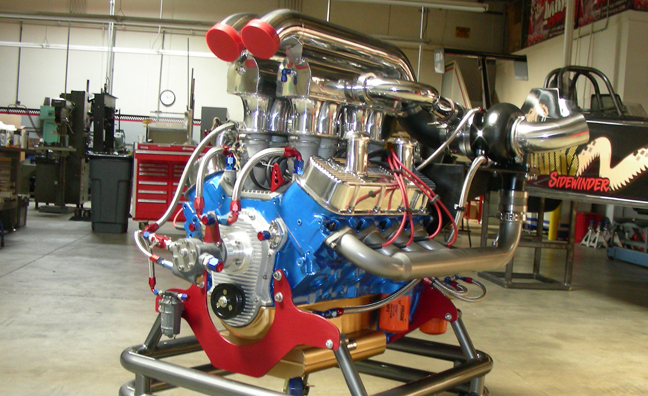 By Doug Stokes
The idea was to replicate one of circle-jet boat racing most successful and most celebrated engines, Gale Banks' feared and famous 1975 era, 454 cubic inch, twin-turboed, 2,000 horsepower big block Chevy.
The "blue" reference comes from the fact that in the early days Banks marine engine blocks and heads all went out of the shop painted a bright shade of blue.
Just for the record, this is the legendary engine that literally put itself out of business. So strong, so powerful, so scary, that in its most famous five-lap race, the boat that it was powering took the checkered flag as the boat in second place was just completing its fourth lap!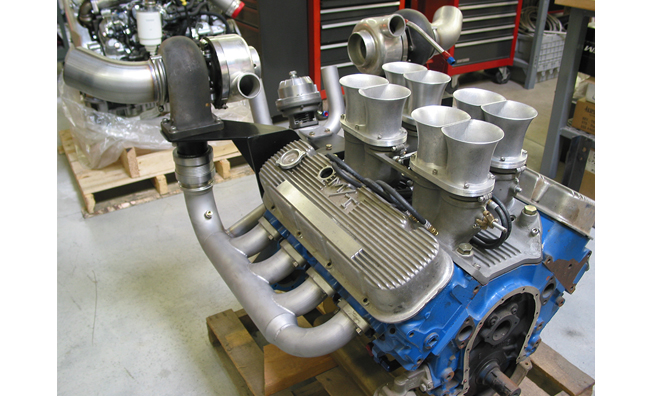 Let's take a look at the layout (with the caveat that this is NOT a running engine but very, very faithful display replica of the original).
Yes, those are some gargantuan Garrett TEO 691 turbos back there! Heck, just one of them was deemed enough to fully huff a whole Indy Car engine (at least that's what they were designed for) at one time.
But if one is good, to Gale Banks' "gearhead" way of thinking anyway, two is (even) better. Because of the turbos far-aft positioning for better packaging in a long-thin drag boat, the fresh air intakes are located far forward over the top of the engine where incoming air is cool and (hopefully) dry. This feature makes for an unusual-appearing engine that looks at first to almost be "pointed" the wrong way or something.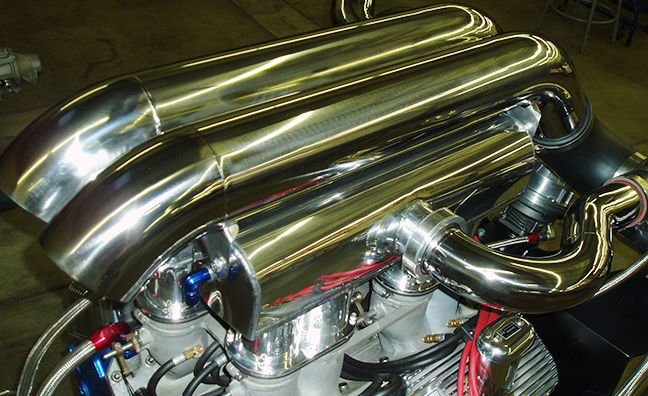 This mill was made to spin a Berkeley Jet Drive, a sort of a "super-squirter on steroids" arrangement where all of the aforementioned two grand horsepower was used to turn a teeny little impeller inside of a large, venturi-shaped pipe at impossible speeds thus shooting an explosive stream of water backwards thus propelling the boat forward!
This very special replica engine was put together as a part of the celebration of Gale Banks' 50th year in the business. Banks' chief designer Bob Robe was in charge of the build. Interestingly enough, this particular engine even predated Robe's starting work at Banks over 30 years ago.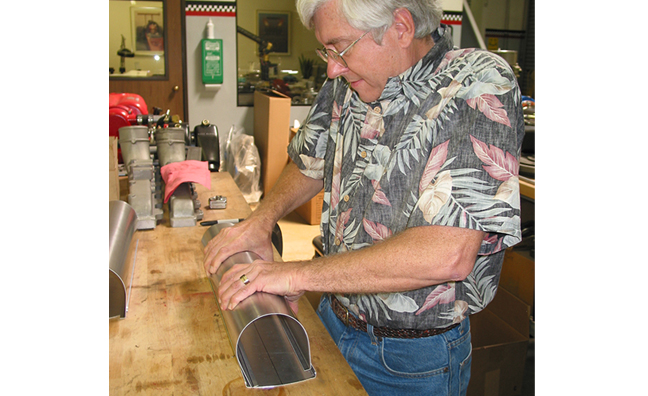 In his research Robe found that there were no technical drawings of the engine, in fact, there weren't even any good notes in the files regarding this one. All Robe had was a series of photos, some tales of derring-do that he had heard over the years, and his extensive personal knowledge of period-correct injector systems and vintage-style race engine wiring.
The real problem was that Robe could not simply turn to Gale Banks, and ask him to tell him about the mill. While the project wasn't necessarily a state secret, it was kind of being kept from "the Boss" as it was destined to go on display in a motorsports museum exhibit that would celebrate Banks' engine design and innovation.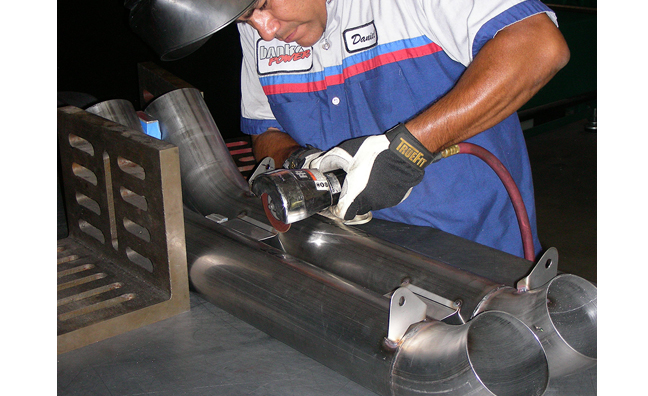 But Mister Banks was NOT supposed to know about it. Gale Banks is hard to surprise under any circumstances and this one was pretty hard to hide out in the shop. In fact, many on staff thought that Banks was being particularly sportsmanlike by trying hard NOT to see what was going on at Robe's workspace during the build.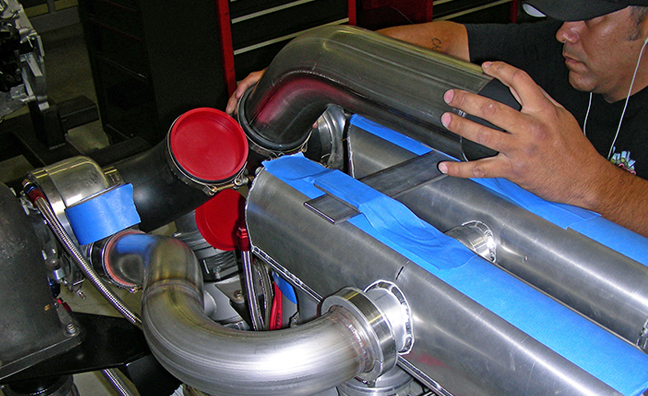 Gleaned from old files, magazines, and memory, Robe's convincingly realistic replica has a crankshaft (all the better to hang pulleys and stuff on) but no cam, nor valves, nor any other engine "internals". Virtually every thing that's attached to the engine is an exact, faithful duplicate of the real thing, and yet everything on it is effectively non-functioning.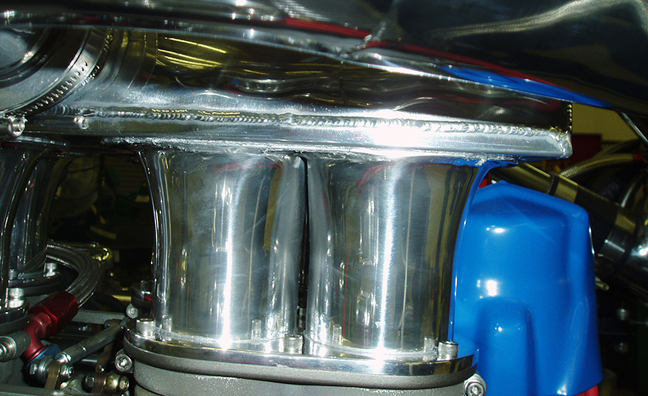 Those are real fuel injection trumpets, but they don't really "go" anywhere. And the same goes for the fuel injection hoses, they look "real" but they're not actual high pressure fittings but rather a clever combination of hand-knurled brass tubing and a few other pieces that only an expert (on very close inspection) could detect.
One of the wags at Banks suggested getting the finished product a bit dirty and putting a few drops of engine oil on the ground beneath the engine stand to make the "realism" more complete. And then someone remembered that Banks engines are never seen dirty, nor are they ever allowed to leak oil. And that "brilliant" idea went by the boards quicker than the time it took to speak it.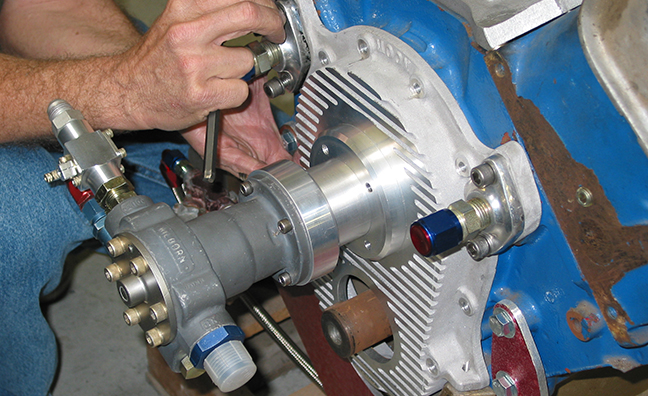 Looking around, one sees a lot of "old school" names this engine. There's a cast aluminum Moon front cover, the white hot Joe Hunt Vertex Magneto, a way-over-the-top Hillborn fuel injection system, the cool Mickey Thompson valve covers, the actual SW electric priming fuel pump from the original engine, an early-style AirResearch wastegate by-pass valve, and much more.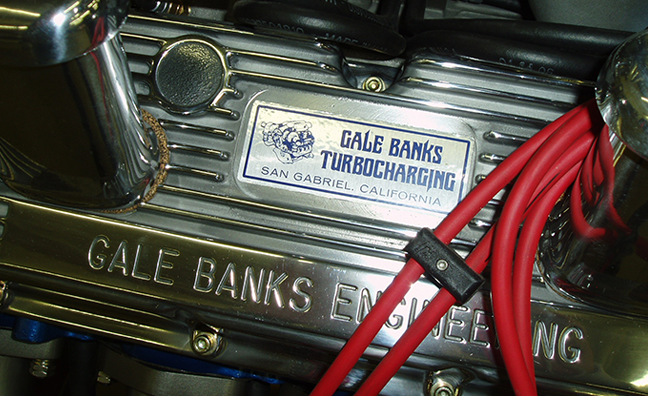 Nostalgia? Not on your life! This engine is meant as a time capsule, a tribute to one of the true milestones in the on-going career of Gale Banks. This is an engine that is a direct hell-raising ancestor of all the record-setting Banks engines that came after it.
And the "blue motor's" racing record? Unmatched, unbeaten, unbowed, and then unceremoniously un-crowned. Shortly after that oval-course race (5 laps on a 2-mile course) which we mentioned earlier; where the Banks-engined boat literally ran rings around the competition; the association just sort of dropped the whole division for lack of participation.
Racers and other engine builders had been so stunned by the results of a single race that many decided they'd have no chance competing against such a dominating engine and quit the class cold. Too bad, because good sport (and even better businessman) Gale Banks was ready, willing, and able to sell every darned part that it took to field an engine expressly like his, as well as tell anyone who wanted the information how to put all the parts together properly, if they'd only asked.
What we have here is a non-running, highly respectful replica of one of the meanest, most beautiful, powerful, and successful Banks twin-turbos engines ever to thunder over a bay at full song. Or, as we know it here: "The Blue Motor".
SIDEBAR –
A BIT OF "RECENT HISTORY":
Now here's where the above story comes full circle. 35 plus years after this monster was churning the waters of local lakes and rivers into a frenzy, Gale Banks announces that he's back in the boat motor building biz full bore with a Duramax diesel-based 402 cubic inch, inboard V-8.The new Banks Marine Super-Turbo engine was revealed at the 2009 Performance Racing Industry Show in Orlando, Florida on Friday, December 11. It features Banks' trademark twin turbos and adds a phased supercharger to the intake system. The aim being effortless low speed power that seamlessly blends into huge top end strength.
This kind of "fat" (wide, powerful) power band is just what the boater ordered, the "low end" power to move out smartly any time, anywhere, and the mid and top- range sauce to run fast all day long…Looks like history is about to repeat itself (again) at Banks.