The Bosch-Banks Sidewinder Jetta TDI
Bosch asks Banks to take a look at a diesel powered machine as it comes from Volkswagen. They drop a Jetta off at Banks' Azusa campus and say: "We'll be back in a few weeks, see what you and your people can do with an upgrade on this one."
That's a pretty long name for a very sleek mid-size 4-door German import that's been turning a lot of heads of late.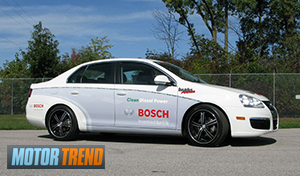 What do you say we break that name down? "Bosch" refers to the Robert Bosch Corporation, the world leader in fuel system component design. "Banks" is Gale Banks Engineering, the company that puts many Bosch products to work and that has successfully improved overall engine/automobile performance for over 50 years now. "Sidewinder" is the middle name that Banks gives to many of its upgraded creations, it originally noted the position of a turbo (or pair of turbos) now it simply denotes the fact that the machine bearing that moniker has had its fangs sharpened by the Banks engineering team. "Jetta" is the proper model name for a very cool, very hot-selling Volkswagen automobile. And, finally "TDI", that's the acronym for Turbocharged Direct Injection. Some say that TDI means "Turbocharged DIESEL Injection" and they'd be right too!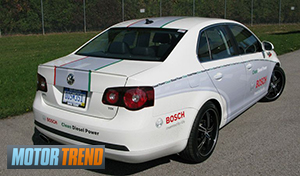 So, several months back Bosch asks Banks to take a professional look at what is a very nice clean diesel powered machine as it comes from Volkswagen right out of the box. Subsequently they drop a Jetta off near the back door of north engineering at Banks' Azusa campus and say: "We'll be back in a few weeks, see what you and your people can do with an upgrade on this one."
Of course the nice Bosch people lay down a few ground rules. No internal engine modifications, no radical flights of fancy with the bodywork; and nothing that's NOTHING (bold and underlined) which could compromise either the warranty, any of the 50-state emission laws, or the built-in durability of the great 2-liter diesel engine which is the single most important reason for buying a Jetta TDI in the first place. Oh yeah … That final package also had to be fun.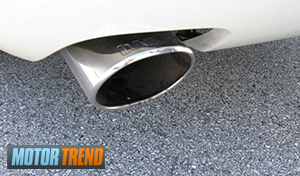 So here we had a seemingly innocent request from the folks at the Robert Bosch Corporation back in Michigan: As one reading the above might suspect it was pages longer and far more technical in tone, but as we said, it all boiled down to: "Do you think that Banks can give this new VW an even more distinct performance character, produce additional horsepower, and tighten up the handling, all the while keeping all of the features that make it such a winner in the first place?" Gale Banks answered in the single affirmative … YES.
Long known for his organization's ability to improve all aspects of diesel performance, Gale Banks and his tech team leapt at the chance to work some of their patented practical magic on what was an already very cool machine. And what follows is how they did it. This is the initial performance "recipe," one that's still being fine-tuned and refined on Banks' own SportWagen research vehicle as this is written.
Start with one 2009 Volkswagen Jetta TDI, and blend in the following ingredients:
• A Banks Tuner + the revolutionary Banks iQ vehicle user interface.
• A Banks Ram-Air Intake
• A Banks Stinger exhaust system
• Billstein Sport Strut suspension on all four corners
• 25mm front & rear tubular anti-roll bars
• A set of 18″ x 8″ alloy wheels.
• A set of 225/40-18 Pirelli P-Zero tires.
• Add some subtle graphics and some enthusiastic testers …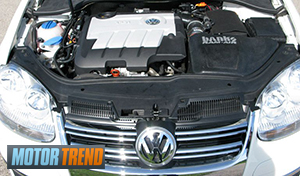 Stir all of the above together, folding in literally hundreds of hours of engineering design time, add roughly the same number of hours of field testing, and you have something very savory that's truly worth writing home over. This recipe is all about the transformation from great car into a "Whoa … I want one, now!" machine that has a real ability to surprise and seduce even the most jaded of drivers.
Sometimes the best recipes out there are also the most simple: Start with top quality, fresh ingredients, add a few well-chosen "spices", mix carefully and then drive enthusiastically. In this case a seemingly simple set of precise changes have made all the difference. A difference that proves the point that both Banks and Bosch have been making for years: Clean Diesel is not only good transportation, it's good for the driver's soul. And not just for speed. "Character" is the word that best typifies this transformation.
Shortly after it came out of the Banks works Bosch took the VW out on the road to tracks like Pocono International where they put the car into the hands of a number of (eager) journalists and pronounced those four magic words: "Buckle Up" followed by "Have Fun."
From all the reports (many are still coming in … you'll be reading them soon on other sites) the car struck a chord with all of its drivers. It seemed to have the just right blend of power, handling, and a unique, authoritative sound that was quite un-diesel like.
Of course at Banks (and at Bosch) the engineers often are very pleased with their creations. In this case they have every right to be, Motor Trend's Frank Markus, who called this machine "A TDI Cup racer for the road."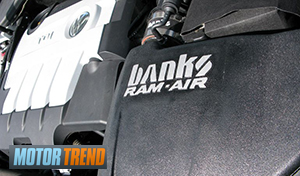 "Naturally," Markus went on in his on-line blog, "Your fuel economy results will vary big time when you find yourself burying the throttle at every opportunity to ride that wave of torque, but hey, your carbon footprint is still way smaller than your GTI-flogging neighbor's. There's no word yet on parts availability, but keep an eye on www.bankspower.com, " he concluded. "With TDI accounting for 81 percent of Jetta SportWagen sales and 40 percent of Jetta sedan sales, Gale won't keep these parts to himself for long."
And of course those very same Banks engineers in the previous paragraph who are often pleased, somehow, are just never satisfied. In fact, a brand-new Jetta SportWagen TDI just recently joined the HQ test fleet for our enthusiastic engineers to work with here at Banks … It's a machine that Gale Banks himself has taken a real liking to, he's checked it out on more than one weekend trip."
… We'll have more on that machine presently.
Read more and leave a comment on MotorTrend's website!