6.6L Supercharged Diesel Turn-Key Engine (600-650 horsepower)
The all-new Banks R866SC supercharged 6.6L diesel engine delivers impressive horsepower, torque, and lightning-fast response with military-grade durability.
Banks engines undergo initial assembly on the production line at DMAX LTD's Moraine, Ohio engine plant where dozens of Banks proprietary parts are seamlessly integrated. These all-new engines are transported to Banks' Azusa, California engine plant for final assembly. Each engine is hand-built and rigorously tested by a single highly skilled engineer. These are not remanufactured. All Banks engines are 100% new.
Although they share similar architecture with Duramax L5P engines found in GM's popular late-model pickup trucks, Banks engines are wildly different. No other diesel crate engine compares.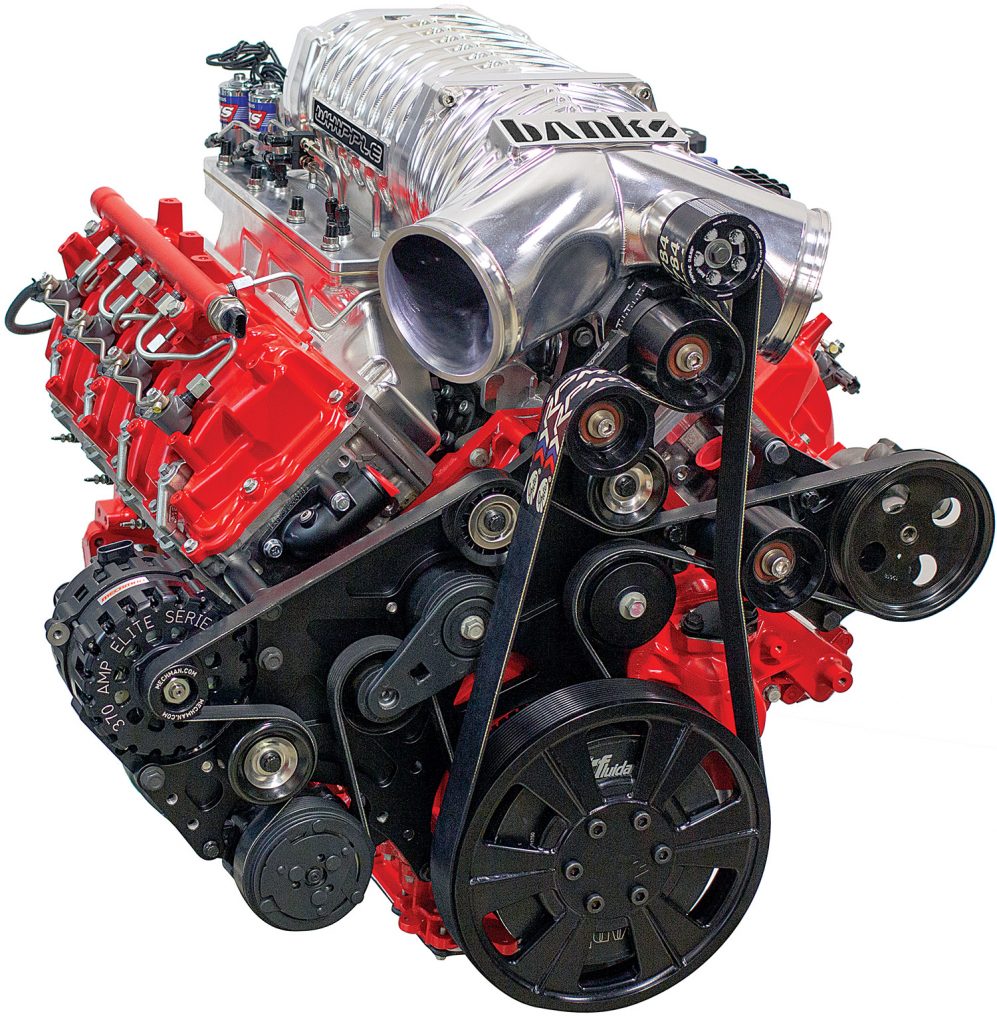 Banks Supercharger System consisting of:

3.8L supercharger by Whipple
Banks cast aluminum intake manifold
Banks proprietary intercooler
12-rib supercharger belt drive
Banks proprietary Fluidampr with supercharger drive
Banks cast aluminum integrated supercharger inlet/drive
Intercooler pump
Banks Performance Valvetrain System Consisting of:

Banks proprietary camshaft
Banks proprietary spring package
Banks proprietary pushrods
Banks Custom Front Engine Accessory Drive (FEAD) consisting of:

Banks proprietary bracketry
Air conditioning compressor
Alternator
Power steering pump
Banks Ready to Run electrical system consisting of:

Banks proprietary plug and play wiring harness
MoTeC ECM
Electronic throttle pedal
Banks proprietary wet sump oil pan
Banks logoed custom injector covers
6-speed Allison 1000 transmission
6L80-E GM transmission modified for increased torque
Upgraded torque converter
iDash DataMonster
MoTeC digital dashboard display
Banks high-performance exhaust manifolds
Banks header flanges for custom fabrication
Paddle shifter
Remote oil cooler and filter kit
Technical specs to be added above as they become available
Estimated availability: Second quarter 2022