6.6L Supercharged Diesel Turn-Key Engine (600-650 horsepower)
The all-new Banks R866SC supercharged 6.6L diesel engine delivers impressive horsepower, torque, and lightning-fast response with military-grade durability.
Banks engines undergo initial assembly on the production line at DMAX LTD's Moraine, Ohio engine plant where dozens of Banks proprietary parts are seamlessly integrated. These all-new engines are transported to Banks' Azusa, California engine plant for final assembly. Each engine is hand-built and rigorously tested by a single highly skilled engineer. These are not remanufactured. All Banks engines are 100% new.
Although they share similar architecture with Duramax L5P engines found in GM's popular late-model pickup trucks, Banks engines are wildly different. No other diesel crate engine compares.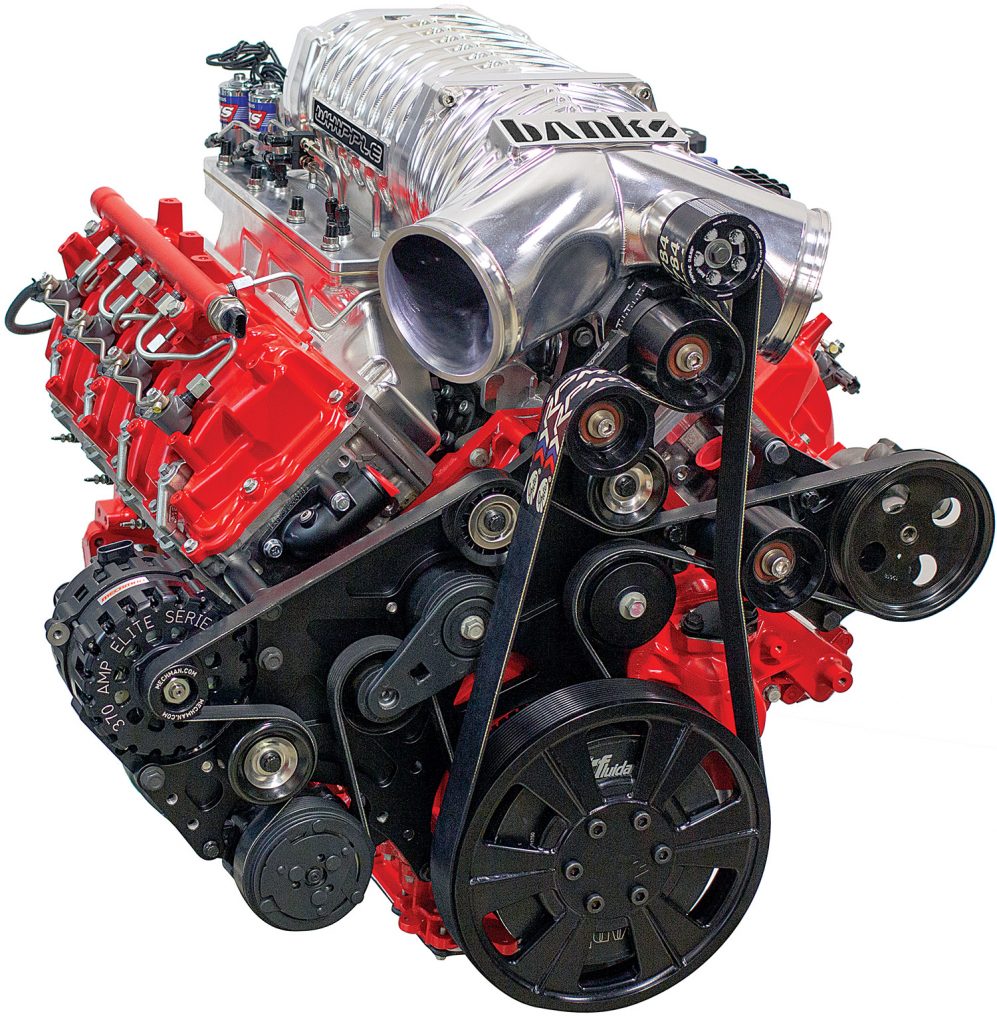 Banks Supercharger System consisting of:

Whipple 3.8L Gen V supercharger, billet aluminum
Banks cast aluminum intake manifold
Banks proprietary air-to-water intercooler
12-rib supercharger belt drive
Banks proprietary Fluidampr with supercharger drive
Banks cast aluminum integrated supercharger inlet/drive
Intercooler pump
Banks Performance Valvetrain System:

Banks proprietary camshaft
Banks proprietary spring package
Banks proprietary pushrods
Banks Custom Front Engine Accessory Drive (FEAD):

Banks proprietary bracketry
Air conditioning compressor
Alternator
Power steering pump
Banks Ready to Run electrical system:

Banks proprietary plug and play wiring harness
MoTeC ECM
Electronic throttle pedal
Banks proprietary wet sump oil pan
Banks logoed custom injector covers
6-speed Allison 1000 transmission
8L90-E GM transmission modified for increased torque
Upgraded torque converter
iDash DataMonster
MoTeC digital dashboard display
Banks high-performance exhaust manifolds
Banks header flanges for custom fabrication
Paddle shifter
Remote oil cooler and filter kit
Technical specs to be added above as they become available. Each engine will ship with its own dyno sheet. 
Estimated availability: Late 2022