World's Fastest Diesel-Powered Drag Truck will "Ride Again" at NHRDA Nationals
March 7th Event To Feature Famous Record-Setting Banks S-10 Sidewinder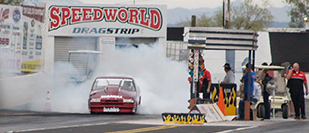 Azusa, California – –  Perhaps diesel drag racing's most recognizable racer, the ruby red, Banks Sidewinder Chevy S-10 will be "back in the saddle" and riding the range once again at the 2nd Annual Desert Diesel Nationals at Speedworld Dragstrip in Wittman, Arizona on March 7.
This record-setting, record-breaking (its own record each time!) pickup truck is credited with the first-ever runs into the sevens of any diesel-powered, truck-bodied machine as well as validating Banks' ground-breaking "CleanTune" philosophy on its every run down the racetrack.
Powered by a Banks-built 6.6L GM Duramax V-8 Diesel that snarls out over 1,200 horsepower and an equal number of pounds-feet of torque, this Sidewinder has seen some very strong numbers come up on the scoreboard in its short two-year career.   Many of those very strong times and speeds have been put up at the SpeedWorld Dragstrip located just outside Phoenix.
The Banks team returning to SpeedWorld Dragstrip will present an outstanding opportunity for many Banks fans from the Southwestern part of the U.S. to see this quick diesel pickup put through its paces by Banks pro driver Wes Anderson.  Seeing the dark red racer make its famous "tire-smoke only" runs in person can be an almost life-changing experience for some.  And, in any drag racing fan's book, seeing a diesel "truck" turn times like this one does is always great fun.
But running at this event will not be "just for the fun of it" by any means for the Banks Racing Team.  Every single time the Banks team takes a shot down the racetrack new information is noted and applied to the quest for even better performance the next time.  Even more important though, is how what's learned in the crucible of competition can benefit end users of Banks products in the future.
Not everyone needs to see 170+ miles an hour come up in 7 seconds, but the engine efficiencies which are needed to do just that with this very special machine are also showing Banks engineers how to get more power and do it on less fuel out in the "real world."



Don't miss the action on the strip and in the pits!

Watch what happened the last time the Banks S-10 went to SpeedWorld!