FORD POWER STROKE 6.0L Part 1: What Fails and Why
Diesel World
October 2009
In this 6.0L Power Stroke re-build project, find out what failed and what didn't, and see the opportunities for upgrades.
Normally, it's pretty difficult to kill a diesel engine. But there are folks who seem to get that job done via too much nitrous, copious amounts of fuel leading to nuclear EGT meltdown, or even a turbo failure that spits metal shards into the engine. As a general rule, diesels go down because of lubricant failure. Something gets into the oil, the oil breaks down, heat builds up, and mechanical failures soon follow.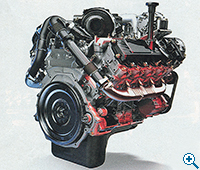 Speaking specifically of the Ford/Navistar 6.0L Power Stroke V-8, the usual blame fails on the head gasket, which leaks and allows coolant and oil to mix, thereby creating lubricant failure and the subsequent cascade of mechanical mayhem. But the gasket doesn't fail by itself. The bolts holding it down would have to fail first, and there would have to be a reason why. One reason for head bolts to blow would be water in the fuel, which creates steam that stretches the bolts.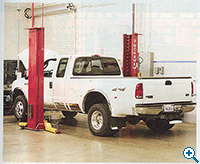 Another way for a diesel to die quickly is contamination of the air supply with sand or dust, which would get into the cylinders, get past the rings and into the oil, and eventually, take out bearings and mating surfaces everywhere. A third cause-fuel dilution of the lubricant-is often due to failure of seals in the injectors. We mention this only to remind readers that filters-those simple devices responsible for keeping oil clean and water out of the fuel-are what keep an engine alive. When filters get plugged or allow contaminants to pass through, lubrication falls arid the entire engine is at risk. The again, it's always possible that the cause of failure is due to simple wear, abuse or design weakness.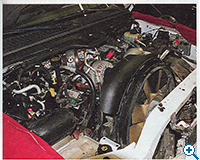 It's no secret that 6.0L Ford/Navistar Power Stroke engines have been notable for warranty issues. These included EGR valve sticking due to carbon deposits, which can be remedied by installing a new-design stainless EGR cooler. There are not many mechanics who like to work on the 6.0, but we found one-Wayne Dugas of Dugas Engine Service in New Iberia, La who does a fair amount of 6.0L rebuilds for local Ford dealerships. He told us the EGR cooler was a recurring issue. "The EGR cooler, a lot of times, leaks, puts water in the cylinders, creates a hydraulic effect, which blows the head gasket," Dugas noted.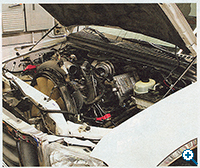 Head gasket failure became a common cause of repair. "Especially on the 6.0L, there was a design flaw-not enough head bolts. The head bolts pass through an aluminum carrier and cast-iron head, and you just don't get the clamping force," Dugas noted. This can be addressed by replacing the torque-to-limit head bolts with head studs that offer better clamping power.
Regardless of the cause, once a breakdown occurs, the choice is to rebuild or to replace. In the case of the '03 Ford F-350 you see here, the owner chose to rebuild and upgrade in the process. He brought the truck, which had obvious engine issues, to Banks Performance in Azusa, Calif., to assess and recondition.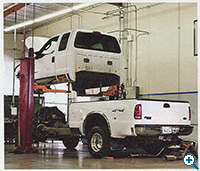 One area of the sprawling Banks Campus includes a shop and retail area, in which customers can bring their trucks for upgrades. The company calls it the Banks Powerhouse. It's a roomy facility in which vehicles of all kinds-diesel pickups, Jeeps, and other 4x4s-can receive professional consultation and installation. The crew at the Banks Powerhouse set up a repair and upgrade program intended to make the F-350 run stronger. cooler, faster and more reliably, without compromising existing emissions provisions.
This month, we take a look at what was done to assess the engine at hand, part by part. We'll find out what failed and what didn't, and consider opportunities for upgrades. In subsequent installments, we'll show how those upgrades will be achieved, and finally, we will document the results.

Download a PDF
of the article (4 MB)

---
Catch the entire story…

| | | | | |
| --- | --- | --- | --- | --- |
| | | | | |
| part one | part two | part three | part four | part five |
---
Visit Diesel World magazine online!