It is Alive – Banks Marine Engine in the Dyno Cel
How did the V-8 monster diesel engine spring to life? Here's the inside story.
By Kevin Callahan
By the time you read this, dyno room testing will be underway on the new Banks marine turbo-diesel being developed for high performance, sport and possible defense industry use. But how did this powerful V-8 monster spring to life? Here's the inside story.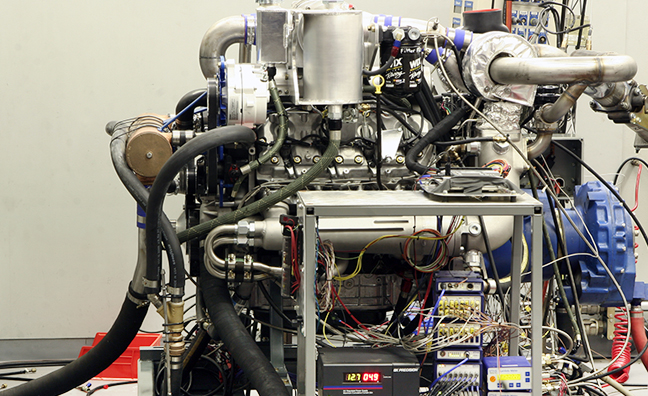 Ask any engineer and they'll tell you. Building a mega-horsepower, high-revving turbo diesel for a blast down the quarter-mile or a Bonneville run that lasts a few seconds is no easy task. Now imagine building an engine that delivers amazingly high performance full-bore, pedal to the metal, for two hours straight and longer-on the water! It's the kind of thing that gives most engineers recurring nightmares and spells of vertigo. That is, of course, unless they work at Banks Power.
Yes, the Banks crew is at it again.
You could say all the heavy lifting happened when they built their world's fastest and quickest diesel pro-stock Sidewinder drag truck. After all, you don't go from 0 to 180 mph in 7.72 seconds without learning a thing or two about extracting maximum performance with rapid throttle response. Plus the reliability you gain when you're setting new records each time you turn up the wick and make another pass down the ¼ mile. These are factors which are both extremely important for marine applications. You could say the heavy lifting was done, but you'd be wrong. Because while virtually every engine system developed for the Sidewinder drag truck has found its way onto the test engine currently being assembled, they all had to be re-designed and re-engineered for the unique demands of marine use.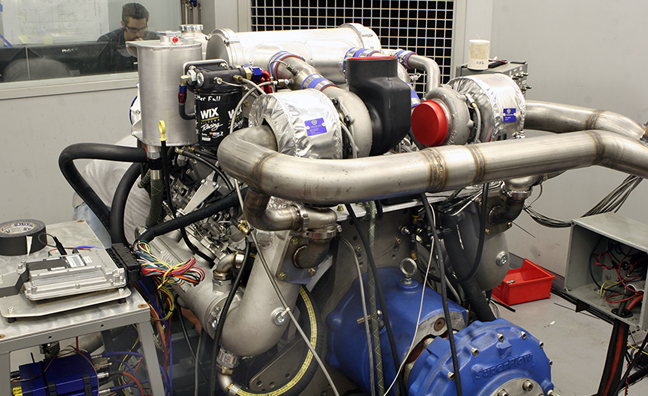 It all began with a stock Duramax 6.6 liter, single turbo diesel. With the excitement and enthusiasm of kids unwrapping a new Christmas present, the Banks crew first stripped it to pieces, and then rebuilt it inside and out with modified pistons, stronger rods, a higher-volume oil pump, and fitted it with twin-turbos and a shiny Banks-red intake plenum. Fun. But they were just getting started. Each and every component was examined and many replaced with a newly designed and engineered piece. If the stock part wasn't up to the job, or right for marine use, stronger materials were utilized and different geometries were developed using CAD until all doubts about reliability were satisfied.
When you're going to torture an engine by running it at max power for hours on end, you better make sure the cooling and lubrication systems are up to snuff. Especially in a boat where no matter what kind of crazy power you are pumping out, engine compartment temps have to be kept at a minimum for safety reasons. That's where Banks Power's Computer Flow Dynamics analysis comes in. Newly prototyped heat exchangers, exhaust manifold water jackets and even the specially modified piston cooling jets were tested until they achieved the best flow numbers possible under the most grueling conditions.
There are definitely good things and bad things about converting an engine designed to run on land for on-the-water use. The good news is that when it comes to cooling there is plenty of the wet stuff around. This "marinized" engine uses turbocharged air that is cooled through a seawater-powered heat exchanger and therefore much more efficient at delivering oxygen-rich powerful air to the combustion chamber than its land-based air-to-air intercooler counterpart. The bad news is that being around all that moisture makes for some heavy-duty corrosion. This meant that completely new ducting and plumbing systems had to be engineered with materials that wouldn't rust.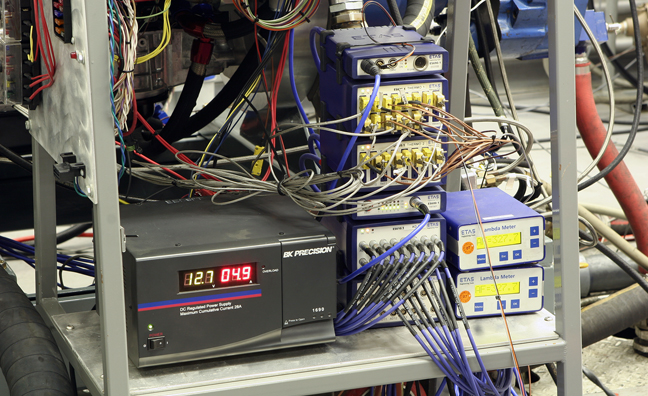 So what other technologies developed for the drag truck made their way into Banks new marine turbo diesel? The custom fuel injectors were used to meet the flow requirements of a high-powered engine. As was the CAN-enabled engine control computer with the calibration numbers tweaked to balance performance and endurance.
Have their been any teething problems? A few. But considering that there are so many new components and systems in this engine, it's all good news so far. Every day the Banks crew inches closer to their goal-a turbo-marine diesel  that delivers 550-plus horsepower for exhausting time periods and make every diesel or gas-powered boat enthusiast drool. Fortunately, with plenty of water around, there's a good chance their wives and girlfriends won't notice the socially-incorrect behavior.
There's plenty more news and horsepower to come about this one. Stay tuned.