Banks Power and Kroeker Off-Road Engineering team up to conquer the Baja 1000
By Tim Gavern David Downs Goliath at Baja A virtually stock 2003 Cummins diesel-powered Dodge Ram 2500 4X4 Pickup truck Read more
More SEMA wrap-up
Well, being that I worked the booth most of the time I didn't get to wander around like I had wanted to. I did meet some great folks who had great questions about our products... and even their own vehicles. One guy came to me a little frustrated and confused saying that the guys in the GM booth couldn't answer any of his questions on the changes to this year's iteration of the Duramax LLY or LBZ, and get this... they told him to go ask Banks because they know more about it than they did. Wow, it's nice to be recognized by your peers. Turns out they were right and the gent and I went over the changes from the cooling system to the block. He left pretty satisfied. Read more
Pump The Power
Installing a Full Banks PowerPack on a Ford F-350 As the loads we've asked our trucks to haul have gotten Read more
The Notes from SEMA: Day 1 or Crazytown
Guess what I'm doing? Gambling? Nope. Checking out the wom... um... sights? Nah! You got it: sitting in my hotel room on a Halloween night in Vegas watching the cinematic great "Catwoman". Man... isn't life great? How on Earth did I miss this gem? Read more
Project Titan
Bolt-on Performance Upgrades After we packed our project Titan with power-adding goodies, we decided to test them out while patrolling Read more
Wild Kingdom or Fuzzy Memories: Take 1
Ok... let me start off by saying that one of the things I wanted to do when we first started out with this "blog" thing was to kinda open the vault into the company and the cool stuff we're doing and planning. A novel idea in theory, but when you do actually do that you let the cat out of the bag on things you really shouldn't. Products and projects wouldn't quite have the same effect if everybody knew about them, and then sometimes you end up sounding like a commercial... which is far from what we want to do. Read more
Rough 'N' Ready...A Rat Rod With a Twin-Turbo
Imagine driving a 1,100 hp, Twin-Turbo sport truck This was no feverish dream, but one hell of an adrenaline-pumping ride Read more
WyoTech Happenings
In the last couple of weeks there have been two events in which the personalities of Gale Banks Engineering and WyoTech Technical Institute have crossed paths. WyoTech is the leader in education when it comes to hands on training in the areas of Automotive, Diesel, Collision Refinishing and Hot Rod/Custom Vehicle fabrication. Banks has taken an interest in supporting WyoTech because of the quality and employability of the students that they produce. Two WyoTech graduates currently work in the Banks Race Shop prepping the D-Max type R for its racing debut. Read more
Riding The Big Hoss
How Banks Gets More Horses From A Ford F-250 Power Stroke Think of your diesel truck as a sleeping giant. Read more
Fuel for Thought
The future of automotive propulsion may already be here, waiting at your local truck stop. But that was then. Things Read more
Diesel Power
For Decades, Fringe Hot Rodders Have Been Predicting a High-Performance Diesel Revolution. It Turns Out They Were Right. Expect Diesels Read more
The Wild Bunch
Can a diesel-powered off-road rig also be a hot rod? And a fuel-efficient highway cruiser to boot? WHO KNEW? A Read more
Vacation... all I ever wanted? or "Dude, where's my car?"
(Please note: there is a car story here... really.) The word "vacation" has never been one that has meant much to me. Growing up time-off from school or work was an opportunity for my loving family to work on the house, an exercise in perpetual futility. Tear down a wall, build it back up. Paint the inside, outside, walls, parakeet and dog. Backyard flat? Hell, the kids can dig that fish pond. Oh, and it needs to be 4-ft. deep. I'm not really complaining... just unlocking the door so you can understand my malfunction. To me a vacation is really just a time to get things done, even if it is work related, and really not to lounge on a deck or vegetate. Not that something like that is wrong mind you... I'm just damaged in my way of thinking compared to most of the human race. Thanks for another thing, Mom and Dad. Read more
Gale Banks. A Household Name?!
Hola. Just a little ditty to illustrate how much Banks has been in the media this Summer. It's been amazing! It has gotten to the point that we've even coined a new term for hot rodding it to the max. We're going to "Banks it." Nice. In Print... Read more
Alpha Booster or H1: Sith Lord
There are certain vehicles that are automatically associated with certain people. Let's try a few: Batman James Bond Steve McQueen The Green Hornet Get the idea? Now tell me what comes to mind when I say Arnold Schwarzenegger? Hmmm... Read more
Banks Sidewinder All-Terrain trucks
The World's First Diesel Tuner Trucks Banks Sidewinder All-Terrain packages debuted on Hot Rod Magazine's Power Tour 2005, and Banks' Read more
A Kick In The Gas
Improving your old 460 Ford's torque and power with a Gale Banks PowerPack system Shown is our test vehicle–a 1996 Read more
Torque Tough
Banks' billet torque converter takes on big diesel power   The Banks Billet Torque Converter is designed to withstand the Read more
Gale Banks Engineering to Road-Race GM Diesel Pickup
Gale Banks is out to prove diesel engines are capable of high performance, and he's proving it one racing venue Read more
Banks "Rat Rod" Shop Truck
How the Banks Race Shop modified its twin-turbo "Rat Rod" pickup for the Hot Rod Magazine Power Tour The Banks Read more
23.6 MPG from a Truck that Runs 222 MPH!
OK, you haven't heard from me in a while and I'm going to use the same excuse as everyone else; Power Tour, blah, blah, blah. But since I am doing so, I would like to continue my theme on fuel economy with a report from the Power Tour. As you know, we took five vehicles on the Tour, four trucks with diesels of various flavors and one truck with a twin turbo small block Chevy. One of the trucks that completed the entire 1700+ mile trip was the Banks Sidewinder Dakota. You remember this truck, it holds the world record as the fastest pickup truck at a top speed of 222 mph. The cool thing is, it is completely street drivable and is actually fun to drive. Read more
Project Sidewinder's First Drag Race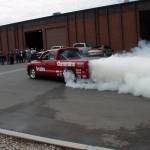 The Banks Sidewinder made its first drag racing appearance at Bandimere Raceway in Denver, Colorado. On July 27, the Read more
High School Biodiesel Brain Power
There are lots of articles being written about "home-brewed" biodiesel today but I've felt that most of these backyard projects getting ink are the automotive equivalent of brewing moonshine. I say this, because while the end result is probably combustible in a diesel engine, the biodiesel fuel produced is not refined and finished to any known standard. Here's a project worth mentioning for a variety of reasons. Technology Teacher, Michael Winters, at San Gabriel, California's Gabrielino High School's Tongva Technology Center began an Eco-Fuel Research Project five years ago to educate his students on the benefits of alternative fuels. Read more
The World's First Road Racing Pickup Truck
How many of you know that Banks' Race Shop is building a roadracing truck? Did you know that the truck is going to be diesel powered? That's right! A diesel powered roadracing truck! And it will be twin-turbocharged! What's the big deal you say? Well, diesels have several advantages over gasoline. First is mileage. Diesels generally achieve 20-40% higher mileage than gasoline-powered equivalents. Improving mileage means less fuel stops in an endurance race. This is a huge advantage and one that can shave critical minutes off of a team's total time. Read more
Hopping Up the Turbodiesel
Dispelling the smoke about black, sooty smoke—and how to obtain maximum continuous, useable power from a diesel.   Shown is Read more
Running After the Ice Cream Man, or Picking up the Sidewinder
Remember when you were a kid and you heard that sound? You know, the sound that could motivate the dead to rise and you to drop whatever you were doing and run like hell screaming with whatever coins you could find clinched into your tiny hands? It was a melody that seemed to carry through the air even from miles away and could interrupt anything that was going on in your life at the time making you swing your head it the direction it was coming from. Yeah... Read more
Time Travel or Power Tour Epilogue
And so here is yet another late entry in my log of blogs. Let's set the clock back... back... back... to June 8th... ... So this is my first time flying Southwest... and I have to tell you it ain't bad. Oh, I'm sure that if it was packed like my flight to Milwaukee I would have much more to say. But hey, airlines don't always smash as many folks as they can into a tiny plane like it was a dare or something like that... do they? The thing I thought was funny was that there are no assigned seats on Southwest, and it was every person for themselves. What a hoot it was to see everyone running to be first in line. I even got caught up in the rush. Hah... that little old lady never knew what hit her. Read more
What a Long, Strange Trip its Been
Throwing a bunch of guys together for a seven day, 1,700-mile tour is bound to have its ups and downs. This sign found in Joe's Crab Shack in Kissimmee, Florida on the last day of Power Tour says it all. The merry bunch of Banks employees (and journalists) that traveled with us now share a common bond and many memories that will last a lifetime. We did the 'long haul' with virtually no problems to speak of and the 2005 Hot rod Magazine Power Tour was a great success. It was an excellent way for Gale Banks Engineering to meet its customers and make new friends and champions for our current and future products. Read more
Bosch DCX Tech Fair or "Drive Sample Vehicles Like You Stole Them!"
I know... it's been a while since I've written, but I've got a good excuse. No, really... I do. See, I went on the Hot Rod Power Tour and before that, Bosch's DCX Tech Fair. Vehicles, meetings, logistics, details and way too many "what ifs" make Johnny a dull boy. It's as if I've been a cross between the proverbial one-legged man in a butt-kicking contest spliced with a chicken with its head cut off. Sort of a one-legged chicken-man with no head trying to kick some butt if you will. See the problem? Read more
Hot Rod Magazine Power Tour: A Huge Success!
Perhaps you've noticed the lack of blogs from all of us during Power Tour? The days went by like lightning. There was, literally, no time to blog. Here's how our tour went. Day one: Wake up (5:30 a.m.); shower; shave; meet in hotel lobby (7:00 a.m.); quick breakfast (7:15 a.m.); schlep bags to the truck-of-the-day (8:00 a.m.); drive to event city (usually around 300 miles); park truck at booth (2:00 p.m.); get swarmed by gawkers (2:01 p.m.); talk to people about Banks products (2:01-8:00 p.m.); pack up trailer (8:00 p.m.); eat dinner (9:00 p.m.); sleep (10:30 p.m.); zzz Repeat six times. Read more
Air Travel Hell: Hot Rod Magazine Power Tour (Pre-Tour)
4:44 a.m. Okay, the trip stared off badly when the shuttle van that was supposed to pick me up at 4:00 a.m. hadn't arrived by 4:30. When I called, they told me, "oh, our driver just now told us he was experiencing vehicle trouble..." Great. What about my ride to the airport? The shuttle company called a cab for me and my $45 trip to the airport wound up costing $68.30. The shuttle company is going to pay me the difference. Yea - there's money I won't be seeing again anytime soon. The only saving grace was Richard, my taxi driver, was also an Armenian philosopher. I got an Armenian history lesson on the drive to the airport. Interesting. Read more
Banks Sidewinder All-Terrains are Ready to GO!
It's been a real thrash for the past few weeks getting ready for Hot Rod Magazine's Power Tour. You may have noticed the lack of new blogs recently. Sorry, but we've all been swamped. Imagine the logistics and man-hours involved in getting five trucks ready for the 1500-mile Power Tour... Anyway, we now have all three 2005 Banks Sidewinder All-Terrain trucks finished and ready for Power Tour. Banks "Rat Rod" Shop Truck and Banks Bonneville Record-Holding Dodge Dakota are also ready to fly. Read more
Turbodiesel Tow Rigs To Go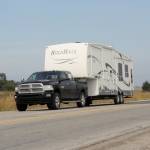 No wonder diesel light truck sales have nearly tripled in only 10 years! Well, that was then. Today's turbodiesels are Read more
Banks Goes Camping
Camping World is a nationwide certified dealer and installer of Banks Power Systems. Camping World is a nationwide certified dealer Read more
Riding the Big Hoss
How Banks Gets More Horses from a Ford F-250 Power Stroke Think of your diesel truck as a sleeping giant. Read more
Dynamometers: Fact or Fantasy
How to get factual horsepower and torque numbers using dynamometers—and why inertia dynos are dyno jokes! How do you get Read more
Fuel Economy Methods: Part One
How do you calculate fuel economy? I read so many different claims about fuel economy, and I keep coming back to wondering how people arrive at their data. For instance, on the diesel forums it is not uncommon to see someone claim 24 MPG in a diesel pickup. And yet I have personally driven a Duramax LLY with a heavy load up a grade, and watching the digital mileage indicator, I have seen instantaneous readings as low as 3 MPG. That's a huge swing. Read more
Cooling That Powerful Itch
Some tough questions should be asked when venturing into the world of diesel power: Are you shopping for a product to speed up your truck for quick 0 to 60 sprints and quarter mile bragging rights, or are you looking to enhance its towing brawn? Is there a way to get both? Just why does my truck need to blow plumes of black smoke to make power, and what is it really doing to the engine? Read more
Project Sidewinder Gets 21.2 MPG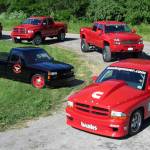 Fuel economy tests show the Sidewinder Dakota achieving 21.24 MPG. And it drove the full length of the Hot Rod Read more
The President Digs Diesel
President Bush told a business group last Wednesday (April 27, 2005) that anti-pollution measures for diesel "will remove more than 90 percent of the sulfur in diesel fuel by 2010." He also announced plans to provide similar tax credits to those already in place for hybrid and fuel cell vehicles for consumers who purchase light-duty clean diesel cars and trucks. Read more
A Ragin' Good Read
I just finished reading an article in the May 2005 issue of Four Wheeler magazine entitled "Rage Against the Machine." Awesome! Robin Stover details the success of Kent Kroeker's virtually stock Dodge truck in the 2004 Baja 1000 (http://www.koreperformance.com). Check out this preview article on Four Wheeler online: (http://www.fourwheeler.com/brandpages/129_0411_500/) This adventure impresses me for many reason's, but I think I just love to absorb as much off-road racing as I can, and this article offers a healthy dose of it. Read more
Banks' Intercooler For Third Generation Trucks
When Banks Engineering came out with an intercooler for the Third Generation trucks my first thought was, "Why?" Peter gave Read more
Truck & SUV Super Tuners
Performance. It's Not Just for Cars. There are millions of truck and sport-utility-vehicle owners out there unwilling to sacrifice performance Read more
Banks' Duramax BIG HOSS INSTALL
Instant Muscle-Truck In A Box The latest generation of General Motors Duramax turbodiesels, designated LLY, are taking the truck world Read more
Mastering Teamwork at the Baja 1000
Banks Power teams up with Kent Kroeker and his KORE racing Dodge Ram. It was 2 a.m. and we were Read more
Turnkey Power In Your Mailbox
Guide to Crate Engines & Blocks What it is: Next-Generation Complete Twin-Turbo 366ci small-block engines Some details: They have CNC-machined Read more
Who am I?
I said in an earlier blog that I was a Ford guy. Today I think I am changing my identity a bit. I think I am starting to consider myself a Diesel guy. I drive a gas-powered F-150 every day and keep thinking about what my fuel costs are going to be this summer. I would sure love to have a small diesel-powered car to commute with. Unfortunately being in California, it doesn't look like that will be available to me anytime soon. Read more
Shhhh... we're working on some future stuff!
A little while ago, I wrote in my first blog that we get our hands on some really neat, future stuff. A good example from the past was the powerplant for our Sidewinder Dakota truck. You know... that little red pickup that ended up smashing a number of speed records and went 222 m.p.h.? Well, that engine was a '03 common-rail Cummins that we just so happened to get in 2001 from the Cummins Skunkworks for our project. Read more
My Weekend Romance
So my pal, Peter Treydte comes into the office this past Monday morning and loudly declares, "Hey Tim, you're no longer a diesel virgin." We all laughed. It's true though. I drove a bone-stock cherry red 2005 Ford F-250 crew cab 4x4 Power Stroke turbodiesel over three hundred miles last weekend. It was a great experience and one that truly changed any preconceived notions I had that modern diesels were still big, klunky and slow. As I stated in a previous blog, I'm a hot rodder. I build street machines. Cars. Not trucks. In fact, the only trucks I've ever owned were two $500 trucks that helped me move and each time, I sold the truck right after. Read more
A Trip To The Toy Shop
One of the things that I like doing sometime during the workweek is to wander through the Banks Race Shop. It is really an amazing place. I can't think of any other place in the world where I could find high-flow intake manifolds for diesel engines being developed, turbochargers being mounted on a V-12 tank engine and a one-of-a-kind diesel road race truck being built from the ground up... oh and by the way, just a few feet away is the world's fastest pickup truck powered by a Cummins ISB engine. Read more
Power Touring
A few of us here at Banks are stoked to be going on Hot Rod's Power Tour this coming June. I've been threatening to go on Power Tour since they started it. What is it nine years already? Anyway, this was the year I was going to do the long haul in my '63 Biscayne. Of course, I'd need to change its 4.56 gears to something a little more highway friendly. But, that's easy. Read more
Turbo Lover: Part One
Have you ever heard a sound that gave you goose bumps just by hearing it? Ever since I was a kid that magic tone for me was that of a turbine whine. To me it just sounds like power incarnate. I mean...what's more powerful sounding than a jet taxiing and taking off? That is the sound that suckered me into buying my first turbocharged car: the underrated Merkur XR4Ti. I like my vehicles to be different, and this one sure fit the bill. Aside from looking like the forbidden love child of Saab and a Ford Escort, it had a blown Pinto 2.3 liter engine that whined louder than a dentist's drill. Turbo lag was BIG, but when it finally built up the power its demeanor turned from that of a timid koala bear to a raging donkey and squished my unassuming passengers deep into their seats. Sweeeet! Read more
Diesel Hot Rods
I'm a typical hot rodder. I build hot car after hot car. And of course, every one of them has been gasoline-powered. What else is there? Well, how about diesel? After coming to work at Banks, my old ideas about high performance changed. All you have to do is drive one hot rodded turbodiesel pickup truck and you'll understand. Turbodiesels can really haul $%&! In fact, I've been in some daily-driven trucks lately that could beat many so-called musclecars. And these trucks typically weigh 7,000 lbs.! Read more
Pay the Piper...or Hire Another Band
Just the other day, I was fueling my vehicle at a service station. While I was there, the station attendant emerged with a handful of numbers to change the posted fuel prices. He didn't change the gasoline prices, only the #2 diesel. It went up 4 cents per gallon. At that station, #2 diesel was then selling for 6 cents a gallon more than 91-octane premium gasoline, and 22 cents a gallon more than 87-octane regular gasoline. I remember thinking, that's nuts! Read more
Blue Oval Fever
I'm a Ford guy. I can't explain why, except to say that from the time I was a young kid I have always felt more partial to the Blue Oval brand than others. It could be because my dad owned more Fords than other brands. I was one of 6 kids, so we always had large vehicles. I remember going to church in an early 70's blue Econoline with a 3-on-the-tree shifter. I never got to drive that one, but I remember logging a lot of miles in it. It was replaced by a 1982 brown Econoline powered by a 289 V-8 with a variable venturi carburetor... not one of Ford's better ideas. This one I did get to drive. Read more
Giving Something Back
I'm sitting in my office waiting for the guys from WyoTech to arrive. This morning, I get to put something back into the diesel industry. I volunteered to work with WyoTech on the development of a light-duty diesel curriculum (with a high-performance overlay, of course). We're talking diesel pickups. There are now millions of them. The opportunity is huge for a young student as the demand is only going to get larger. Read more
Why a Blog?
My job title at Banks is, "Corporate Journalist." Pretty high falutin, huh? Not really. I'm just a scribe. I record a lot of what goes on around here. I document projects and vehicle buildups for corporate sponsors, provide info for magazine editors, write blogs, Blah, blah, blah. I'm swamped trying to keep up with all that is going on at Banks. I remember thinking recently that we need to get the information I collect to the public faster. Then, out of the blue a few weeks ago, Gale asked me what I thought of the idea of launching a blog about Banks. I couldn't get "yes" out fast enough. Read more
Beware the Blog!
"The Blog!" Blog this and blog that -- that's all I've been hearing for the past month. Up until recently I thought folks were talking about the anamorphic amoeba with the voracious appetite that terrorized a small town back in the '50s flick. They tried to stop it by burning it, shooting it and then blowing it up. Just about the only thing that'd stop it was freezing it. After all was said and done the thing grew from about the size of a pea to a giant glob. Read more
The Engine of the Future: Here Now
It's an exciting time to be involved in high performance diesel. It's an exciting time to be involved in high-performance Read more
H.O 6.0
Banks Big Hoss Bundle for 6.0L Diesel Fords One of the great experiences of life everyone should...well...experience is the power Read more
Boost in a Crate... It's a V8
Gale Banks Engineering's Twin-Turbo Small-Block Chevrolet V8: 1,115 HP @ 100 OCTANE/815 HP @ 91 OCTANE Some say American Iron Read more