Four Wheeler
November 2005
Bolt-on Performance Upgrades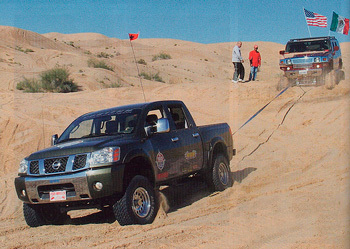 After we packed our project Titan with power-adding goodies, we decided to test them out while patrolling the dunes at the annual Thanksgiving convergence at Glamis, California. Having the extra power underhood helped us to rescue this stuck driver.
Nissan's entry into the competitive fullsize American pickup arena hasn't escaped our notice. Between driving an '04 Titan LE during a year-long evaluation (Jan., May, July, and Aug. '05) and building up the Project Titan you see here, we've gained a lot more knowledge about this truck. As such, we've decided to shift things a little and transform our Titan into a Top Truck Challenge–ready show-stopper for this fall's SEMA gathering. The plan is to modify our '04 test unit until it's the equivalent of an average TTC rig, as though we were planning to compete in it ourselves
For you daily drivers who don't subscribe to TTC-styled rigs, don't worry. Nissan has given us a second Project Titan to build with the average Joe in mind. We're going to call the buildups "Mild 2 Wild Titans." In this twin series, we'll showcase some of the most innovative products the industry has to offer for the Titan, while at the same time providing interesting fabrication ideas and tips that are applicable to just about any fullsize truck. We'll have more on that in our next installment. For now, check out what we did just before taking the blowtorch to our project Titan.
Exhaust
With the added weight of 35-inch Pro Comp tires, our Titan was feeling a little sluggish, so we contacted the folks at Gale Banks Engineering to obtain and install an after-cat exhaust system to help wake up our truck. It has a 3-inch straight-through polished-stainless Monster muffler, a Monster Y-pipe and tailpipe, and a 5-inch double-wall tailpipe tip with a rolled edge. And it looks stunning too.