Boost in a Crate… It's a V8
Turbo & High-Tech Performance
February 2005
Gale Banks Engineering's Twin-Turbo Small-Block Chevrolet V8: 1,115 HP @ 100 OCTANE/815 HP @ 91 OCTANE
Some say American Iron has its place…in the gun sights of an import. We've talked about displacement and how turbocharging can make a small engine "bigger." Bigger is bigger so when a large-displacement engine like a V8 or V10 get the pressurization treatment, look out. This best of both worlds one-two punch is vividly illustrated by turbo guru Gale Banks and the Gale Banks Engineering 6.0-liter (366 cid) turbocharged small-block Chevy V8.
The engine used for this buildup is a crate engine that can be purchased pre-boosted and ready to roll. Banks also has bolt-on turbo kits for V8 enthusiasts who already have longblocks prepped and ready for the boost treatment.
Dart Machinery, Banks' supplier, starts with a custom 4.125-inch bore high-nickel content block with splayed, four-bolt main caps for added strength. Banks engineers spent several months developing the head porting on the huge 79cc 23-degree heads.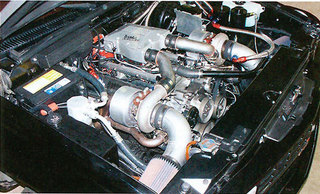 After the ports were finalized, Dart Machinery digitized the heads and created CNC-machined versions that will be proprietary for Banks. The heads feature 2.08-inch intake and 1.65-inch exhaust stainless-steel valves, 1.550-inch double valve springs, and 10-degree chrome-moly steel retainers. Quality Jesel shaft-mounted 1.6:1 aluminum roller rocker arms control the valvetrain motion.
For the reciprocating assembly, Banks uses a 4340 steel non-twisted forged crankshaft and 4340 H-beam connecting rods along with Banks-designed 8.5:1 turbo pistons. The camshaft is a solid roller with .609/.609-inch lift and 242 degrees of duration on a 112-degree centerline.
Banks chose Accel to work on the digital fuel injection, engine management and distributor for the twin-turbo program. The Banks engineers wrote the DFI twin-turbo calibration for air/fuel ratios and spark timing for the Accel Gen VII DFI unit.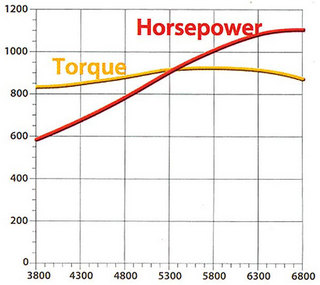 ON BANKS' ENGINE DYNO, THE BOOSTED SMALL BLOCK CHEVROLET TWIN-TURBO V8 PUMPED OUT 825 HP AT 6800 RPM WITH PROPER INTERCOOLING RUNNING 91-OCTANE GASOLINE AND PUSHING 12 PSI. PEAK TORQUE CHECKED IN AT 695 LB-FT AT 5700 RPM. ON 100-OCTANE AND 20 PSI THE V8 GENERATED AN IMPRESSIVE 1,115 HP AT 6800 RPM AND 905 LB-FT OF TORQUE AT 5800 RPM.
Tried-and-true AirResearch T04 turbochargers with 60-1 compressors and 713 Inco turbines work well with the Banks-designed aluminum plenum atop an Accel throttle body. Banks' plenum evenly distributes the pressurized air and features a trick pressure-relief shuttle valve that bleeds off excess boost when the throttle is closed.
A billet-aluminum serpentine belt drive tucks the A/C compressor, high-output alternator and power steering pump in tight and away from the heat generated by the turbos. It's a well-engineered package that produces more horsepower than most applications can probably use.
Banks set an initial goal of 800 hp, figuring that most hot rodders would be happy with that honest reliable number. Once the heads were developed and the combination of parts was finalized, the dyno engineers made some pulls on the test engine.
Banks' 800-hp goal was quickly surpassed. The engine made 815 hp at 6500 rpm running on California's crappy 91-octane gas. Eventually, the same engine produced 1,115 hp on 100-octane gas with the addition of an intercooler.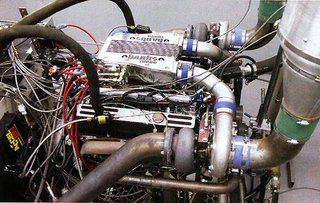 After more than 100 dyno pulls to ensure reliability, the test engine was installed in a black 1990 Chevy ½-ton pickup which was sitting around the shop. The truck had low miles and Banks thought it would make a good test mule. Banks knew the stock tranny couldn't handle the increase in power so a Richmond six-speed transmission was purchased and the engineers worked on getting the truck up and running.
With no traction aids and a bone-stock truck to work with, the engine had to be detuned a bit for street use. The engineers dropped the fuel injectors from 83 lb/hr to 55 lb/hr units and lowered the wastegate spring tension from 0.8 bar to 0.6 bar. With these minor changes, the truck still put down 550-rear-wheel hp at 6800 rpm on Banks' chassis dyno. It also lit up the super-sticky 305/45R-18 Nitto NT555R Extreme Drag radials like Christmas trees. It was perfect.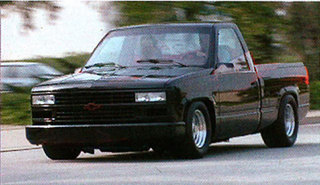 "Holy crap," we thought as we continued to pick up speed on a small street in Azusa, a suburb north of Los Angeles known for its many industrial shops and businesses. We desperately tried to find something to hold onto.
Sheldon Tackett, our chauffeur and the Banks Engineering's race shop project foreman, smiles as he notices our discomfort. We're on overload, calculating how fast we're going, how fast the truck is compared to other cars, and whether or not a taco truck is going to unexpectedly pull in front of us.
We're still accelerating. The continuing forward thrust really has us planted into the seat now, but we still wish we had something to hold onto. The pull from this engine is amazing and seemingly exponential as the truck gains speed.
Finally, as we're about to run out of road, Sheldon pushes hard on the brakes. He looks over at us with the face of a madman and laughs.
Off boost, the truck drives as smoothly as a stocker. Sheldon doesn't say a word all the way back to Banks' shop. He doesn't have to. The truck did all the talking. Climbing out of the cab, our hearts are still racing. Yet we want more. This feeling hangs with us for several days. We want that kind of acceleration again. Every day.
The bottom line is that power is power, and the Gale Banks Engineering power-plant delivers on this promise. But now that we've been for a ride in that ol' black magic truck, rear-wheel-drive American cars (and trucks) have a lot more appeal.
Just think of what Banks' twin-turbo V8 would do in a Camaro, Firebird, or Corvette? Or a number of older, smog-exempt Bow Ties? Heck, even kit cars would be a great place to stick one of these thumpers.
Banks already has a couple of twin-turbo Firebirds going together, but for now, if you come up against any pocket-protector-wearing, engineer types driving a black GM ½-ton pickup truck, you had better think twice before racing them. Especially for money.