Gale Banks Engineering to Road-Race GM Diesel Pickup
Undercar Digest
August 2005
Gale Banks is out to prove diesel engines are capable of high performance, and he's proving it one racing venue at a time.
Gale Banks Engineering is going road-racing with a twin-turbocharged diesel-powered truck. The diesel engine produces more than 800 lb.-ft. of torque at under 2,500 rpm.
In 2003, at the Bonneville Salt Flats, a Banks turbocharged diesel-powered Dodge Dakota pickup topped 222 mph. Banks' Cummins turbo-diesel-powered Sidewinder Dakota officially set FIA and BNI records for "The World's Fastest Pickup Truck" at 217.314 mph. Recently, the street-legal race truck returned from the 2005 Hot Rod Magazine Power Tour, where it drove the trip with zero problems getting 23.6 mpg in the process! This time, Banks is about to go road-racing with a twin-turbocharged General Motors LLY V-8 diesel-powered pickup. Proving the validity of Banks' concept, GM, Robert Bosch Corp., Honeywell (Garrett Turbochargers) and Eibach Springs are working with Banks' staff of engineers and fabricators to complete the truck. Banks' pickup, dubbed the D-Max Type-R, will race at selected West Coast three- and 25-hour endurance races in the North American Sportscar Association (NASA) series.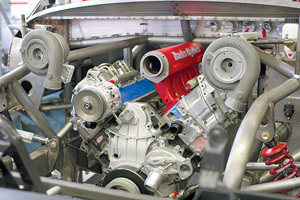 Banks has a serious GM Duramax LLY V-8 racing-engine program under way with goals of 650 brake horsepower at 5,500 rpm, the company said. Dynamometer testing has shown more than 850 lb.-ft. of torque at under 2,500 rpm from a relatively stock 402.6-cubic-inch (6.6-liter) V-8. Banks' staff has reworked the Duramax oiling system extensively for high-pressure lubrication (the stock Duramax does not require pressure lubrication). Smaller, lighter and shorter lifters run in bronze bushings, and lighter billet-aluminum roller rockers now are oiled through the pushrods. Banks also will have roller camshafts custom ground to take advantage of the higher-lift capability of the newly developed valve train. The forged-steel Duramax crankshafts are fully radiused, lightened, knife-edged, contoured, shot-peened, micro-polished and nitrided for the stresses of endurance racing. Banks-designed forged rods have been built, and Banks-designed pistons have been forged.
Banks' engineers did a huge amount of development work in a short time on the Duramax head ports, and flow is said to be already 25% better than stock. Banks will cut the ports in-house on its CNC mills. Larger-diameter custom stainless-steel intake and exhaust valves will be used on the exhaust side. Both valves are now 33 millimeters, and according to Banks, intake flow and exhaust flow are now equal.
A special billet-aluminum dry-sump oil pan allows the engine to be placed low in the chassis, and in racing trim the Type-R chassis will run close to the track. The D-Max Type-R will be racing in venues where no other diesel has raced.