AutoWeek
May 2005
Performance. It's Not Just for Cars.
There are millions of truck and sport-utility-vehicle owners out there unwilling to sacrifice performance in the name of versatility. Thanks to the wonderful world of the aftermarket, they don't have to accept what the manufacturer has to offer. There is a veritable smorgasbord of super tuners ready to help owners make their truck or SUV exactly to their personal preference and style.
Want more horsepower? Consider adding a supercharger or a power chip to remap the software of your engine's control module. A cold-air intake can improve your engine's breathing, and teamed up with a free-flowing exhaust, you can enhance its performance and make it sound cool, too.
With increased speed comes the need for increased braking power, so take a look at the big brake kits that can be installed. And bigger brakes mean bigger wheels and tires. Nothing looks better than big rotors and painted calipers peeking out from a set of shiny chrome dubs. Want to sharpen up the handling without compromising your ride? Check out the many suspension kits and shocks available.
Or maybe you just want your truck or SUV to stand out from the masses. In that case, shop for a nifty body kit, new front fascia and grille, or other aerodynamic add-ons that clean up your vehicle's exterior and make it uniquely your own.

And if you're not a do-it-yourself type, some super tuners make it as easy as checking a box on the dealer's order form to purchase a brand-new vehicle with all the bells and whistles installed and ready to enjoy.

You get the idea. The point is, whatever you can imagine doing to your vehicle can be done through the magic of super tuning. Thumb through these pages, visit some Web sites or make some calls to the super tuners of your choice. Your dream truck–or sport-ute–awaits.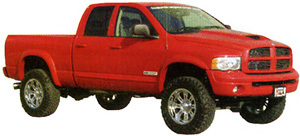 Performance products from Gale Banks Engineering added 126 hp and 290 lb-ft of torque to the turbodiesel V-8 of its Dodge Sidewinder All-Terrain.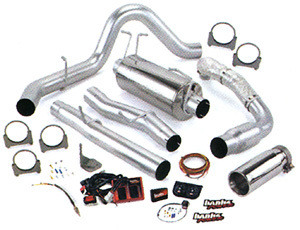 GALE BANKS ENGINEERING
Company founder Gale Banks is a pioneer in diesel performance and has been engineering diesel-performance products for more than 25 years.
Banks's Dodge Sidewinder Dakota currently holds the FIA World Record for "The World's Fastest Pickup Truck" at 217.314 mph. Banks's Cummins turbodiesel-powered truck produces 735 horsepower and 1300 lb-ft of torque and has run as fast as 222.139 mph at the Bonneville Salt Flats.
Now, Banks is bringing that experience from the Salt Flats to the streets with its Six-Gun Diesel Tuners, Six-Gun Bundles, and Big Hoss Bundles. The Six-Gun Diesel Tuners provide six adjust-on-the-fly power levels to Duramax, Cummins, and Power Stroke turbodiesel trucks, and power gains are up to 155 hp and 385 lb-ft of torque. The Six-Gun Bundles add products engineered to dramatically improve airflow, reduce backpressure, and lower exhaust gas temperatures (EGT), producing massive amounts of continuous, useable horsepower and torque.
Last, but not least, the Big Hoss Bundles are Banks's top-of-the-line systems and include everything in a Six-Gun Bundle plus a larger, free-flowing Banks Techni-Cooler Charge-Air Cooler and larger boost tubes to deliver more air density into the cylinders for maximum, constant-duty power. Looking to take your turbodiesel's performance to the next level? Look no further than Gale Banks Engineering.
Gale Banks Engineering
www.bankspower.com 800-601-8072