Diesel Power
September 2005
Can a diesel-powered off-road rig also be a hot rod? And a fuel-efficient highway cruiser to boot?
WHO KNEW? A diesel-powered off-road rig can also be a hot rod? And a fuel-efficient highway cruiser to boot? Well, Gale Banks knew; that's for sure. His company, Gale Banks Engineering, has a new Sidewinder All-Terrain package that is all that and more.
We speak from firsthand experience here, having dropped the hammer on each of these trucks, and also manned the wheel for a thousand or more miles on the Hot Rod Power Tour through the Midwest, all the way from Wisconsin to Florida. Along the way, each of these brawny trucks averaged more than 12 mpg, and that was with a lead-foot stomping on the loud pedal.
In addition to promoting this new approach to performance, another reason Banks' crew made the trip was to gain some experience with these  novel configurations and optimize the company's setup and tuning, particularly in the rearend ratios to compensate for the larger-diameter tires.
What prompted Gale Banks to create these do-everything trucks in the first place? Maybe it was a bit of envy, having seen so much attention lavished on those muscled-up Mustangs and modified sport compacts. Isn't it about time for diesel power to strut its stuff?
Indeed: "These are some of the first diesel tuner trucks," Banks proclaims. "It's an ignored category. There's magic to diesel. I want to move it into a performance image, a status symbol. This is my 47th year in business, and it's time to provide something for the kids, or at least those who are young at heart," explains Banks, with a thirst for performance. The speed potential of diesel comes as no surprise to diesel enthusiasts, but it's obviously not eh popular perception. What Banks is striving to show is that diesels aren't just for 18-wheelers and farm tractors but can have a quickness quotient, too.
Available on Chevy, Dodge, and Ford trucks (note the following profiles on each make), the banks Sidewinder Al-Terrain package not only features true off-road capability with an aggressive Baja attitude but also offers tremendous speed and acceleration at the turn of a switch.
That's delivered by the Banks Six-Gun diesel computer tuner that generates massive amounts of horsepower and torque. Available with Speed-Loader or PowerPDA options, the Six-Gun system basically manipulates three fuel-injection parameters: the fuel pressure, the timing, and the injector pulse width.
The Six-Gun is part of the Big Hoss package, loaded with a Ram-Air cold-air induction system with lifetime Ram-Air filters, a gigantic Techni-Cooler charge-air-cooler assembly with bigger boost tubes, and a 4-inch Monster Stainless-Steel Muffler with a Split-Dual Exhaust and 5-inch stainless tailpipe tips. Completing this performance upgrade is an electronic DynaFact pyrometer and boost gauge.
Outfitted with the Banks' Big Hoss engine upgrades, the Sidewinder All-Terrain trucks boast as much as 500 hp and 1,000 lb-ft of torque. With that sort of output on tap, you'll feel nearly invincible in one of these rigs. Is that a wild bunch or what?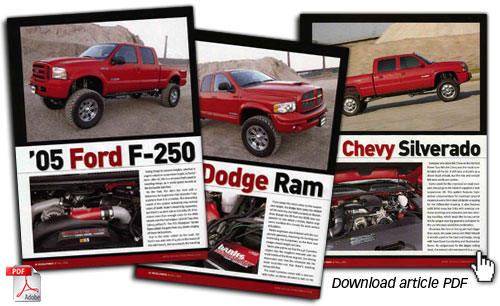 Click for more info
and more photos!