Twin Turbo Christmas!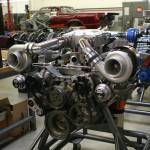 "Hot Rod was here on the 23rd for our second photo session then we take it to the high-speed dyno cell!" Read more
Gale Talks EcoDiesel
"We had first fire in our engine test cells and our first impression was about the sound...this thing is sweet!" Read more
CarCast with Adam Carolla
Gale Banks returns to the show to further discuss turbocharging, military advancements, and all the latest with Banks Power--including new Read more
CarCast with Adam Carolla Gale visits with Adam Carolla to talk about the lastest and greatest products and projects in the Banks Power shop. Read more
2014-2016 Ram 1500 EcoDiesel Power and MPG Upgrades
How to Add 37 hp, 46 lb-ft of Torque, and 2.66 mpg With the Stinger System by Banks Power How Read more
This Christmas Tops Them All! "Oshkosh Corporation resumes work on Joint Light Tactical Vehicle production contract." Read more
2016 Nissan Titan XD Diesel – Built for SEMA
SEMA Members Unite to Dress Nissan's Diesel Pickup in All-New Aftermarket Gear What you see here is the world's first Read more
SEMA 2015 Videos
The video cameras were all around our booth during the SEMA Show in Las Vegas, so if you want to Read more
SEMA 2015 videos Here's all the videos Banks Power was featured in during SEMA 2015. The video cameras were all around our booth Read more
Jeep Sidewinder Turbo- Don't swap that 4.0L. Turbocharge it
Too many 4.0L Wrangler owners have a Fifth gear (or overdrive gear) that is collecting dust, not having been used Read more
Most Bad Ass Camera Truck gets Banks Power
"...we utilized our AutoMind Programmer, Monster Exhaust and Ram-Air to increase horsepower and torque!" Read more
A Road Race Diesel Pickup, how wrong is That?
"The Banks D-Max Sidewinder engine was producing 650HP and 800lbft of torque." Read more
The Banks Powerhouse; Full Service for RVs
"...hang out in our customer lounge, watch TV, have some coffee and enjoy our engine displays in the showroom." Read more
Nissan Titan XD
Kyle Bauman of Banks Power is taking another look at the 2016 Nissan Titan XD powered by the all-new Cummins Read more
Reflecting on the life of Bill Golden, the Maverick!
"Bill won the AHRA Winternationals at Fontana Drag City in his '62 SS/A 413 Max Wedge Dodge taking the Stock Eliminator trophy and getting a huge boost in his career." Read more
Testing has begun on the new Ford F150 Ecoboost Truck
How do I know this? Here's some proof. This is  photo of Chris Otani (in the truck) and Ross Korns Read more
Banks Straight-Shot® Water Methanol Injection
In this article I've gathered some really great resources that best explain this performance enhancing method that has been around for Read more
Another "Sleeper" at Banks Power
This is another "sleeper" in the Banks Power stable. This 1991 Chevy SS (took out a 454) shop truck has Read more
Basic Air and Tuning Upgrades via Banks Power
This month, we dive into the buildup of yet another Ford 6.0L Power Stroke to help show that even though Read more
Project Speed Bump
It's no secret that the highly popular '67-'72 shortbed Chevy C10s are drying up, getting both more expensive and harder Read more
The Gale Banks 427" V8 Diesel Racing Engine
I'm not a good spectator. If I'm not competing I stay at the shop. If I am competing I want Read more
CarStories.com Writes an Article and does a Podcast about Gale Banks
The most recent item on CarStories.com is an article talking about Gale Banks. It goes into great detail on how Read more
Ford 7.3L Resurrection
Part 2- From Short Block To Road Ready After getting the remanufactured 7.3L short-block and heads back from L&R Automotive, Read more
Project Speed Bump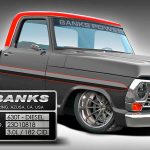 Retro-FutureBanks Diesel Powered Ford F-100. The Truck Trend Network, Sean Holman, Gale Banks, and a host of aftermarket companies are Read more
Banks Wants A Few (More) Good Men and Women
CAD Design Engineers, career opportunities are now open at Banks Engine design from the crank centerline out is the business Read more
Gale Banks Needs Some Help!
Automotive Firmware Engineers Move to SoCal today! Banks is Hiring At Banks, the design and manufacture of electronic devices for Read more
Something Sinister This Way Comes
Posted by Gale Banks Back in 2004 I wanted to get out of my '91 Chevy, 502 SS pickup. I Read more
Water Methanol Injection Uses
Just recently we received a message asking if the Banks Straight-Shot Water Methanol System can be used as an intercooler Read more
Oshkosh Wins $6.75 Billion Contract To Replace HMMWV
This just in; Oshkosh Truck will build 17,000 Joint Light Tactical Vehicles (JLTV) under a contract awarded today, with a Read more
Gale Banks Answers Your Diesel Questions
Diesel Power Magazine (DPM) spent some time with Gale Banks to answer some questions that fans have submitted to the Editors Read more
Banks Super-Turbo DD60 Freightliner, Pikes Peak Outrage
Come with me to practice on the Mountain! On this video I'll explain my Forced induction and water/meth addiction in Read more
Gale Banks' Favorite Car, Ever!
Some friends have asked me to pick my favorite car. This is easy, even though I've Hot Rodded everything I've Read more
Black Line Fever: 283 mph with Gale Banks.
At the Bonneville Salt Flats, there's a 5-mile-long black line that's seen Pontiacs from Mickey Thompson's four-engine Challenger 1 to Read more
Listen to Gale Banks on The Smoking Tire Podcast
Listen to this great podcast where Gale Banks talks about all sorts for great things from his blown Cobra R Read more
Things you might see at the Banks Power Tube Shop
If you didn't know this ,we've got our very own "Tube Shop." Basically this a building where we manufacture all Read more
Banks Sidewinder Blower Test Series
At Banks Power we develop engines for uses ranging from winning wars (military) to winning races. We have done this, Read more
FirstFirst Fire Banks Supercharged 871S Diesel V8
Here's a short first fire video of our Blown Duramax based dragster engine. This setup uses our cold side PWM Read more
Eco Diesel Don't Care!
This tough little welterweight can punch! In my first boxing lesson, Pop extended his right fist touching my chest, "You Read more
"Rapid Transit", Banks Blown 870S 427ci Stroker Dmax!
Here's some mug shots of our upcoming 7-liter supercharged, nitrous and water injected drag race engine. Gale Banks Gale Banks Read more
Ford F-100 Eco Banks
As a life long Hotrodder, engine swaps are a way of life. Huge engines in little cars or trucks, that's Read more
Banks Needs Vehicles for Testing New Products at our Azusa, CA facility
Our top Engineers are constantly developing new products for various platforms, but the reality is, we can't always get a Read more
630T V6 3.0L Banks Diesel Engine
This is my 630T V6 3.0L Banks Diesel Engine. It's my high speed lightweight. We took out the Dmax LB7 Read more
Banks Twin Turbo Trike...yes a Trike.
This Banks Twin Turbo 1115hp and 900+ lbft Trike is... absolutely sick and wrong! It shipped to someone far braver Read more
This truck eats Corvettes for breakfast
Hey guys, here's a video of the Banks Sidewinder Dakota blowing off a C6 Corvette in a street race over Read more
Working on the Ford Eco Boost Applications
Hey Ford Boys...You should like this! I got one too, oh yeah! This month I'm working on the Ford Eco Read more
Banks TorqueTubes
Banks TorqueTubes Manifold Assemblies fresh off the line. This manifold system removes flow restrictions on the exhaust side of the Read more
Worlds Fastest Pickup Truck
I just had a flash, we've held Worlds Fastest Diesel Pickup record at 222 mph for almost 15 years. Where's Read more
Photos from the Banks Power World HQ
Once in a while we like to show you some of the inner workings of Banks Power. People don't realize Read more
Small Block - Big Deal News Flash! This year is the 60th Anniversary of the Small Block Chevrolet V8! A few months ago Hot Rod Read more
Faster Than A Syclone
Here's Bill Goldberg's show covering our attempt to beat ourselves at Bonneville. Around 1990 we set the Worlds Fastest Pickup Read more
2,200 horsepower in our APBA K-Jet program
The boat groups are asking me about the early turbo work at my company, so here are some engine visuals Read more
One Blower, 2 Turbos...
One Blower, 2 Turbos, ram tuned Banks intake manifold with a water coupled cupro-nickel intercooler inside, big pin billet stroker, Read more
Gale on Hooniverse podcast
  The folks at Hooniverse are "devoted to a love of all things with wheels and an engine" so they Read more
91-06 Jeep Wrangler Sidewinder Turbo System
Want to gain +102 hp & +121 lb-ft with a bolt-on kit? Well now you can with the Banks Power Read more
Waving the Checkered Flag
As one of the original members of the Checkered Flag 200, I've gladly supported the Petersen Automotive Museum for 22 Read more
Another Hooniverse Podcast with Gale Banks
So I did my second Hooniverse podcast with Jeff and Chris yesterday! It goes up next Wednesday August 5th. These Read more
Fat Motor inna Little Truck
A friend just asked me about my Blown Diesel Shop Truck. It's a swap based on a Chevy 454 SS, Read more
Turbocharging Is The Life For Me: Part 2
Back in the 60's, there were no examples of marine turbocharging at the level I had in mind and, no Read more
We've got a new project at Banks Engineering
This bad boy just rolled in this morning and we've got some major "sidewinder" plans for it (rubbing hands together Read more
Turbocharging is the life for me: Part 1
My Dad was Irish and German.., talk about internal conflict. In the early 50's we built a house. I measured, Read more
My Memories of Bonneville Are All a Blur
Before there was drag racing... Before there was NASCAR... Before there was off-road, Baja, SODA, SCORE... Before there was road Read more
Unholey Water
I have a dear friend, his name is David Kennedy, he works at Hot Rod Magazine. We met for breakfast Read more
My name is Gale and I'm a Gearhead
If it has an engine, I'm interested but I've got another symptom...I'll take power any way I can get it. Read more
Forced Induction JK
Banks Power 2007-11 Jeep JK Sidewinder Turbocharger System If you're the owner of a 2007-2011 Jeep JK powered by the Read more
BANKS STINGER SYSTEM REVIEW
Terrible aerodynamics, a high center of gravity, and more weight in aftermarket accessories than a four-door Civic could safely transport. Read more
Diesel Jeep
Diesel Jeep The Jeep CJ8 or Scrambler hasn't been made since 1986, but now thanks to Winslow Bent and his Read more
Turbo systems for 2007-11 Jeeps are almost here
What's been one of biggest sellers for the 4.0L Wrangler is now coming for the 3.8L. Hot on the heels Read more
Nissan and Cummins and Banks Power Oh Yeah
When you hear the word "Nissan" we'll bet it doesn't make you think of diesels.  But that may change soon... Read more
2014 Trailer Life Magazine Reader's Choice Awards
Banks makes the grade again! Trailer Life Seal of Approval - Readers' top pick in their third annual RV poll. Read more