Banks Power teams up with world famous radio station KROQ to build a custom Chevy Silverado.
New video! Jay "Lightning" Tilles and Gale Banks join Matt D'Andria from the CarCast Garage. Well, sort of. Jay's truck – the 'Roq Rig' – was too big to fit through the doors so he takes us outside to showcase his incredibly powerful and detailed truck. Then Gale goes over the amazing engine that he built for it.
---
We've been working on a project truck for KROQ, that's a radio station here in SoCal. Check out some of the work in progress…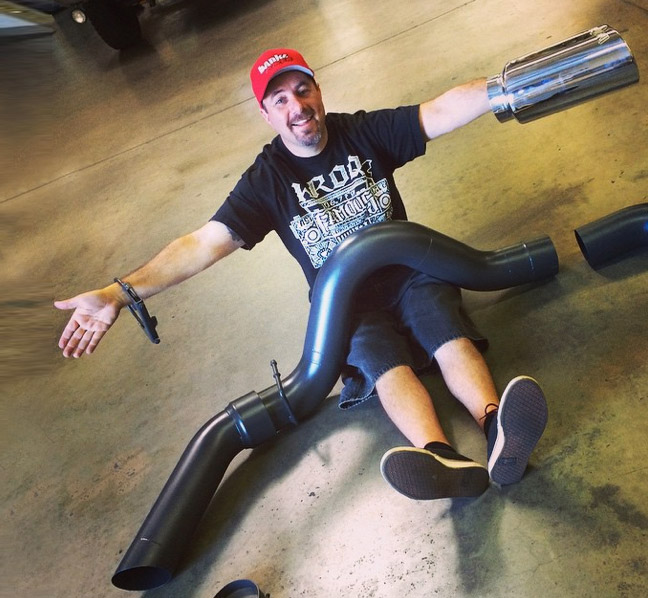 We just installed our new 5″ exhaust onto the KROQ project truck for SEMA (proudly displayed here by KROQ's Lightning). This one was powder coated gun metal grey for the show, but if there is enough interest for them we can make it an option. They will be available for all DPF back trucks this year.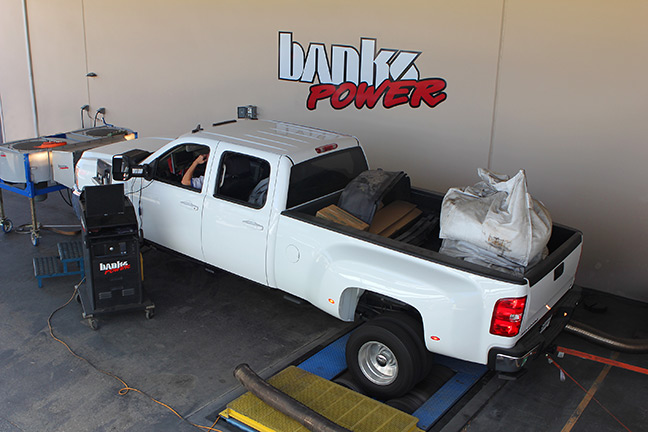 Dyno testing the KROQ truck. We test for baseline numbers when we start on the project, and then again after the installation of Banks Power products to prove the results. To keep the rear wheels from slipping, Banks Power loaded 2,000 pounds of sand into the bed to hold down the back wheels.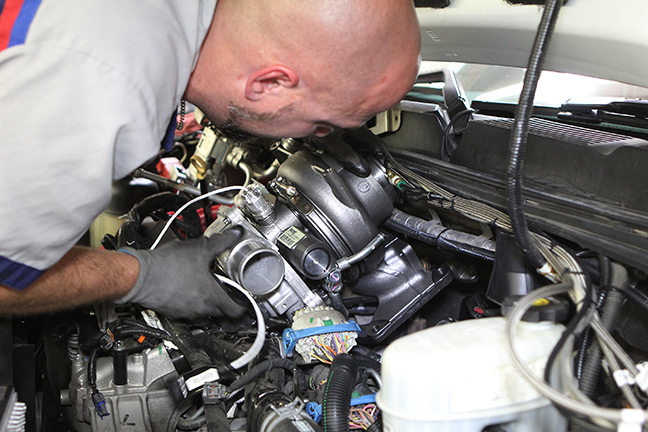 Will it fit? It's a tight squeeze getting Banks' new Garrett turbocharger installed.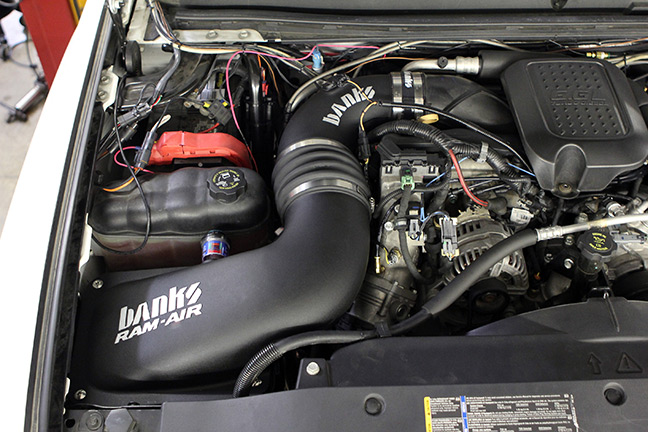 Thanks to its enclosed cold-air housing, huge inlet, giant dome-shaped lifetime filter and streamlined design, Banks Ram-Air Intake maximizes the flow of cool, dense air to the engine for greater power and fuel economy. It flows 47% better than stock. And delivers greater air density to the turbo's inlet than the stock system and every competitor.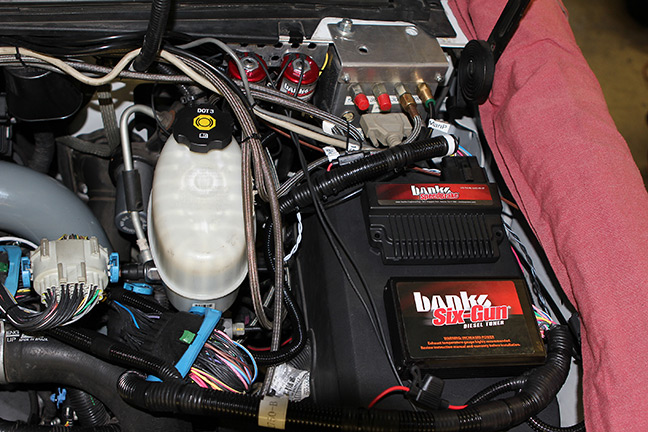 More power via the Banks Six-Gun diesel tuner, and more braking power thanks to the Banks SpeedBrake.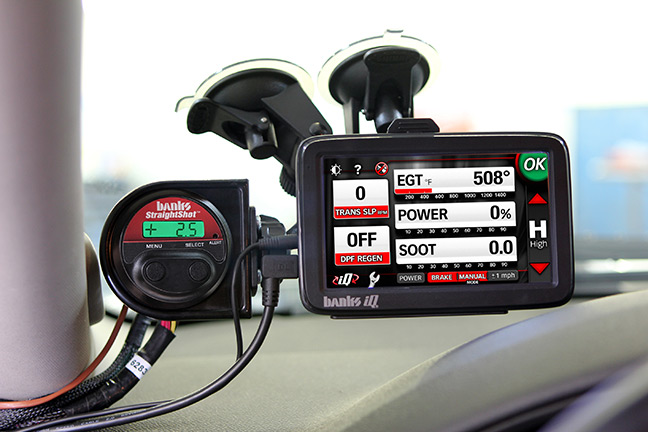 Here you can see the Banks Straight-Shot® water-methanol controller next to the Banks iQ vehicle monitor. Right now we are testing everything and once we are done, these will be mounted into a permanent home.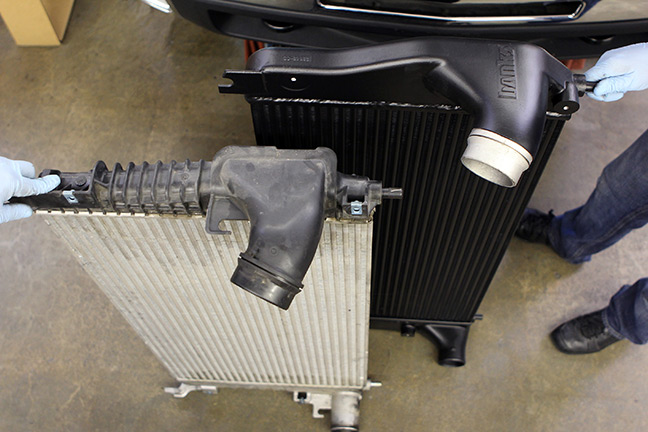 Comparison: Stock (left) vs. Banks Techni-Cooler® (right). You can see that Banks Techni-Cooler is streamlined and larger offering not only better flow, but increased density which means more power!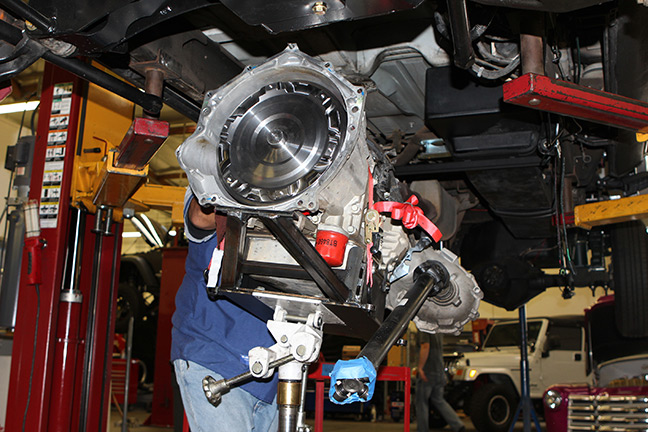 Installing a Banks Billet™ Torque Converter into the KROQ truck.
---
Check out the Banks Power products that went on this truck. Most of this stuff is available to you too!
| | | |
| --- | --- | --- |
| iQ® 2.0 Digital Dash »»» | Six-Gun® Diesel Tuner »»» | Double-Shot® »»» |
| Techni-Cooler® »»» | Ram-Air® »»» | Super Scoop® »»» |
| Billet® Torque Converter »»» | SpeedBrake® »»» | Monster® Exhaust »»» |
| Big Hoss® Injectors »»» | Powermax® Turbo »»» | Monster® Exhaust Manifolds »»» |
| Monster® Up-Pipes »»» | Monster® Down-Pipes »»» | Billet Badges »»» |
---

Read about Gale and Lightning stopping by Adam Carolla's place to talk about the truck »»»
---
Jump over to carstories.com for a podcast with Gale and Lightning talking about the truck »»»

---
Follow this story as it develops:
• Banks Power on Facebook
• Lighting from KROQ on Instagram