Banks: First Into the Sevens!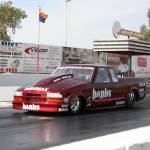 Turning an astonishing 7.96 seconds at 167.34 miles an hour, the Duramax-powered Banks Sidewinder S-10 became the first diesel Read more
Project Horse Hauler: Banks Engineering Real-World Upgrades for Those Who Tow
If your goal is to pull more weight more efficiently, and you are looking for more power and fuel efficiency Read more
Gale Banks joins the Automotive X Prize team
The X PRIZE Foundation looked to Gale for advice on laying down the rules and guidelines for the Automotive X Read more
Jay Leno's Ultimate Hot Rod
What happens when you leave a Korean War tank engine sitting too close to the hot rod that you parked Read more
Safe At Any Speed
When I started in 1958, all engine tuning was a mechanical enterprise. Today, especially in the diesel world, many tuners Read more
Efficient Breathing
Banks' Monster Exhaust System Upgrade for the '07 Ford F-250. One way to improve the efficiency and power of your Read more
50th Anniversary Congrats!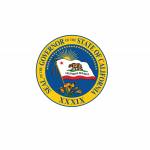 Both the White House and the Governor of California sent letters of congratulations to Gale Banks for his 50 years Read more
World's Quickest & Fastest Diesel Pickup Truck!
Banks' Sidewinder® pickup truck blasted down the "Strip at Las Vegas" bettering ALL existing records for diesel-powered pickups. Las Vegas, Read more
7 Tips to reduce engine engine temps
LARGER INTERCOOLERS CAN SERVE AS A RADIATOR TO COOL THE INTAKE AIR TEMPERATURES THAT FEED A TURBO. According to Peter Read more
A Tribute to Wally Parks
Wally Parks was a friend to thousands, and I am pleased to have been numbered among them. His gentlemanly demeanor was an example that I have tried hard to emulate in my career. His sense of humor was always a pleasant surprise. His leadership was the stuff of legend. In my life I have had few heroes...but Wally Parks was one of them. Read more
Azusa Firm Turns It Up A Notch
"I'm a futurist. It's always about what's next. We tend to engineer the automotive future." - Gale Banks AZUSA - Read more
The Re-Education of a "Gearhead"
Last Friday (really my "first day on the job", even though I had only come in to fill out some employment papers), I was invited to sit in on meeting with Gale Banks and a number of members of the engineering staff. My (just-bestowed an hour earlier) title is the lofty "Corporate Publicist" and so, I was pleased to be asked to be a part of the action so soon after signing on with the company. Read more
Forcing The Issue
Power Guru Gale Banks explains why superchargers are more prevalent than turbos among Mustang enthusiasts running a force induction system. Read more
I'm ready for my close-up or Alpha Male sighting
Hollywood is at it again: they're filming a movie in my neighborhood, but down the street from me. So close, yet so far away. The movie and television companies always seem to do this to me... they tease me knowing full well that I was meant to be immortalized on screen. I personally think that they're afraid of my vast talent. I mean, why else would I always get picked from the audience at one of those shows at Universal Studios? I do a mean falling off a building, and I was even a "Red Shirt" fighting a Klingon in a Star Trek stage show once. I have the VHS tape to prove it. Read more
Gale Banks Elected to the 2007 SEMA Board of Directors!
    "What I hope to bring SEMA is a clear view into the future, its challenges and its opportunities." Read more
Banks Acquires Automotive Balancing Service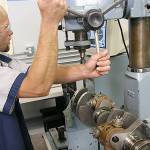 Check out Banks' new partner and see why the world's fastest rely on the world's first engine balancing shop—ABS! Read more
Two Timing With Turbos
Can Your Chevy Small-Block Make Over 1000 HP? It Can. Here's How. When people achieve power, they often want more. Read more
More Power To You
Banks power systems provide RVers with power for the road Does your RV or tow vehicle have enough power to Read more
Drivelines Chatter: Gale Banks, Gale Banks Engineering
Gale Banks knows how to make power, whether he's land-speed racing or improving the performance of an anemic motorhome. (Editor's Read more
Engine Builder Does It Diesel
Could performance cars like Corvettes and Mustangs and others be powered by diesel engines in the future? They not only Read more
BREATHIN' EASY: Banks TorqueTube and Stinger Exhaust Systems for Jeeps
Squeezing more performance out of your Wrangler's 4.0L I6 engine is easier than you think, and a good place to Read more
Atom is da Bomb! or How to Distort Your Face in Under Three Seconds
I have to tell you all that Ginger Ale is just about my favorite drink... period. It brings back fond memories of days long past. I'll usually partake in a plastic Dixie cup of Canada Dry's version of the beverage on business flights, but on recent trip to Oregon I was treated to a Verner's. Ain't that a something? I mean I thought that brand went away when I was a kid, at least that's the way it is in California anyways. Then another blast from the past... I got on a plane with propellers. Yes folks, the futuristic world of the 21st Century is here... and without the flying cars, robot butlers, an Astro-Base on the Moon or the rocket-pack I was promised as a boy. Airplanes still have propellers. Read more
Customer Q&A #5 (with Peter Treydte, Banks' Director of Technical Communications)
QUESTION #5: You didn't directly answer some of my questions, but if I read between the lines, it would appear that there would be no benefit to me to add your upgraded intercooler, (I bought the Six-Gun etc. to tow 15,500 lbs) because the transmission and drivetrain may not take the power of a level 4 or 5 while heavy towing and climbing. Did I understand this correctly? Read more
Uncork Your Jeep
Cold air intake and high-flow exhaust systems are quick avenues to boosting your Jeep's horsepower and torque output Cold air Read more
Speed Demon
Speed Demon Puts Pedal to Metal on Alternative Fuel Gale Banks always had the need for speed. Whether hurtling 200 Read more
Smile, You're on Candid Camera or You Tubed
Some of you nice folks have been asking me "why the heck haven't you written anything lately?". The answer: aside from the massive amount of things I have to do on a daily basis... I've had writer's block. I mean I have plenty of ideas for cleaver, witty and informative blogs, but getting the time to write is almost impossible. Whenever I do get a chance to get in front of a keyboard to input my tails of wonder I get a blank stare and frozen finger syndrome. It's kinda like vapor-lock of the brain. But, with the help of ancient medicine, leeches, voodoo and vitamins I'm on the road to recovery. So here it goes... Read more
Customer Q&A #4 (with Peter Treydte, Banks' Director of Technical Communications)
QUESTION #4: I recently had Camping World install a Banks Six-Gun, Speed-Loader with EGT and boost gauges in my 06 Ford F-350 CC SB 6.0L Super Duty P/U. I previously installed the Banks Exhaust system myself. My question relates to the Banks Speed-Loader owners manual. On Page 4, Paragraph 1, 2 and 3. There appears to be some contradiction and confusing information presented... Read more
Six-Gun Shootout
Banks Test Group compares the Six-Gun Diesel Tuner to other company's tuners on the drag strip. Same truck. Same track. Read more
Customer Q&A #3 (with Peter Treydte, Banks' Director of Technical Communications)
QUESTION #3: Your information has been most helpful. A couple of more questions. 1. How does Ford treat the "Six-Gun and Speed-Loader" re warranty issues? 2. Are any of the 6 settings optimized for Towing and or Economy? If not, which one's would be best for those applications? 3. Since I think you are getting more power by increasing the fuel, how are you getting better mileage at the same time? Read on for the answers... Read more
Power Guru
50 Years of Fast Times and Weird Science with Gale Banks SoCal is a Petri dish for breeding subcultures, and Read more
Pony Up
Banks Big Hoss Gets More Giddyup from a Ford F-250 Power Stroke Mention diesel to most folks and what comes Read more