RV View
June 2007
Banks power systems provide RVers with power for the road
Does your RV or tow vehicle have enough power to accelerate onto an interstate filled with fast-moving vehicles? Can you smoothly climb a steep incline or steady upgrade over a mountain?
The folks at California's legendary Banks Power have been addressing questions like those for almost 50 years. And, they have the answers for many RVers, no matter what they're driving or towing, and whether their vehicle runs on gas or diesel.
Gale Banks, the charismatic founder and president of Gale Banks Engineering and self-confessed gearhead, sees his products as the ideal upgrade for many of today's RVs.
"Whether you have a gas or diesel motorhome, pickup, SUV or Jeep, our fully-engineered, race-proven, high-quality power systems and components can help you achieve more power, better mileage, safer merging and passing, faster hill climbs with less back shifting, safer downhill braking when towing, better-flowing and cooler-running exhaust and longer engine life," he says.
Those are lofty claims, but Banks Power backs them up with intensive research and real world testing. These tests (as well as rigorous independent testing by many magazines) have shown that Banks Power products can significantly improve horsepower, torque, acceleration, fuel economy, engine durability and more.
A "Powerful" History Lesson
Though the company that would become Gale Banks Engineering didn't officially open until 1958, Gale had already become addicted to improving engines as a teenager. Back in 1956—at the age of 14—Gale modified his mother's 1931 Ford Model A from 40 horsepower to 104 horsepower. At the age of 16, he had his first paying contract to supply racing engines (with a lot more horsepower than his mom's Model A!).
"Since 1958, Banks Engineering has been a central figure in Southern California's power and performance scene," says Gale. "The power and performance trends are still born here and move from west to east."
Gale attended California State Polytechnic University, Pomona, with a double major in electronic and mechanical engineering. During his days as a student, his dorm room became a workshop for an increasing number of specialty engines. After college, Gale's one-man business included roles as counterman, buyer, marketer, public relations person, machinist, engine builder, engineer, designer, test and development technician, dyno operator, salesman, warehouseman, janitor, teacher and trainer.
In the 1960s, Gale expanded his racing-oriented operations to include "standard" auto and marine equipment, becoming well-known on America's roads and waterways for his enhanced engines. The mid-1970s fuel crisis led to his first gasoline engine truck and RV products and he also began a long relationship with the military—designing marine engines. Banks twin-turbo marine engines were sold worldwide for 28 years.
In 1981, Banks Power made headlines when their Twin Turbo 454 powered a 1968 Corvette to 240 miles per hour—becoming the "World's Fastest Passenger Car" (later broken by another Bankspowered car that hit 268 mph in 1986). The 1980s also brought the opening (in 1984) of the Banks Engineering campus in Azusa, California, and the 1987 introduction of the first Banks Power products designed specifically for motorhomes.
In 1990, the Banks 210-mph Project Syclone became the "World's Fastest Pickup Truck." It was later marketed as the GMC Syclone and Banks Power Systems Provide RVers with Power for the Road by Lynn Seldon introduced Banks to many RVers towing trailers.
Banks Power also became the talk of the RV world when, in 1998, a Banks-powered Ford 6.8L V-10 Class C Chinook was clocked at 99.8 mph on the Bonneville Salt Flats to become the "World's Fastest RV."
The decade also saw the expansion of the sprawling campus to include more manufacturing, electronics research, a development lab, and a race shop for project vehicle development. It wasn't coincidental that the popularity of Banks products led sales to triple during the decade (and further campus growth).
The new century brought still more growth (especially with RVers), more records (like a 222 mph truck), and more sales through Camping World that have made Banks Power an even bigger hit with RVers. Today, Gale serves as hands-on president of the 200-employee-strong engineering and manufacturing complex (now 12 acres). Gale and his crew are the acknowledged experts in the highperformance aftermarket power industry—and they have almost 50 years of success (and happy customers) to show for it.
Powerful Products
What does this history lesson teach RVers? Whether by word of mouth (the campground gossip wire works well), or maybe even a trip to Gale Banks Engineering, RVers learn that Banks Power products may prove to be a great enhancement to their RVing experience.
"We are not alone in the field of power, but our company is distinct from the rest in important ways," Gale says. "While our products are not the cheapest, they provide the best in value: top power, performance, durability, mileage and long-range enjoyment of use."
Generally speaking, Banks Power produces a number of "solutions" to help release the power of which most engines are already capable. These solutions include: Intake Air Flow (through free-flowing filters and nonrestrictive ducting and housings); Fuel Flow (through engine calibration modules or programmers); Exhaust (through new mufflers and tubular exhaust manifolds), and Transmission (through an electronic transmission management system).
These various individual solutions and products can be purchased and installed individually, but the most popular choice for RVers is to go with a complete system that includes components carefully selected for each engine.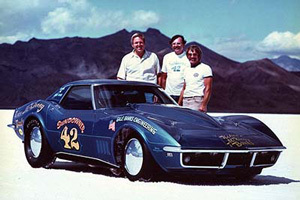 Proven Engineering
"We do not sell claims, snake oil or grab bag kits," says Gale. "Banks Power systems are based on solid, proven engineering, with the singular intent of improving air flow into and out of your engine."
To improve air flow, Banks makes a Ram-Air® transfer tube that's constant diameter, a Ram-Air® filter housing with a larger inlet for free-flowing air and the Super-Scoop®, a mammoth grille-mounted air inlet that forces a bigger charge of cool and pressurized air into the engine. These all combine to quickly provide power when it's most needed.
To enhance fuel flow, the Banks OttoMind® is an engine calibration module that matches the fuel curve to airflow improvements provided by other Banks products. The improved calibration of fuel- and spark-timing optimizes engine efficiency and prolongs durability.
Exhaust solutions can include the 100% stainless-steel Monster® Exhaust (including the authoritative trademark Banks exhaust tone) and TorqueTubes® exhaust manifolds, which include the PowerPickle® flow enhancer. The exhaust reduces muffler backpressure, while the industry's only parallel five-tube exhaust manifolds for RV engines improve vital exhaust gas velocity.
Transmission improvements are provided through the Banks TransCommand® transmission management computer. The TransCommand improves shift points throughout the engine power range and continually adjusts shifts to power and load levels. This decreases back-shifting on hills (a frequent RVer complaint).
There are several packages available which combine various enhancements to address specific needs. For instance, the Stinger® system is designed to provide a "bigbang- for-your-buck" approach, with Banks products eliminating major backpressure caused by the stock setup and removing stock restrictions from the intake. The Stinger system gives significant power gains at an affordable price, while improving fuel economy, as well.
Upgrading to the PowerPack® system provides all of the Stinger package products, but adds Banks TorqueTube® exhaust manifolds with PowerPickle® aerodynamic flow enhancers, and more. This package results in massive torque gains, greater horsepower, extended engine life and more MPG.
Real World Testing
What does all of this mean to RVers? Banks engineers create a rolling laboratory to test real world vehicles before and after the enhancements. The 108-mile test course includes a grueling run over the San Bernardino Mountains, with 6-7% grades and high desert conditions.
The tests on the PowerPack® system upgrades for the aforementioned Ford 6.8L Triton V-10 were performed using a 35-foot motorhome with automatic transmission, 4.10 gear ratio tipped the scales at 18,500 lbs.
Test results that will interest RVers include: a huge gain in power (up to 30%); about 30% gain in torque (ending shift-happy engine tendencies on hills); 20% quicker times from 0 to 60 mph and 22% quicker times from 40 to 60 mph, plus an improvement in fuel economy from 7.20 mpg to 7.73 mpg (a 7% improvement). On hills, the stock engine maxed out at 49 mph and had to backshift into 2nd gear to hold it. The Banks-enhanced engine marched up hills at 56 mph and stayed in 3rd gear the whole way!
Banks likes to ask their RVing customers about real road results as well. Gale Harroff from Nashua, New Hampshire, said, "We just got Banks PowerPack and TransCommand on the motorhome. I can best describe it as moving from a toad to a roller skate."
Charles Auer from Las Vegas is another satisfied customer.
"Thanks for selling an excellent product that does everything the advertising implies," he said. "It improved the performance and drivability of my coach immensely."
Camping World and Banks Power
Camping World has carried Banks Power products since 1988 and is recognized as the nationwide certified installer of Banks Power systems for RVs. Thanks to trained salespeople and installers, along with excellent software that matches an RVer's needs with specific Banks products, it's easy to purchase the power enhancements that will get RVers on the road with a more powerful and fuel-efficient engine.