Project Horse Hauler: Banks Engineering Real-World Upgrades for Those Who Tow
Diesel World
December 2007
If your goal is to pull more weight more efficiently, and you are looking for more power and fuel efficiency in the process, where do you start?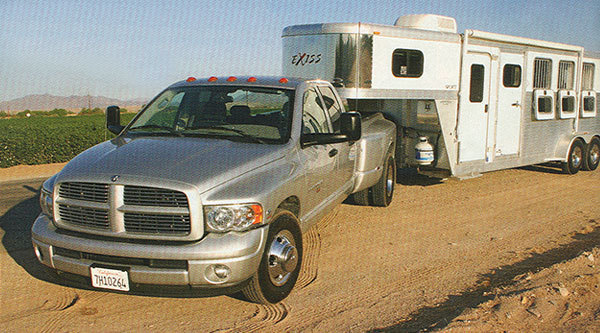 Project Horse Hauler is a 2004 Dodge dually fitted with the 24-valve Cummins diesel and an automatic. When you load down that 22-foot gooseneck horse trailer with four horses, water and hay, and fill the living quarters with gear, it tips the scales near 14,000 pounds.
Not all of us want to smoke our diesel's tires from stoplight to stoplight. Some of us actually use our trucks for work and play. And exceptional towing ability is one of the reasons we buy diesels in the first place. So if your goal is to pull more weight more efficiently, and you are looking for more power and fuel efficiency in the process, where do you start? What modifications work the best without sacrificing reliability and rocketing exhaust gas temperatures into the nuclear meltdown zone?
It's these types of questions we get all day long at Diesel World Magazine. Sure, we cover tire-smoking and dirt-flying competition events, and some high-powered street rigs, but a large part of our readers seem to want something in terms of real-world modifications that boost power and improve mileage and won't affect reliability.
The Project Truck
So for our real-world project challenge, we picked a '2004 Dodge Ram 3500 dually that lives in the harsh environment of the Southern California desert, complete with temperature extremes and dust. This truck is hooked to a trailer more often than not, and believe it or not belongs to a girl no less.
Former rodeo rider Julie Hayden, who is now a regular trail rider who also rides with a local show group, puts this truck through what the OEs would call "severe duty." She and her husband also own a ground-spraying company and when the truck isn't pulling a 22-foot, 4-horse trailer, it usually has a 13,000-pound spray rig hooked up behind it on the way to a job in a field. It's a workhorse, and the photos you see here are the cleanest the truck's been in months.
With slightly over 50,000 miles on the odometer, the 24-valve Cummins is just getting broken in, so the Cummins folks say. When loaded, with four horses in the trailer, along with four 55-gallon barrels of water for extended trail rides, not to mention full water tanks, the trailer weighs in around 14,000 pounds. Add 110-degree heat, plenty of dust from dirt roads, and long-uphill pulls, we'd say this Cummins is working pretty hard: The perfect guinea pig for our real world challenge.
Since we were looking for a complete, turn-key, integrated system for the truck, we posed this real-world challenge to the folks at Gale Banks Engineering. They have a huge line of products designed for not only the performance enthusiast, but the every-day work truck owner as well. And their products are not only tested in the lab and on the road, they are tested in the harshest environment available, racing.
Banks Engineering responded quickly by suggesting their PowerPack System for the Cummins world be perfect for this truck since it's designed to deliver improvements in airflow and fuel delivery. But the first order of business was for Banks to get a hold of the dusty Dodge for some serious testing.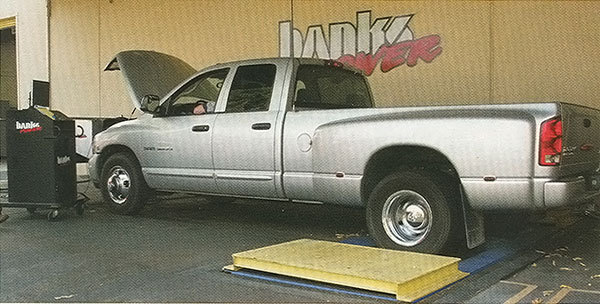 Baseline Dyno Testing
One of the things Banks Engineering is famous for is thorough testing. The equipment they have rivals that of the OEs so there are no surprises after a new product comes out. The first step for Project Horse Hauler was some baseline testing. The truck was strapped onto the Banks Engineering dyno for some pulls. The Banks folks ran the truck through a series of dyno pulls including step-down rpm pulls from max rpm downward pulls to make sure the computer had not been flashed by a prior owner.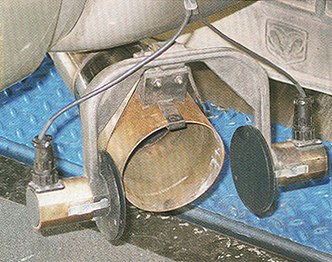 To make sure the computer has not been flashed by a prior owner, the Banks team even strapped an opacity meter to the tailpipe looking for evidence of smoke resulting from an aftermarket flash. And to be on the safe side, since the initial numbers looked to be a bit on the high side, the truck was hauled over to a local Dodge dealer and reflashed with the stock calibration for the 325-horse Cummins, just to make sure any other computer flashing was erased and replaced with the CE calibrations. The new flash also included all of Dodge's updates for the truck as well.
The results were surprisingly repeatable: 245 horsepower at 2,800 rpm and 450 lb-ft of torque at 1,800 rpm, all measured at the rearwheels. This is fairly similar to what Banks has seen in previous tests with the 325-horse version of the Cummins and the numbers were repeatable, indicating the dyno numbers were accurate.
Baseline Road Testing
Another method Banks Engineering has of verifying performance is testing in the real world. They have a tandem-axle, flat-topped trailer loaded with weights that weighs in around 10,000 pounds. Hook that dude up to the back of a truck and hit the road, and you'll quickly see how it really performs. The engineers conducted a variety of tests including 0-60 passes and stepped speed tests, along with pulling that load up a long 2-3-mile uphill grade.
The '04 Dodge managed a 0-60 pass in 23.49 seconds at 1,280 feet, just shy of a quarter-mile. In the hill climb portion of the testing, with the trailer still attached, top speed over the measured distance with a rolling start was 59 mph. We'll revisit these numbers later after the Power Pak is installed to show you the differences.


Left: The on-road portion of the testing included 0-60 mph pulls, with the trailer attached, along with a hill climb portion. High-tech testing gear is standard fare at Banks. Right: During the testing process, the inside of the Dodge looked like an OE test mule with instruments and test gear everywhere, including a laptop or two.
Banks PowerPack
After being presented with the project truck, and given its history of usage, it didn't take the folks at Banks long to come up with a comprehensive modification list that would work. Since this truck is mainly a work truck, Banks recommended their PowerPack System. Designed with the work truck and towing enthusiast in mind, the Power Pack is a comprehensive collection of Banks upgrades that work in unison to produce solid power gains, improved drivability and the longevity diesel owners are looking for.
The Banks PowerPack system for the Cummins consists of a BanksTechni-Cooler intercooler with larger 3.5-inch boost tubes, Banks High-Ram intake manifold, Banks Ram-Air cold air intake, and Banks Monster 4-inch exhaust featuring a Banks straight-through muffler with internal expansion chamber for reduced interior noise, along with a stainless polished tip.
The heart of the system is the Banks OttoMind6 diesel tuner Which works in conjunction with the Banks iQ Dashboard PC, giving you on-the-fly adjustment of the six power levels, that are available. The OttoMind6 system directly interlaces with the factory ECM which allows it to monitor myriad engine and transmission functions while providing tuning of engine output levels.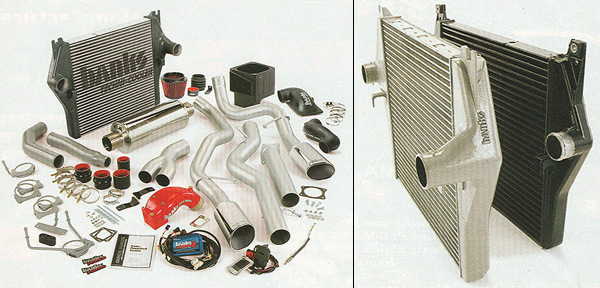 Left: Designed for work and tow vehicles, the Banks PowerPack for the 24-valve Cummins consists of Banks Ram-Air iitake, Techni-Cooler intercooler with larger-than-stock boost tubes, High-Ram intake, Monster 4-inch exhaust system and OttoMind6 with Banks iQ. Right: This photo illustrates the difference between the stock Cummins intercooler and the Banks Techni-Cooler with all-aluminum construction, larger core and improved end-tank air flow.
Here's a rundown of each of the components of the Power Pak and the individual benefits:
Banks Ram-Air Intake
Increases airflow 62 percent over stock at 682 CFM.
Fully enclosed housing- draws intake air from outside the engine compartment.
Eight-ply washable and reusable air filter with 7 1/8-inch filter outlet for maximum airflow.
Banks Techni-Cooler
Increases intake air density 10 percent.
Larger core than stock. Techni-Cooler is taller and thicker than the stock intercooler core, resulting in 27 percent more volume.
Larger 3 1/2-inch diameter Boost Tubes replace factory 3-inch boost tubes for more flow.
Streamlined end tanks allow for maximum airflow with minimal pressure loss.
All-aluminum construction. Some year model vehicles have factory intercoolers with plastic end tanks that are prone to failure.
Banks High-Ram Intake Manifold
Larger inlet- 3 1/2-inch inlet replaces the factory 3-inch inlet, removing restriction.
Larger volume with arced flow path that is raised and increased in size, providing a reduction of inlet restriction.
Banks Monster Exhaust
Reduces restriction, minimizes pumping losses. Monster flinch, mandrel-bent exhaust flows 122 percent better than the stock.
409 Stainless Steel- Automotive quality stainless steel withstands multiple heat cycles.
OttoMind6 with Banks iQ:
Six adjustable power levels allow the user to select from a range of output levels for maximum flexibility. Level 1 leaves fueling at stock values, Level 2 is specifically calibrated to provide maximum fuel economy, and Levels 3 through 6 provide progressively increasing power output. Adjustments can be made with either a dash mounted switch or the Banks iQ.
AutoRate Features- A suite of features is included to protect the engine and drivetrain:
Torque Converter clutch TCC) lockup protection: The OttoMind anticipates the moment when the Torque Converter will engage and momentarily reduces added fueling to prevent delivering excessive torque while the clutch is engaging, which may cause slippage and clutch damage. This momentary defuel takes less than a second.
Transmission Slip Detection: The OttoMind learns the gear ratios of the vehicle and uses data from the input and output speeds of the transmission to determine if any slippage is occurring, If slippage is detected, the OttoMind will immediately remove all added fueling and send a warning to the operator via the Banks iQ. Once five successful TCC lockup events are recorded without slippage being detected, the OttoMind will reintroduce added fueling.
Safe-Range Turbo Calibration- Excessive fuel can increase the speed of the turbocharger to beyond its intended range. The OttoMind is specifically calibrated to maintain a safe turbo speed, even at high altitude where lower air density allows higher turbo speeds.
Exhaust Gas Temperature Limiting- The OttoMind constantly monitors exhaust gas temperature (EGT/ and limits added fuel delivery if EGT exceeds 1,350 degrees. This ensures that the engine will never be subjected to temperatures beyond its design limitations.
Coolant Temperature Monitoring- The OttoMind monitors coolant temperature at all times. It will not add fuel until coolant temperature is above 100 degrees F which protects the engine during its initial warm up phase. The OttoMind also will begin to remove additional fuel if coolant temperature exceeds 225°F, thus protecting the engine from heat related damage.
ActiveSafety- Because the OttoMind is an electronic device that must seamlessly integrate itself with the on-board factory electronics, it is designed to never interfere with the operation of the existing electronics. It has the ability to monitor its own operation, and if something should fail, it sends an alert to the operator and removes itself from influencing the engine electronics so that the engine can continue to function in its stock condition.
Banks iQ Tuner Interface
The Banks iQ is a Dashboard PC based unit that interfaces with both the OttoMind tuner and the vehicle itself. It functions as an input device for the user to select the power level and to choose display options.
Display options include:
EGT (always present)
Boost (always present)
Intake manifold temperature
Engine Coolant temperature
Engine RPM
Engine Load (0/0)
Torque converter status (auto trans only)
Transmission slip (auto trans only!
Selected Gear position (auto trans only)
Vehicle speed
Accelerator pedal position
Barometric pressure
Intake air temperature
Current power level
Transmission temperature
Added power (%)
System status
The Banks iQ offers the ability to record and display data from performance tests, including 1/4-mile, 1/8-mile and 0-60 mph.
Programmable alerts- the Banks iQ can give visual and audible warnings for high engine coolant temperature, high EGT, high transmission temperature and any tuner fault condition.
OBDII Scan Tool functionality: the Banks iQ can read and clear any OBDII (check engine light) codes that may occur. It includes a full library of definitions so that the operator will not only know the generic number of the code, but he will have a specific description of what it means.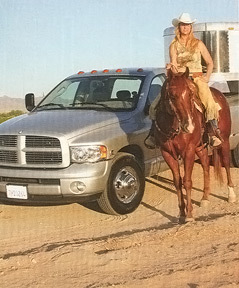 As you can see, the system is more complex than it looks, but is designed to function in harmony.
Be sure to visit Diesel World magazine online!