Terms and Conditions, Privacy Policy
WELCOME TO BANKSPOWER.COM
By visiting BanksPower.com or downloading Banks' mobile applications, you agree to comply with the following terms and conditions.
LEGAL NOTICE
Gale Banks Engineering grants you a limited license to access and make personal use of this web site. Any unauthorized use terminates the permission or license granted by Gale Banks Engineering. Any unauthorized use of the content of this web site may subject you to civil or criminal penalties. Your use of this web site constitutes your agreement to the following terms and conditions. If you do not agree to these terms, do not use this web site.
TERMS AND CONDITIONS OF USE
This web site or any portion of this web site may not be reproduced, duplicated, copied, sold, resold, visited, or otherwise exploited for any commercial purpose without express written consent of Gale Banks Engineering. You may not download (other than page caching) or modify this web site, or any portion of it, except with express written consent of Gale Banks Engineering. This license does not include any resale or commercial use of this web site or its contents; any collection and use of any product listings, descriptions, or prices; any derivative use of this web site or its contents; any downloading or copying of information for the benefit of another merchant; or any use of data mining, robots, or similar data gathering and extraction tools. You may not use any meta tags or any other "hidden text" utilizing Gale Banks Engineering's name or trademarks without the express written consent of Gale Banks Engineering.
You are granted a limited, revocable, and nonexclusive right to create a hyperlink to the home page of Gale Banks Engineering provided the link does not portray Gale Banks Engineering, its products or services in a false, misleading, derogatory, or otherwise associate Gale Banks Engineering with offensive matter. You may not use any Gale Banks Engineering logo or other proprietary graphic or trademark as part of the link without express written permission.
COPYRIGHT
All content included on this website, not limited to text, graphics, logos, button icons, images, audio clips, digital downloads, data compilations, and software, is the property of Gale Banks Engineering or its content suppliers and protected by United States and international copyright laws. The compilation of all content on this web site is the exclusive property of Gale Banks Engineering and protected by U.S. and international copyright laws.
TRADEMARKS
Gale Banks EngineeringTM, Banks®, Banks Power®, bankspower.comTM and other marks indicated on this website are trademarks or registered trademarks of Gale Banks Engineering. Gale Banks Engineering's trademarks may not be used in connection with any product or service that is not Gale Banks Engineering's, in any manner that is likely to cause confusion among customers, or in any manner that disparages or discredits Gale Banks Engineering. All other trademarks not owned by Gale Banks Engineering appearing on this web site are the property of their respective owners.
DISCLAIMER
Although Gale Banks Engineering makes all reasonable efforts to ensure that the content of the web site is updated and correct, Gale Banks Engineering makes no warranties as to its accuracy. All materials on the web site are provided "as is" without warranty of any kind, either express or implied, including, but not limited to, the implied warranties of merchantability, fitness for a particular purpose, title and non-infringement.
Although this web site links to and/or from other websites, Gale Banks Engineering does not endorse, approve, certify or sponsor the linked website unless specifically stated therein. Gale Banks Engineering does not control, nor is responsible for, the content of linked web sites.
In no event shall Gale Banks Engineering be liable for any direct, indirect, punitive, incidental, special, or consequential damages arising out of or in any way connected with the use of this web site or any information provided on this website. Because some states or jurisdictions do not allow the exclusion or limitation of liability for consequential or incidental damages, the above limitation may not apply in all jurisdictions.
PRIVACY POLICY
The Gale Banks Engineering Privacy Policy was updated on May 4, 2020.
If you require any more information or have any questions about our privacy policy, please feel free to contact us by mail at 546 S. Duggan Ave., Azusa, CA 90712, email at socialmedia@bankspower.com.
At Gale Banks Engineering the privacy of our visitors is of extreme importance to us. This privacy policy document outlines the types of Personally Identifiable Information received and collected by BanksPower.com and Banks' mobile apps, and how this information is used.
Log Files
Like many other websites, BanksPower.com makes use of log files. The information inside the log files includes internet protocol (IP) addresses, type of browser, Internet Service Provider (ISP), date/time stamp, referring/exit pages, and number of clicks to analyze trends, administer the site, track user's movement around the site, and gather demographic information. This information is used to improve the customer experience. IP addresses and other such information are not linked to any information that is personally identifiable.
Cookies
BanksPower.com and Banks' mobile apps use cookies to store information about visitors' preferences, record information on which pages the user accesses or visits, customize webpage content based on visitors' browser types, and other information that the visitor sends via their browser. Data collected does not contain personally identifiable information.
Cookies are used to:
Help remember and process the items in the shopping cart
Understand and save user's preferences for future visits
Track advertisements
You can choose to have your computer warn you each time a cookie is being sent, or you can choose to turn off all cookies. If you choose to participate in our use of cookies but later change your mind you can simply opt-out at any time by going through your browser settings. Your browser settings will also allow you to delete the cookies that have already been set and change your browser settings to block all or part of any further cookies. You can start with these sites to learn more about your browser's privacy controls:
If you disable cookies, some features will be disabled. It won't affect the user's experience that make your site experience more efficient and some of our services will not function properly. However, you can still place orders.
Third-Party Disclosure
We do not sell, trade, or otherwise transfer to outside parties your personally identifiable information unless we provide you with advance notice. This does not include website hosting partners and other parties who assist us in operating our website, conducting our business, or servicing you, so long as those parties agree to keep this information confidential. We may also release your information when we believe release is appropriate to comply with the law, enforce our site policies, or protect ours or others' rights, property, or safety.
However, non-personally identifiable visitor information may be provided to other parties for marketing, advertising, or other uses.
Third-party links
We do not include or offer third-party products or services on our website or mobile apps.
Google
Google's advertising requirements can be summed up by Google's Advertising Principles. They are put in place to provide a positive experience for users.
We use Google in the following ways:
Google Analytics
Google Tag Manager
Remarketing with Google AdSense
Google Display Network Impression Reporting
Demographics and Interests Reporting
DoubleClick Platform Integration
We use Google AdSense Advertising on our website.
Google, as a third-party vendor, uses cookies to serve ads on our site. Google's use of the DART cookie enables it to serve ads to our users based on their visit to our site and other sites on the Internet. Users may opt-out of the use of the DART cookie by visiting the Google ad and content network privacy policy.
Facebook
We use the "Custom Audience pixel" of Facebook Inc., 1601 S. California Ave, Palo Alto, CA 94304, USA ("Facebook") on our website. With its help, we can keep track of what users do after they see or click on a Facebook advertisement. This enables us to monitor the effectiveness of Facebook ads for purposes of statistics and market research. Data collected in this way is anonymous to us, which means we cannot see the personal data of individual users. However, this data is saved and processed by Facebook. Facebook can connect this data with your Facebook account and use it for its own advertising purposes, in accordance with Facebook's Data Policy which can be found here. You can allow Facebook and its partners to place ads on and outside of Facebook. A cookie can also be saved on your device for these purposes.
Please click here if you would like to withdraw your consent.
COPPA (Children Online Privacy Protection Act)
When it comes to the collection of personal information from children under 13, the Children's Online Privacy Protection Act (COPPA) puts parents in control. The Federal Trade Commission, the nation's consumer protection agency, enforces the COPPA Rule, which spells out what operators of websites and online services must do to protect children's privacy and safety online. We do not specifically market to children under 13.
Fair Information Practices
The Fair Information Practices Principles form the backbone of privacy law in the United States and the concepts they include have played a significant role in the development of data protection laws around the globe. Understanding the Fair Information Practice Principles and how they should be implemented is critical to comply with the various privacy laws that protect personal information.
In order to be in line with Fair Information Practices we will take the following responsive action, should a data breach occur:
We will notify the users via email within 7 business days.
We also agree to the individual redress principle, which requires that individuals have a right to pursue legally enforceable rights against data collectors and processors who fail to adhere to the law. This principle requires not only that individuals have enforceable rights against data users, but also that individuals have recourse to courts or a government agency to investigate and/or prosecute non-compliance by data processors.
CCPA Overview
The California Consumer Privacy Act (CCPA) is the first comprehensive privacy law in the United States. It provides a variety of privacy rights to California consumers. Businesses regulated by the CCPA will have a number of obligations to those consumers, including disclosures, General Data Protection Regulation (GDPR)-like consumer data subject rights (DSRs), an "opt-out" for certain data transfers, and an "opt-in" requirement for minors.
The CCPA only applies to companies doing business in California which satisfy one or more of the following: (1) have gross annual revenue of more than $25 million, or (2) derive more than 50% of their annual income from the sale of California consumer personal information, or (3) buy, sell or share the personal information of more than 50,000 California consumers annually.
The CCPA went into effect on January 1, 2020. However, enforcement by the California Attorney General (AG) will start on July 1, 2020.
The California AG will enforce the CCPA and will have the power to issue non-compliance fines. The CCPA also provides a private right of action which is limited to data breaches. Under the private right of action, damages can come in between $100 and $750 per incident per consumer. The California AG also can enforce the CCPA in its entirety with the ability to levy a civil penalty of not more than $2,500 per violation or $7,500 per intentional violation.
For customers in California, Gale Banks Engineering, Inc. will be acting as a "service provider" with respect to our Online Services and Professional Services offering. The terms in the privacy policy already meet the requirements for Service Providers under the CCPA and are generally sufficient to permit customers to continue to use our services. As such, no additional contractual changes are required for customers to be able to rely on Gale Banks Engineering, Inc. as a Service Provider under the CCPA.
Gale Banks Engineering, Inc. complies with all laws and regulations applicable to its provision of the Online Services, which would include the CCPA.
If you want your personal information removed from our system, please contact socialmedia@bankspower.com.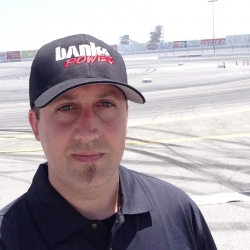 Latest posts by Billy Bergman
(see all)