Humvee Transmission and Suspension Upgrades
In addition to turbo and exhaust brake upfit systems that dramatically improve the vehicle performance, Humvees need better transmissions and suspension systems. What will Gale Banks do about that?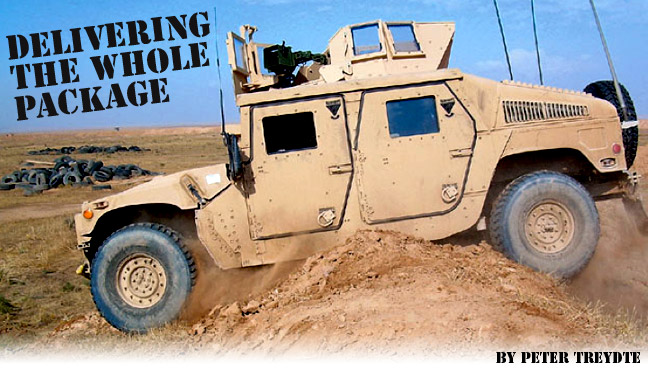 Desert racing is an experience like no other. Competitors battle the terrain as much as they battle each other. If you get beat by the course, you lose the race. The landscape is multi-faced; everything from graded dirt roads to dry riverbeds, from powdery silt to sharp rocks, from smooth dry lake beds to deep rutted gullies.
Desert racing and military activity in hostile parts of the world are not entirely unrelated. The vehicles and their occupants are subjected to extreme travel conditions. Racers meet the challenge with customized vehicles that have exotic suspension to soak up the rough stuff. But racers don't typically have people shooting at them. So the military has the added challenge of carrying thousands of pounds of armor along as protection. When it comes to the suspension of the vehicle, adding literally tons of weight can be a game changer.
The vehicle of choice for most military activity these days is the High Mobility Multipurpose Wheeled Vehicle (HMMWV or Humvee for short). The Humvee has full time 4-wheel drive and double wishbone independent suspension at each corner which allows for 16 inches of travel at the wheel. This aggressive setup justifies the High Mobility part of its name and Humvees have been known to traverse some pretty radical terrain. But the original suspension is not up to the task of carrying all the added sprung weight that an Up-Armored Humvee has. So the powers that be went looking for something better.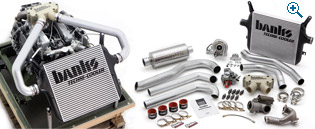 Banks Power recently scored a home run with a power enhancing turbo system for Humvees (see Banks Insider News: Hot-Rod Humvee) which affords the vehicle more power and better stopping ability. This product was put to the test in the Nevada desert over terrain that would make a desert racer wince and at speeds that should never be possible. The test drivers stepped out of the vehicle with the kind of grin that indicates that they know they have a winner. With this kind of power and braking ability, the suspension and transmission need to be able to keep up.

So the request came down; Banks, can you complete the package? In addition to supplying a turbo and exhaust brake upfit system that dramatically improves the vehicle performance, the Humvee needs a better transmission than the factory 4L80E and a suspension system that is up to the task. Gale Banks is no stranger to making vehicles work in the desert. In 2005 he competed in the Baja 1000 in a Banks-powered F-250; a heavy vehicle in its own right, with a surprisingly nimble suspension system.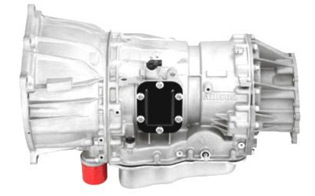 Needless to say, we are prepped and ready for action. The Banks Sidewinder Spec Ops package will be available to special forces in all 4 branches of the military; Army, Navy, Air Force and Marines, not to mention other enforcement agencies that use Humvees, such as Border Patrol, Secret Service, National Guard, CIA… the list goes on. Along with the aforementioned turbo and exhaust brake system, it will include an Allison transmission (shown at right) that requires its own electronic control module, mated to an appropriate heavy duty torque converter. Upgraded suspension components will round out the package with new heavy-duty coil springs and advanced 3.5″ remote reservoir computer controlled hydraulic shocks. The net result is a machine not unlike a desert racer, ready to take on the brutal terrain without succumbing. And that is what our military is good at, so it makes sense that their equipment be up to the task as well.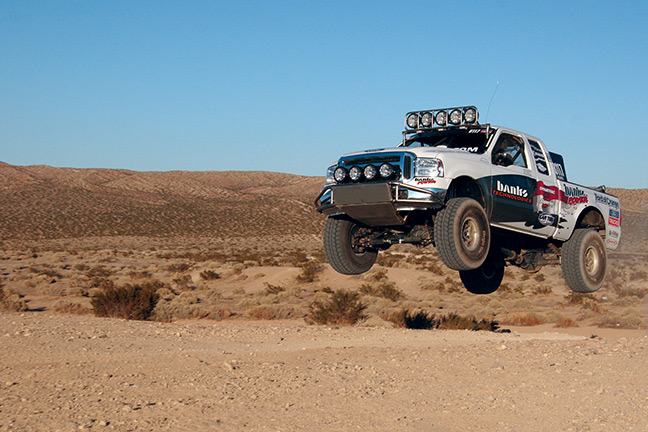 The Banks Power desert racing Ford F-250 with 4″ bypass shocks.