Finding the Limits of the Duramax
When you think of racing engines, diesel is not the first thing that comes to mind. Racing engines are typically light weight and high-revving, while diesels are bulky, heavy and slower turning. So what is Gale Banks doing racing with all those Duramax engines?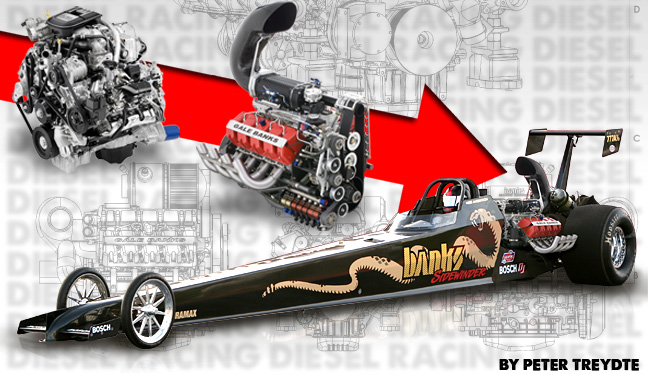 When you think of racing engines, diesel is not the first thing that comes to mind. It's not that diesels can't be used as race engines… that certainly has been proven throughout the years. In 1931, Dave Evans drove the Cummins Diesel Special to a non-stop finish in the Indianapolis 500, the first time a car completed the race without a pit stop. Many diesels have competed in land speed trials at Bonneville, including the Banks Sidewinder Cummins-powered Dodge Dakota, which became the world's fastest pickup truck in 2002 with a top speed of 222 MPH. And in 2009 a Banks S-10 Pro-Stock pickup with a Duramax engine set an NHRDA record of 7.77 seconds at 180 MPH. But diesels are more commonly thought of as workhorses; engines used in heavy duty vehicles for hauling loads. Racing engines are typically light weight and high-revving, while diesels are bulky, heavy and slower turning.

In recent years, diesel drag racing and sled pulling events have become extremely popular, spawning numerous sanctioning bodies for organized events. These events are truly "grass-roots" in nature, and probably have their genesis in two guys racing their work trucks home after a hard day of labor. These competitions have pitted Ford Power Stroke, Dodge Cummins and GM Duramax engines against each other in head to head battles. The natural result is an escalation of efforts; stronger tuner, multiple tuners, free flowing intake and exhaust, bigger turbos, more turbos, bigger intercoolers! Eventually, someone winds up with broken parts scattered on the ground. This begs the question; when using a diesel pickup truck as a racing machine, what are the inherent limits to what it can handle?
Obviously the answer is going to vary between engine platforms, but at Banks we have asked that question very specifically about the Duramax engine. And while we want to be able to push those limits for racing purposes, we really have a much greater need to know in a separate endeavor. Marine use of diesel engines requires that the engine be able to produce maximum power output for extended periods of time. This is very unlike normal use in a pickup truck where loads are constantly varying and are rarely sustained at full output. In a marine environment, long term durability is paramount, so knowing the engine's limits is a requirement, and operating within those limits is wise.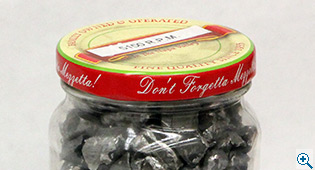 So what limitations does the Duramax engine have? First of all, we know that the stock engine can't run past 5000 RPM reliably. The ECU has internal limitations that prevent operation of the fuel system at higher RPMs, and the pistons head starts to separate from the rest of the piston body. If you can overcome these limitations and run the engine at a higher rate of speed, balance becomes a problem. The Duramax is externally balanced in its stock form, which works acceptably at normal pickup truck operating speeds. At elevated revolving speeds, the external balancing weight becomes a cantilevered swing arm which commonly causes the crank to break between the first rod journal and the #2 main bearing journal. Combustion temperatures are also a concern. The piston is not happy with temperatures in excess of 1650° F and will fail after some time of high temp exposure.
You might ask how we know these limiting factors. Do we have really good engineering data and models, or have we learned by trial and error? The answer is both. Our relationships with GM and the Duramax factory allow us to be privy to some pretty helpful information. But in some cases, we have tested well outside of the operating range that the D-Max engineers anticipated, so we are on our own. And in those cases, we test, tear down, examine, test again and push parts until they break. It can be an expensive process, but sometimes it's the only way to find out for sure.
So once we know the limits, what do we do next? That is where our engineers get to stretch their legs. We are never content to leave well enough alone. If we are going to be successful racers, we need to be able to go beyond the normal limits and create new limits. In future articles we will describe exactly how we move those limit lines to the next level. Doing so allows us to build a diesel that will stand up to the punishment of marine use… and produce a pretty stout diesel racer in the process!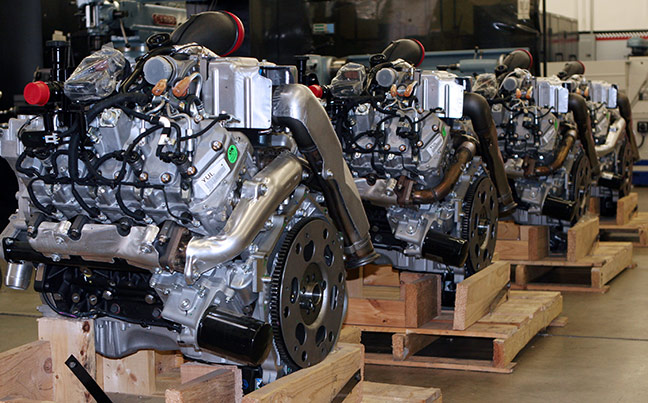 Here are just a few of the Duramax engines that have come into Banks for testing, tweaking, and up-beefing. Would you say we have a plethora of Duramax engines at Banks? Oh, yes, we have a plethora.