Getting There is Half the Battle
Our turbocharged Wrangler Rubicon was ready for the 2014 Ultimate Adventure that started in North Platte, Nebraska, after working day and night to get it finished.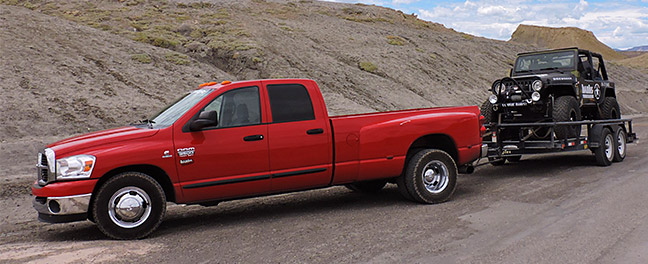 by Jerrod Jones
Towing With an EconoMind-Equipped Ram Dually
Our turbocharged Wrangler Rubicon was ready for the 2014 Ultimate Adventure that started in North Platte, Nebraska, after working day and night to get it finished. Of course, all the work was done in the last 10 days of a two-month timespan we gave ourselves, but isn't that always the way? Parts are never ordered early, and you always forget to order something important. And there's always something else to do that takes priority until the final days before leaving on a trip like this.
But we got our Wrangler properly prepped in time and onto a trailer behind a 2007 Ram 3500 6.7L Cummins dually equipped with an EconoMind diesel tuner and all the Banks goodies that could be added. We were towing to Carbondale, Colorado, and leaving the Ram dually and trailer at the Off Road Design facility—another sponsor of the Ultimate Adventure—and driving the Wrangler from there to North Platte.
This '07 Ram dually is outfitted with the Banks EconoMind, Techni-Cooler, Ram-Air Intake and Monster exhaust. And we could make sure everything stays kosher and within correct parameters with the digital gauges built into the Banks iQ that sits on the dash and allows us to scroll through different power settings (1 through 6).
This was my first time pulling with a fully Banks-equipped automatic transmission truck, and I must say that I—a power snob by nature—was impressed. The truck would hold 75mph, uphill, in higher elevations with the trailer and loaded-down Wrangler in tow. I know this load was nowhere near the towing capacity of this truck, but I've towed much of the route before with a stock 2012 Ram Dually with a lighter trailer load and had nowhere near the ability to hold the 75mph speed limit, uphill, through stretches of the Interstate 70. The Banks modifications made the drive so easy; just push "cruise control" and go!
---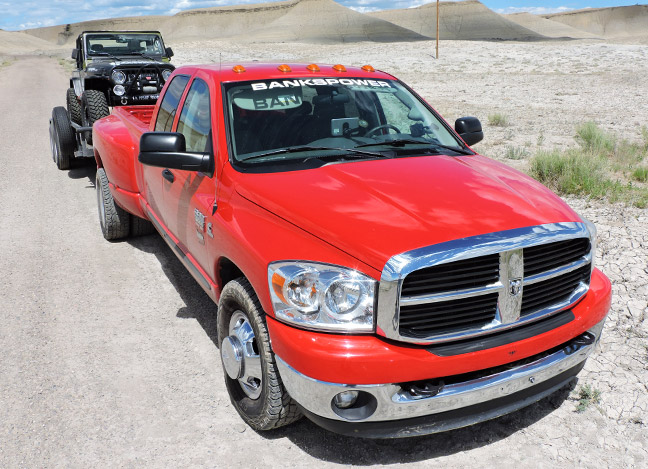 With a Banks EconoMind tuner, Techni-Cooler Ram-Air and Monster exhaust, this truck was pulling with power to spare.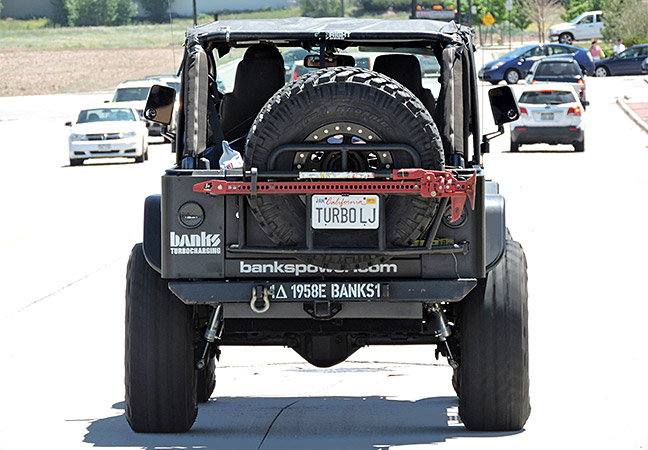 We unloaded the turbocharged Wrangler at Off Road Design's facility in Carbondale, Colorado, and headed through the Colorado Rockies towards Denver and then Nebraska.
Even with all the gear, big tires, and body armor, our Wrangler easily held the speed limits through the rocky passes. The turbocharger did an excellent job at pushing denser air into the engine, demonstrating only a minimal power drop in thinner air, even when climbing close to an elevation of 10,000 feet.

Sometime late in the morning, well past midnight, we had to pull over due to lack of sleep. We found a rest area and pulled over for a couple hours, only to be woken up by sheep…lots of sheep. We'd ended up near a sheep ranch in the Colorado Rockies and got the treat of seeing ranchers and sheep dogs at work driving the sheep straight through the rest area.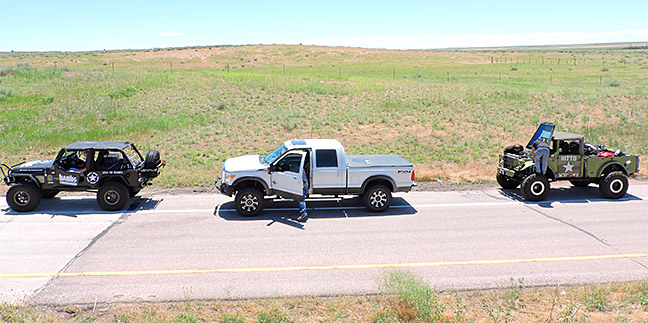 As we got closer to our destination of North Platte, we came across our first fellow Ultimate Adventure participant (and sponsor). The Nitto Tire/Off Road Evolution M37 had pulled over for some fuel injection tuning. It seems the self-learning EFI system had gotten finicky. Without much that could be done on the shoulder of the road without a laptop, the Nitto crew closed the hood and traversed on.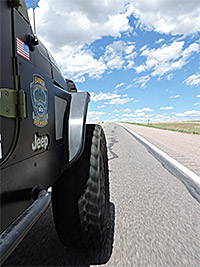 We pulled ahead and continued on, easily holding 75 mph in overdrive on our way to North Platte, Nebraska. After adding big tires, armor, and lots of weight, the easy drivability of the Wrangler was back thanks to a Sidewinder turbocharger!
If you missed any of the earlier stories in this series, check them out here:
Part 1: Becoming the Official Turbocharger of Ultimate Adventure 2014
Part 2: Building the Banks Sidewinder Jeep for a 4×4 Marathon