Building the Banks Sidewinder Jeep for a 4×4 Marathon
To make sure the rest of the Banks '05 Jeep Wrangler Rubicon Unlimited would hold up to the Petersen's 4 Wheel Off-Road's Ultimate Adventure, we had to get our turbocharged Jeep ready for a true off-road marathon.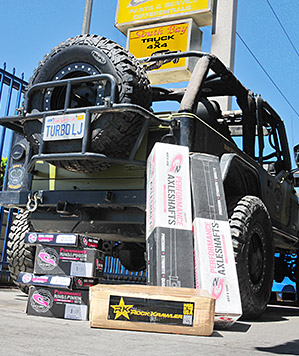 To make sure the rest of the Banks '05 Jeep Wrangler Rubicon Unlimited would hold up to the Petersen's 4 Wheel Off-Road's Ultimate Adventure, we had to get our turbocharged Jeep ready for a true off-road marathon. Since we were out to prove that the Banks Sidewinder kit could easily survive the most grueling week of its life, we certainly couldn't afford to let anything in the drivetrain or the rest of the Jeep be a weak link on the Banks Wrangler.
With the Sidewinder turbocharger kit already run and tested on the Banks '05 Wrangler Unlimited, we knew it would survive the trip. Before departure though, Banks even upped he ante by adding a new liquid-to-air intercooler kit to the Sidewinder package, increasing the power 85 horses over a stock 4.0L's output at the rear wheels.
The Banks Wrangler Unlimited Rubicon was already well built before we started making it Ultimate Adventure ready. The Rubicon package, with Dana 44 differentials and front and rear lockers was already a venerable package. And a RockKrawler long-arm suspension, a Warn Powerplant winch, body protection, bumpers, and rock sliders all made for a hardcore package on TrailReady beadlocks wrapped in 35-inch tires.
But this was the Ultimate Adventure. Only the toughest of the tough vehicles will make it through. To complete an Ultimate Adventure without any mechanical problems is an almost unheard of feat in the off-road world…but it's always something to strive for. With that goal in mind, we sought out to address any weak link or worn part we could find, prior to attending the trip.
We partnered up with South Bay Truck and 4×4 in Hawthorne, California, to get the drivetrain work done. The owner, Frank Gilliland, grew up in a Willys dealership and has been building Jeep axles longer than some of us have been alive. He not only helped on parts replacement and checking, but also advised us on the best parts to get.
This included adding new G2 chromoly axleshafts, changing from a 5×4.5 wheel bolt pattern to a 5×5.5, and adding 30-spline front stub shafts and locking hubs. We also dramatically improved the ride with some Bilstein 160 shocks, bolted on TrailReady 5×5.5 beadlocks wrapped in 37-inch Nitto Trail Grapplers, and trussed the axle at Mercenary Off Road to keep it from bending. We finally did a little something for passenger protection, too, and added a Smittybilt soft top. This, along with the maintenance and replacement of a few items (U-joints, brakes, shocks, etc) will give us a better chance of possibly finishing the Ultimate Adventure without incident.
---
The Banks Jeep was already well built, with lots of body protection and 35-inch tires Pro Comp Xtreme Mud Terrains on TrailReady beadlocks. After a couple shakedown runs in Moab, Utah, and Azusa Canyon, California, a few months prior to the Ultimate Adventure, we were sure of the Sidewinder turbocharger's abilities, but we saw a few items we needed to address.
First, the drivetrain was basically stock Rubicon. The "Dana 44" axles (aka Rubicon 44s) are not what we'd consider true Dana 44 axles, and still come from the factory with the same skinny axle tubes as the Dana 30, weak inner Cs, unit bearings, and 27-spline outer axleshafts with a 5×4.5 wheel bolt pattern.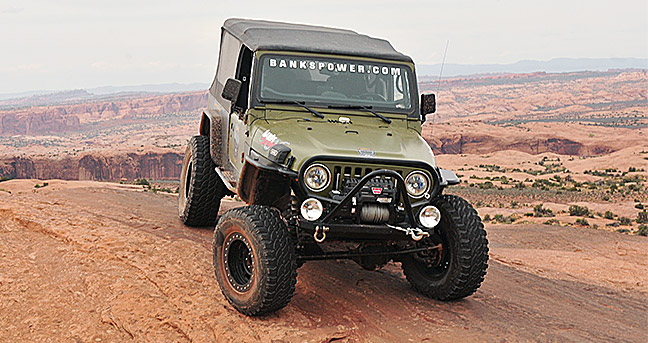 Secondly, this Jeep bobbed up and down, proving that the shocks were not adequate for all the weight of the Jeep.
It also needed some larger tires –37-inch tires would do it—to help better roll over obstacles. And this Jeep had the tire clearance to allow them.
The new Sidewinder turbocharging kit for the Jeep 4.0L engine is currently available for 2005 and 2006 4.0L models, but Banks is right now expanding the line to fit other 4.0L Jeeps.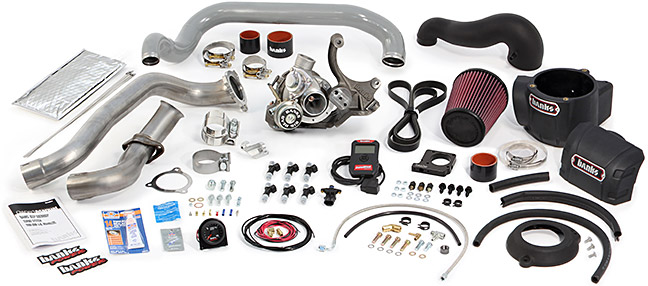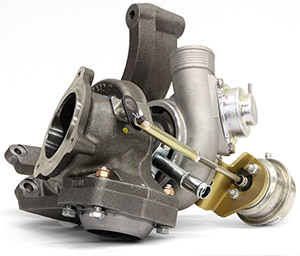 The kit makes approximately 66 horsepower and 84 lb-ft of torque without an intercooler or any type of water/methanol injection. It comes with everything you need to bolt on a 50-state emissions-legal system for about $2,950 (street price). Considering the cost and limited legality with many blower-type forced induction systems (not to mention the parasitic loss, affecting power and fuel economy), it seems like a no-brainer to bolt on a Sidewinder turbocharged system on a six-cylinder Jeep engine.
The Banks Sidewinder Turbo is intentionally sized small to get rapid throttle response from it. The working parts are similar to those found in a Mitsubishi TD04 on a Volvo S70.
The Sidewinder turbocharger and the Big Head wastegate mount on a bolt-on bracket that ties directly to your engine block.
A liquid-to-air intercooler is a new option for the Sidewinder turbocharging kit. A Straightshot water/methanol injection kit can also be used in conjunction with Sidewinder turbo kit. On this Ultimate Adventure-bound Jeep, we added the liquid-to-air intercooler, which gave the ability to increase boost from 6 PSI to 8 PSI and increase the horsepower addition to 85 horses at the rear wheels.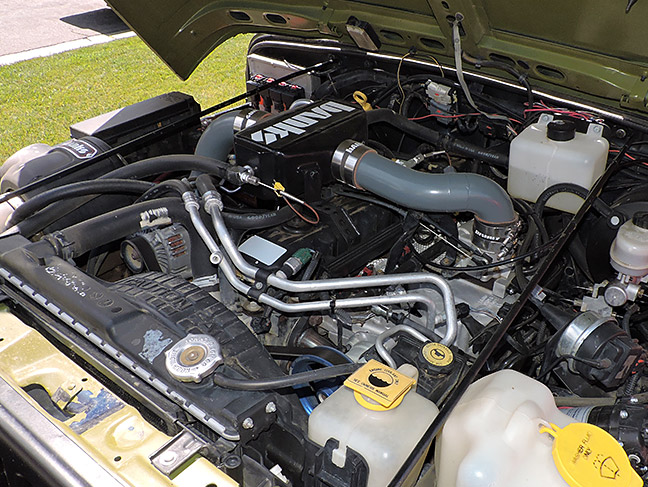 While the intercooler does increase the cost of the Sidewinder turbo kit to a bit over $4,000, we think it's well worth it for the additional power and usability under severe demands.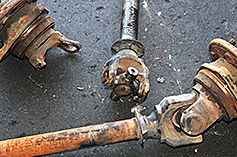 Although the 27-spline outer axleshafts (aka stub shafts) did hold up, the stock U-joint did not during some off-road "testing." And unfortunately the U-joint took out both inner and outer axleshaft ears when it failed. This would require an entire new passenger-side assembly.
G2 Gear makes an excellent drop-in 4340 chromoly axle assembly for the front Jeep Rubicon 44 axle. It comes pre-assembled with the U-joint pressed in and full-circle clips to prevent the loss of the bearing caps.

With the chromoly axleshafts and new U-joint in place, we had our Jeep up and running, but we still had 27-spline outer axleshafts and semi-adequate unit bearings with a 5×4.5 bolt pattern.
We needed true half-ton drivetrain stock to drive stress-free to the Ultimate Adventure. This meant getting rid of the smallish 27-spline axles in favor of some 30-spline outers, replacing the unit bearings with locking and rebuildable hubs, and moving up to a 5×5.5 wheel bolt pattern.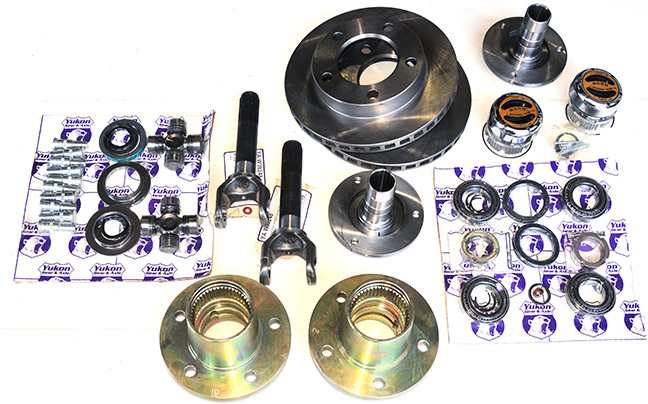 Yukon Gear has a Free Spin Jeep kit to do all of this with one kit. It comes with new 30-spline outer axles, spindles, hubs, new 5×5.5 pattern brake rotors, and all the necessary bearings and hardware.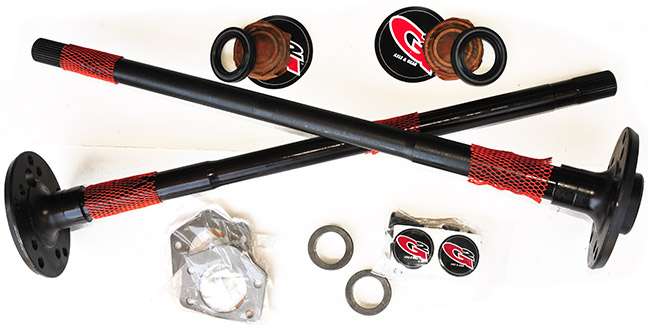 While there was technically nothing wrong with the rear axle, and it was already packed with the necessary G2 4.88 gears to match to the 37-inch Trail Grapplers, we did need to get to the 5×5.5 bolt pattern to match the front end. While this could have been done with some 5×4.5 to 5×5.5 adapting wheel spacers, we'd rather change the bolt pattern on the axleshafts and brakes.
G2 Gear has replacement 30-spline Rubicon 44 axleshafts that are actually drilled for both the 5×4.5 and 5×5.5 bolt patterns. We only had to choose the larger pattern to stick the lugs through to get the bigger bolt pattern.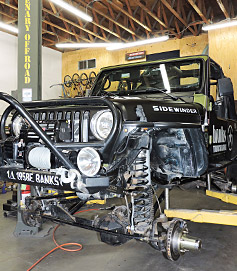 We reused the original brake rotors since they were in great condition, and simply had them drilled for a second 5×5.5 pattern at a local machine shop.
While we had the rear end apart, we also took the opportunity to add new parking brake shoes since the old pads were completely missing.
Frank Gilliland also pointed out that our front driveshaft was in need of a U-joint so we addressed that, too.
After bringing our Jeep's drivetrain up to true half-ton status, we were off to Mercenary Off Road in Camarillo, California, to take a look at axle housing trussing and some suspension fixes. While the suspension still felt fine (save for some shock bobbing), this Jeep and its RockKrawler suspension had seen some good use. We wanted to check all the joints and replace the shocks while Todd Farrand was cutting and welding on reinforcements to our front axle.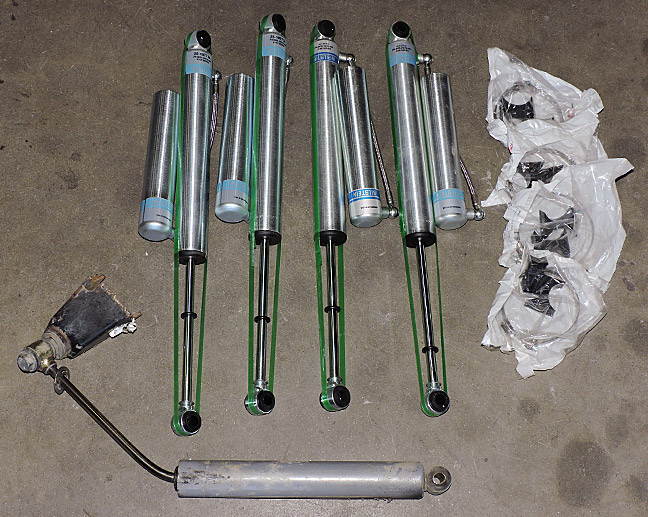 Shocks were not just something we wanted to replace; it was necessary after a little incident where a rear shock mount was ripped off the axle, bending the shock shaft. It was a good excuse to get some new shocks that would be able to control this Jeep much better.
Some Bilstein 5160 remote reservoir shocks were just the ticket. With the added weight of all the off-road parts and armor, the Banks Wrangler was bobbing and weaving like a prize fighter. We went with a heavier valving than the stock Jeep application calls for, and it worked out absolutely great…after Todd from Mercenary welded our rear shock mount back on.
After getting the Jeep up onto Mercenary Off Road's lift, Todd and his assistant Dakota dropped the front axle onto a table, which allowed us to more easily service any suspension joints that we find too well-worn.
The inner Cs on front Dana 30 and Rubicon 44 axles are a bit weak and tend to be a point of bending. Todd cut out these weld-in corners to prevent the upper part of the inner Cs from bending. He tack welded everything in place prior to finishing the welding.
Todd cut a 3/16-inch plate that would run along the long tube of the axle housing. We've seen many bent Dana 30 housings, and this usually occurs along the passenger-side axle tube and the top of the inner axle Cs. Care needs to be taken when welding to the cast center section if you want a chance of it sticking. While there are a number of thoughts and theories on this, the best way seems to be heating up the center section prior to welding. But this requires stripping the axle of its pieces and seals so as not to damage anything. Instead, you can also try welding just a little bit at a time, tacking both ends of the truss prior to welding in the middle. Small welding stitches can work.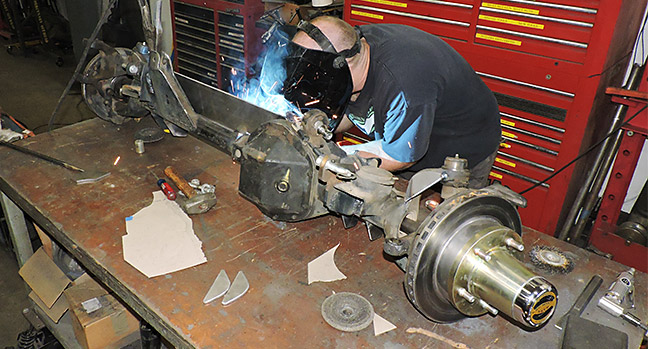 With the axle bracing welded in place, we waited for it to cool and gave the modified Rubicon 44 a fresh coat of paint.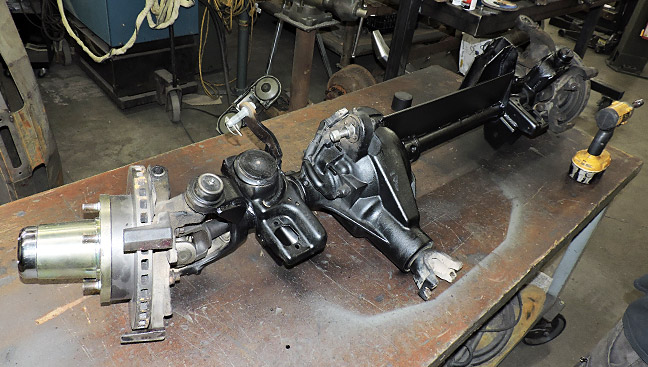 While Todd was working on the axle, we took the opportunity to check all the suspension joints.
The track bar is the only bar laterally locating the front axle, and therefore its joints can generally wear out more quickly than other suspension joints, so we started there. Sure enough, the rod end's spherical ball spun around a little more easily than we wanted. We had called RockKrawler in advance and had ordered up a few extra joints for the trip, so we popped in a new one, and now our slightly-worn-out one is the spare joint in our bag.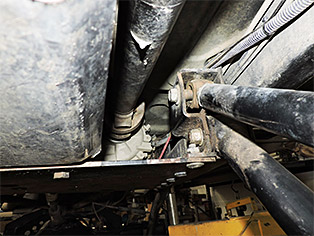 We also found some play in the upper link in the front three-link suspension. With a fully adjustable and rebuildable joint, you can often simply address the wear without replacing the joint. We only needed to tighten the RockKrawler joint on the frame end to make it feel like brand new again.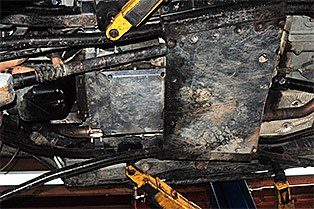 The RockKrawler long-arm suspension on the Jeep is an all-inclusive kit that comes with a complete replacement crossmember and belly skid package that all the suspension arms (not including the track bar) attach to.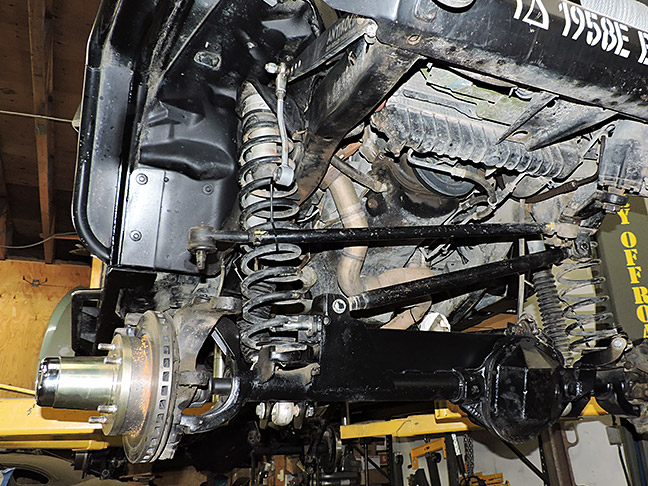 With the welding done and the joints addressed, Todd and Dakota reattached the front axle under the Wrangler while we were finishing building the TrailReady beadlocks inside the Nitto Trail Grapplers.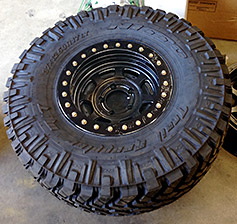 All the wheel work was worth the reward. After hours of bolting together and checking torque, we finally got our HD Series TrailReady beadlocks built inside our 37-inch Nitto Trail Grappler wheels. Not only would we be safe to air-down to single-digit tire pressures in the dirt without fear of pulling a bead, but we also had an almost pop-proof Nitto heavy-duty carcass with a meaty mud tread.
The Trail Grapplers and TrailReadys looked absolutely great on our newly blacked-out Wrangler, which had received the blackout wrap just the night before.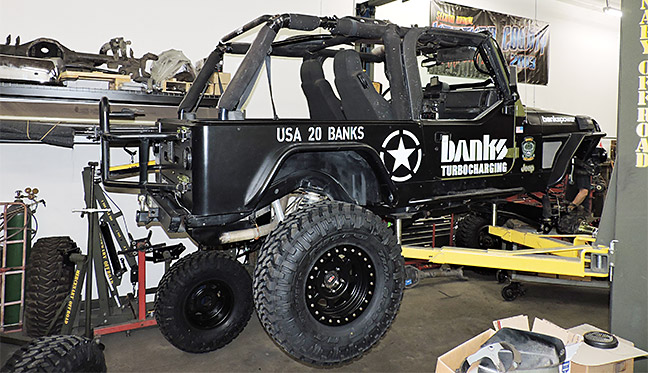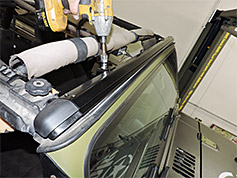 Before we pulled out of Mercenary Off Road, we did one more modification—one that was for us more than it was for the Jeep: A SmittyBilt bikini top and soft top windshield rail was added to the Banks turbocharged Wrangler to keep direct sun and rain off of the passengers.
We finished up with just hours before we were supposed to leave to start the Ultimate Adventure 2014 in North Platte, Nebraska.
Our Sidewinder turbocharged Wrangler Unlimited Rubicon, ready for the Ultimate Adventure!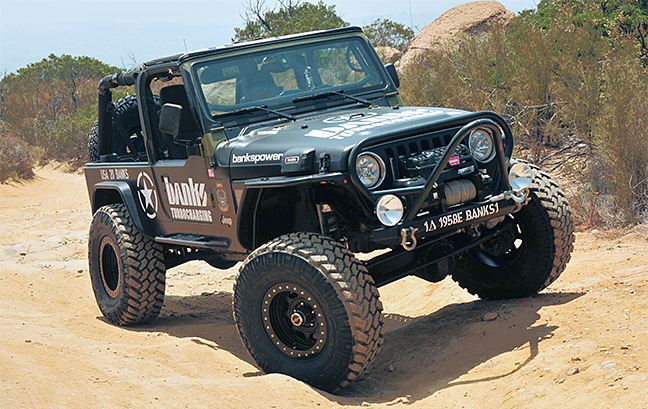 If you missed part 1 in this series, check it out here