Day 1 of Ultimate Adventure
To prepare for any type of marathon, one of the first steps is to become capable of completing the journey.
Exhausted, and It's only 8am on Day 1
Story by Jerrod Jones
To prepare for any type of marathon, one of the first steps is to become capable of completing the journey. Put all mental anguish, excitement, stress, or nervousness aside, and you'll still have to be ready for the physical requirements of an extended jaunt above and beyond your normal pace of travel. And you can certainly expect that from any trip called "The Ultimate Adventure."
We'd been on the road about 20 hours (including a side-of-the-road sleep break) when we pulled the Banks Dually and trailer into Carbondale, Colorado. We hopped in the turbocharged Wrangler and headed towards North Platte, Nebraska; our first destination. The Jeep should have been finished a week prior to the trip, and we should've been well-rested and ready to go when reaching North Platte. Of course, that's never how it goes. Already weary, we pulled into our North Platte hotel just minutes before Rick Pewe would have his first meeting of Ultimate Adventure.
Rick basically yells, "Driver's meeting!" and then we're all supposed to come running. It's amazing how a bunch of trucks with big tires will turn grown men into obedient children… that do in fact come running over for the meeting. The plan was to meet early the next morning in the hotel parking lot, and head to our first destination.
The next morning, after some good rest and sought-after showers, we were back on the road, this time in line with the rest of the Ultimate Adventure participants, heading out towards our first off-road area; a private ranch belonging to "Gerald." And Gerald does not want you to know where his ranch is because he does not want you visiting him! This was an exclusive us-only off-road day. Once per year, he opens up his land to his friends to run some of his trails, but this was not one of those once-a-year days. Pewe had set this up especially for the Ultimate Adventure (UA) and we were about to off-road where none of us had off-roaded before.
Sand hills—not sand dunes, mind you—were covered in vegetation with tight trails weaving throughout. Once you broke through the top layer of fine grass, the sand below would leave your tires spinning.
While the trails were tight, nothing was too difficult—good planning on Pewe's part, since this was only the first day.
---
The very first obstacle on Ultimate Adventure, Day 1, and our first vehicle is already winching out. This did not bode well for the rest of the trip.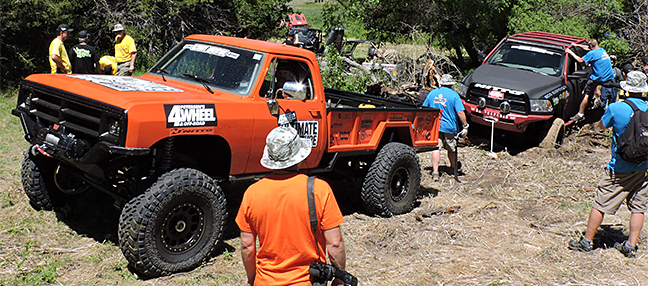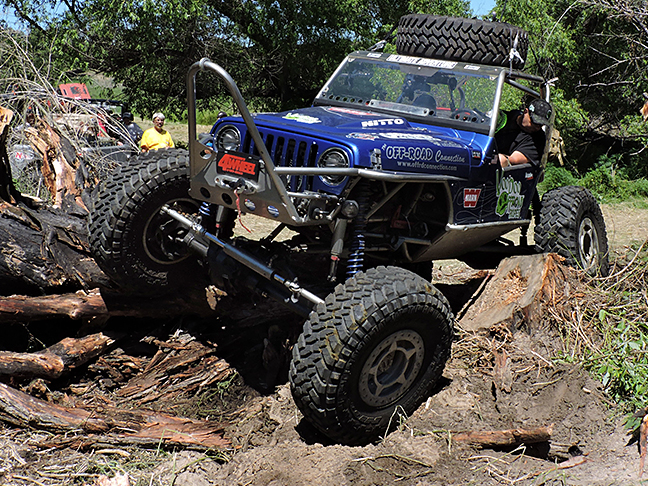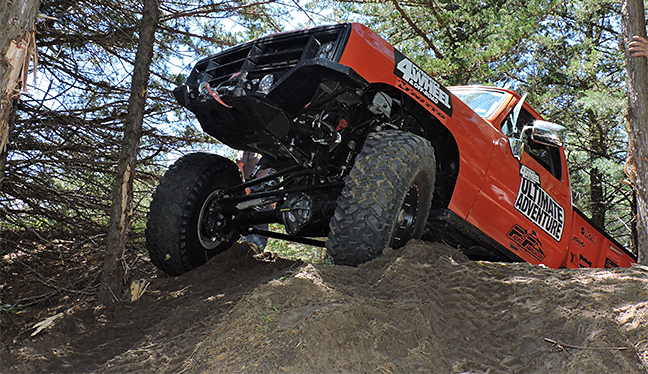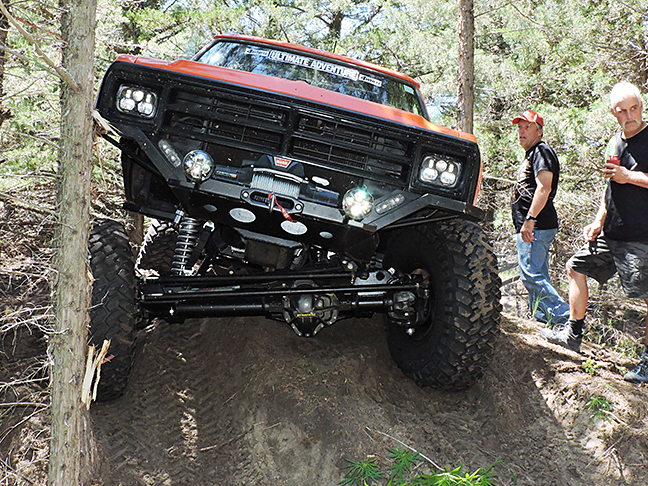 Fred Williams, Editor-in-Chief of 4 Wheel & Off-Road magazine, was right behind Rick Pewe, our trip leader for most of the way.
He did get a bit caught up in this tight turn, trying to keep a long wheelbase fullsize truck off the tree trunks.
Stephen Watson of Off Road Design came through the tight trees with the masterful skills that he's picked up driving a fullsize 4×4 100 percent of the time.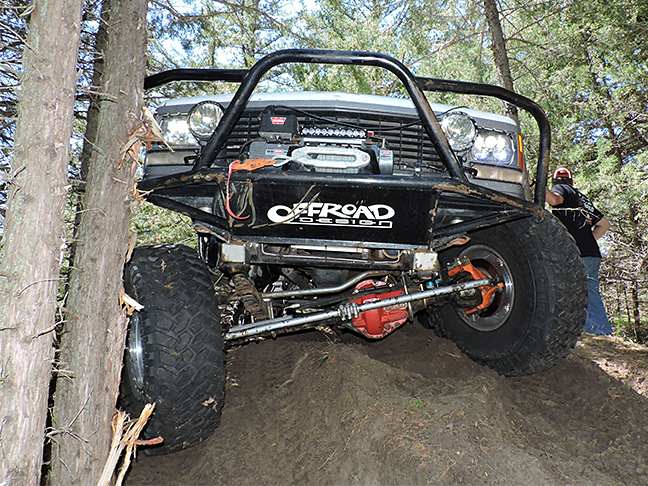 And then came Cooper in his Diesel Power Products Ram. Diesel Power Products was the Official Power Supplier for the Ultimate Adventure, and they love Banks Power products. With a simple turn of the steering wheel, the hydraulic assist easily U-shaped the front tie rod, leaving the front tires pointing at each other. Luckily for Cooper, another attendee by the name of Scott Bruder was carrying a complete spare draglink-and-tie rod setup for a 2010-up Ram.
Gerald's ranch trails had a water crossing—not too deep of one for a fullsize truck, but maybe a little deep for a low-slung Jeep. We sent all the little vehicles first to see if they'd float away.

We were well into our first trail and our turbocharged Wrangler was performing excellently. Unfortunately we didn't have time for a good shakedown run before leaving for the Ultimate Adventure, so this was it.
For those of you that were horticulturists in college, you may recognize what type of plant that the BDS Suspension solid axle Liberty is wheeling through.
One final hillclimb and we were done for the day. Our first off-road day of the Ultimate Adventure (aka: Shakedown run) was a complete success. Though there was a small clunk under hard acceleration….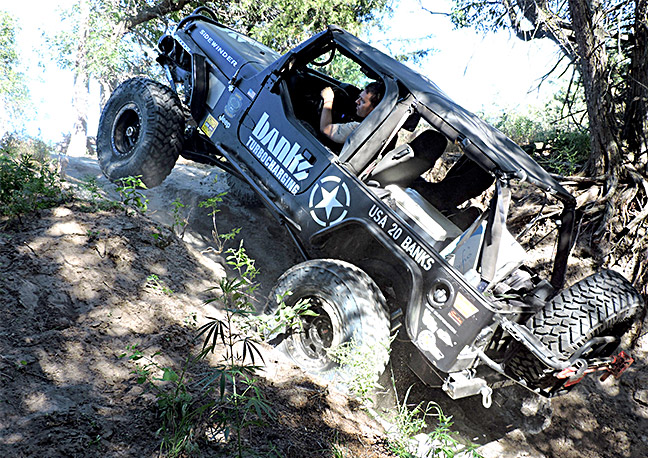 If you missed any of the earlier stories in this series, check them out here:
Part 1: Becoming the Official Turbocharger of Ultimate Adventure 2014
Part 2: Building the Banks Sidewinder Jeep for a 4×4 Marathon
Part 3: Getting There is Half the Battle
Part 4: Exhausted, and It's only 8am on Day 1
Part 5: On the Road Again—Iowa or Bust
Part 6: Illinois or Bust