Products for the Past and Present and for Safety
Whether your truck is long in the tooth or brand spankin' new, we've got products for it. Read on to see how Banks Power can make old trucks and new ones run oh so much better. Plus, read on to learn the story of how a Banks product helped keep a family from meeting an untimely demise!
By John Espino
New Ford Product: Past and Present
In a move much like that of Doc Brown's from Back to the Future franchise (yeah… I'm a total geek, but at least I'm a self-aware one) Gale Banks, being a futurist, has traveled to the future and the past to bring you the latest diesel performance product for Ford Power Strokes.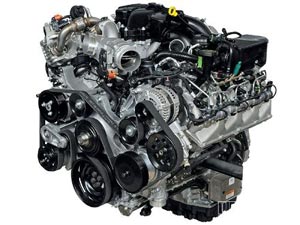 We're continuously working on all sorts of diesel performance products here at Gale Banks Engineering, some frankly have no designated "host" so to speak (brand or even type of engine) because the particular product is so smart that it doesn't care what it's on, while other diesel products are more specific to a vehicle designation for its final iteration. While it may not look like it because of our motorsport endeavors revolving around Duramax, we actually like Ford. Fact is that we're hoping that their new truck does pretty well. So when the new 6.7 liter Ford Power Stroke diesel was introduced we started the idea board a going. Gale and I were even invited a while back by Ford to see the new "Scorpion" Power Stroke diesel engine in all its torn-down glory in the test labs at a place that neither my handheld GPS nor the rental car's GPS could find. Yeah… that place was that "off the map."
Anyway, there are some great things in cue for the 6.7 liter Power Stroke at Banks that will be released in little bite-sized chunks. The first is from our Banks Monster® Exhaust series and is available in both single and dual configurations. Looks great, sounds great, and like all our other Cool Cuff® equipped Banks diesel performance exhaust systems it won't shoot flames out when the DPF regenerates. It's like great "cubed" (whoops… being a geek again!).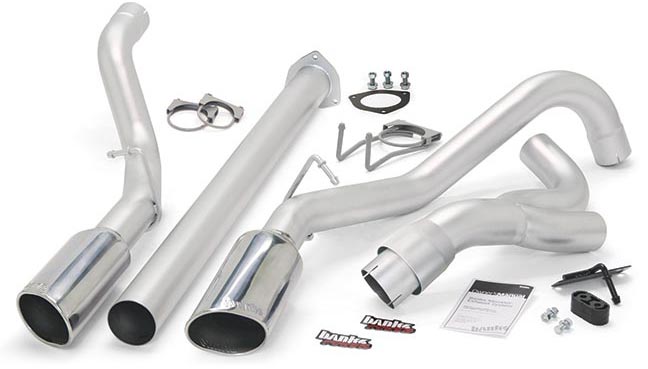 Banks Monster dual exhaust for the Ford 6.7L Power Strokes
(a single exit exhaust version is also available).
Watch as Gale Banks talks with Sam Memmolo from Two Guys Garage about how
Banks' new design adds performance and safety to DPF systems.
So what was that crack about the past you ask? Well, we didn't exactly go back to ride a dinosaur (but, dude, wouldn't that be cool?) or back to the Old West, but we did set the time machine to the late 90's to visit an old friend: The 7.3 liter version of the Ford Power Stroke diesel. We had created a slew of awesome products for ultra-dependable '99 to '03 truck way back, but the offerings seemed to have missed something completely: a diesel cold air intake. Back then we only included a high-flow air filter with all of our kit levels (for that Ford, and now with a renewed interest in that truck's engine selection we went back to the past to make our Ford diesel performance product line more complete. Enter in the new Banks Ram-Air® intake system. It's slick design does what all our other cold air intake systems do: provides an abundant and unrestricted flow of cool, density packed air for outstanding diesel performance, power and economy that blows away the competition. Don't take my word for it, check out the test results below and a review from Petersen's 4 Wheel & Off-Road magazine. It's been said that all good things come to those that wait… well, the wait is over. Time to let the Banks Ram-Air® help your old friend breathe easier, and be spunkier.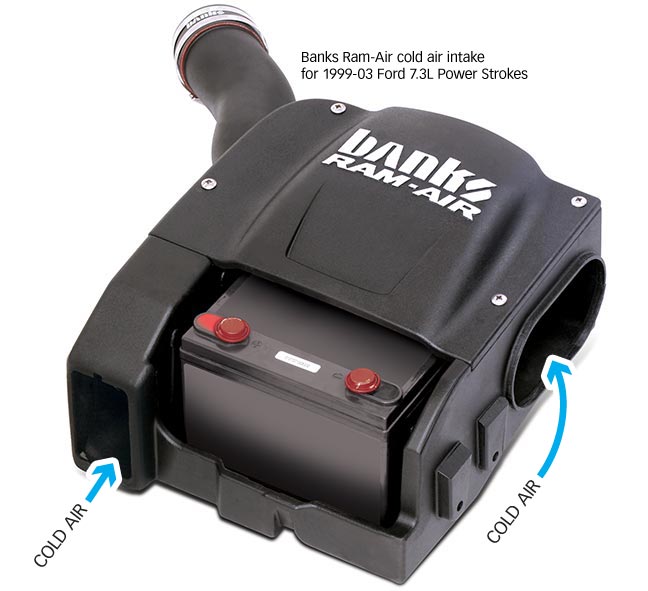 Click on the thumbnails below to get more product info:
| | | |
| --- | --- | --- |
| | | |
| exhaust release | intake release | intake article |
---
Banks Safety: When being last means you win
We often get a lot of great feedback from customers about our diesel power products, which…. really… I would expect. It's usually about the added power and towing ability, as well as some extra mileage. All great stuff. But there is a line of diesel products that we have that was never meant to get you anywhere faster, but rather actually opposite. What I'm talking about is our line of Banks Brake® exhaust brake products that covers GM, Ford and Dodge diesel applications.
An exhaust brake should be considered as a worthwhile safety enhancement for any diesel-powered vehicle, and a virtual necessity for such vehicles when they are heavily loaded or towing trailers. Thinking that you don't need an exhaust brake because you've never had a braking problem in the past could be a big risk. After all, you don't want to discover the problem when you're only part way down a long grade, gaining speed, and your vehicle's brakes aren't up to the task at hand (umm… actually at foot).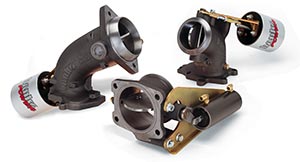 A typical diesel exhaust brake from back in the day consisted of a butterfly valve with a calibrated "bleed" port in it. In a lot of cases they were just simply either open or closed acting as a restriction in the exhaust system varying the flow and causing the engine to act as a braking device. The truck (and driver) benefits from this action because the added use of the engine braking keeps the regular brakes (the ones on your wheels) cool and ready for any real emergency. Using those "service bakes" less also means less maintenance. We added a little micro-computer to sense the throttle position and actuate the valve's operation smoothly, rather than the exhaust brake's valve slamming shut causing a potato in the tailpipe effect.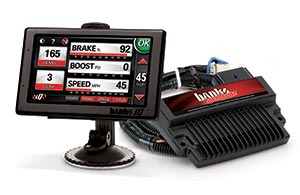 For newer trucks equipped with a VGT turbocharger we have an all electronic device that's so revolutionary it earned two patents. The SpeedBrake™ uses what the truck was born with, turbocharger and transmission, to create a braking system that is light years ahead of the competition… and even what the newer trucks come with. This brain continuously modulates the vanes in the turbos VG turbine housing to create the right amount of backpressure and controls the tranny to provide the best supplemental braking around. When combined with the Banks iQ™ you can even set your desired downhill speed. (For more on VG turbos, see last week's story.)
I'll explain more about how it works its magic in an upcoming article, but for now I just wanted to share a letter that was recently sent to one of our sales guys about an actual experience with the Banks SpeedBrake. The customer's words speak volumes:
Hi Thomas,
I wanted to let you know how the SpeedBrake may have saved my family's lives. I installed the Banks PowerPack w/SpeedBrake in April of this year on my 2007 Ford F350 srw 6.0l I pull a 2007 Cedar Creek DayDreamer 34 RETS which loaded is close to 15,000 lbs. In June, we took our first trip outside the flat lands of the Midwest to Virginia. The trip took us up and down grades up to 8%. The longest descent was a 3 mile 6% grade in West Virginia and I never touched the brake pedal once. I just set the SpeedBrake to 50mph and it held that speed all the way down. The smell from the semi-trucks brakes was very evident in the air so much so that my wife questioned me as to what that awful smell was. Prior to leaving on this trip I did test the trailer brakes and they were functioning perfectly, they are electric over hydraulic. We arrived home late and had driven straight through so we were very tired. It was dark and raining so I parked the trailer haphazardly, disconnected and came back the next day to straighten it out and park it in its proper spot. When I hooked up and tested the trailer brakes I noticed I didn't have any. Upon further inspection, I found a brake line had pulled out of one of the calipers and was spewing brake fluid. I am not sure when this happened but I did notice the brake dust on the trucks front wheels during the trip seemed excessive, so much so that prior to leaving Virginia I wiped them down. I also noticed that below 15 mph, the amount of force I had to apply to the brake pedal seemed more than usual. The SpeedBrake did exactly what it was designed to do, and without it I am not so sure this trip would have ended with our safe return home. I can honestly say I am very satisfied with my purchase.
Thank you,
Mike C.
Chicago, Il
Whoa… not bad. It's not often that you can buy a product that not only does what it was designed to do, but also safeguards your most precious possessions: your loved ones.
You've read what a customer thinks of the SpeedBrake, now see what the top magazines have to say about it: