2012 Jeeps can now breathe easier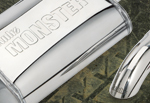 Banks Power has released the Monster exhaust system for the 2012 Jeep Wrangler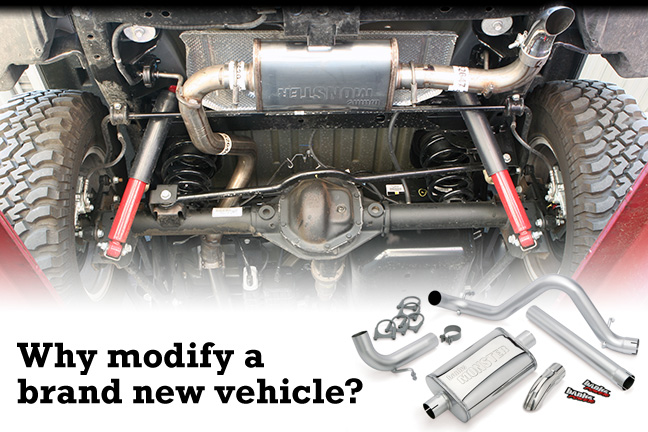 A large portion of people who buy a Banks Power system are folks who have an older vehicle whose "get up and go has got up and went," but they would rather keep it than purchase a brand new car or truck. It's usually a matter of being "cheaper to keep her," meaning that the cost to upgrade the performance of an aging vehicle is far less than the cost of a new vehicle. This explains why Banks Power systems such as the Sidewinder turbo kit for old 6.2L Suburbans and PowerPacks for motorhomes from the 1980's sell so well.
But there are also quite a few people who choose to upgrade their vehicles with a Banks system even when their odometer barely has any miles on it. Why would anyone do that? Well, oftentimes it's a repeat customer, one who had a Banks system on one of their vehicles, and then when it came time to replace the vehicle, it was a no-brainer that they'd want to experience the same performance gains a Banks sytem provides in the new ride. It's happened a number of times—a guy will bring in his truck to the Banks installation department and ask for a Banks kit and he's still got that new car smell. And get this—one customer even drove his brand new truck straight from the dealership to Banks—now there's a guy who knows what a difference a Banks Power system can make!
Such is the case for Jeep owners who buy a Monster exhaust system for their 2012 Wrangler. The vehicle is fresh off the lot, no scratches in the paint, no coffee spill stains on the seat … and yet people are eager to swap out the stock exhaust system in order to get the increased performance, the rich throaty sound, plus the sweet, finished looks of a Banks Power system.
So what's your next step? You've got two options:
1. Go with Banks. (Call toll free 800-601-8072 and one of our helpful and not pushy "power consultants" will give you more details on what you can expect to gain from a Banks system, or send us an email or click for more product info.)
2. Stick with stock. (Though you'll always have that thought in the back of your head that you could be getting more power, the exhaust note could be more authoritative, and your whole driving experience could be more awesome if you went with Banks.)