Rampage Jackson's '08 Ford
8-Lug
June 2008
Mixed martial arts hero, Rampage Jackson, took his '08 Ford Super Duty to Banks Engineering and had it fully worked over from head to tail.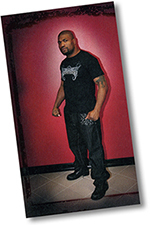 QUINTON "RAMPAGE" JACKSON IS A NAME WELL KNOWN TO FANS of mixed martial arts. A hero in the now-defunct Pride fighting world in Japan, Rampage is currently the light heavyweight champion in the UFC and is ranked #1 by MMAweekly.com and Sherdog.com. His professional record includes 26 wins and six losses.
Hailing from Memphis, Tennessee, Rampage is currently filming The Ultimate Fighter 8 TV show where he is one of the trainers. Several years ago, Toyo Tires recognized the incredible draw that the Ultimate Fighting Championship was pulling in, and they aligned the company with the UFC and several fighters (including Rampage Jackson).
The UFC features an international contingent of fighters engaged in one-on-one combat using a combination of mixed martial arts, boxing, kickboxing, and wrestling to defeat their opponent. The connection between Toyo and a UFC fighter naturally led to the building of an impressive truck. Rampage wanted something that would really stand out, and he got it.
MMA is a hot action sport, so when Rampage agreed to hang out with us for a photo shoot, we knew the guest list would be a lot larger than normal. With something like 50 people gathered at Banks Engineering in Azusa, California, on a Saturday (usually we have two people, the photographer and the truck owner), the festive atmosphere was pervasive.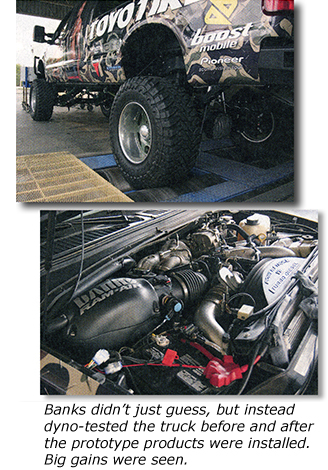 But we never lost sight of the fact that the truck was the most important part of the story. The '08 Ford Super Duty has been fully worked over from head to tail. It came to Banks Engineering a week before the photo shoot so that the Banks crew could hook up the truck with all the latest speed equipment the company had. Some of it is so new that it's still in the prototype stages. Banks installed a 4-inch constant-diameter intermediate pipe and tailpipe, and a 3½-inch V-pipe with dual 6×5-inch polished stainless steel rolled-edge tailpipe tips and a single passenger-side exit. The tips have Banks' new Cool Cuff™ design with cooling vents that force air into the tailpipe for greater temperature reduction. Banks also installed a prototype Six-Gun® Bundle that boosted horsepower by 45.6 percent (389 hp versus the stock 267.2 hp), and improved the throttle response noticeably.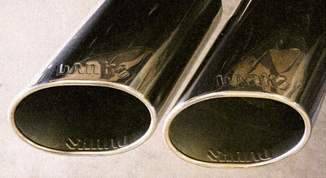 All of Rampage's parts sponsors are prominently displayed on the truck thanks to Aviwraps.com. The full body wrap is striking with Rampage's own image draped on the side. Scanning the body panels, you will notice a who's who list of companies that have helped build such an impressive truck. Bulletproof Suspension lifted the Ford while the Toyo 40×15.5R20 tires fill up the wheel wells. Pioneer hooked up the stereo and Boost Mobile keeps Rampage connected.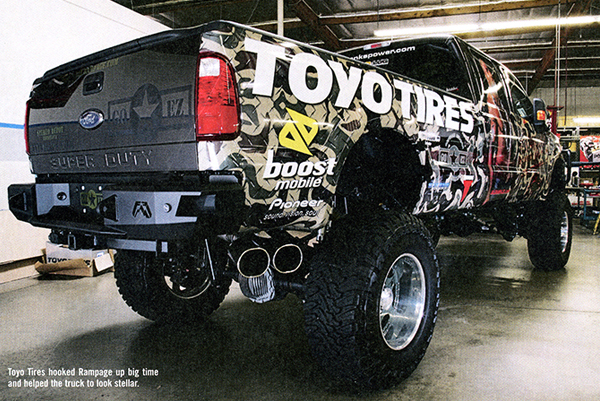 Visit 8-Lug magazine online!