ICON Partners with Banks on Special 1965 Dodge 5.9L Cummins D200 for SEMA Debut.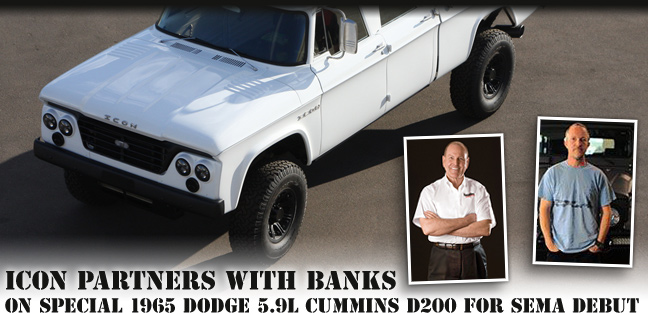 When ICON lead designer and chief executive Jonathan Ward was planning his next classic automotive design build around the anvil strong Cummins 5.9L powertrain, his first call was to Gale Banks. He knew that for power, reliability and durability, Banks offers a full range of powertrain systems, from the Ram-Air Intake through to the Monster Exhaust. Ward was also confident that the engineering team at Banks would be able to modify or design components as needed to fit a one-off design.
ICON's customer was looking for a clean, powerful, streetable truck that could be used for ranch work every day. The goal was to create a modernized daily driver, capturing the muscular, iconic design of the 1965 Dodge truck.
"We couldn't be happier partnering with Gale Banks on a project offering us the rare chance to fuse the bolder design elements of the D200 into a modern-day custom filled with all the power and drivability enthusiasts have come to expect from each of our respective brands," said Jonathan Ward. "ICON and Banks Power have discussed potential collaborations for quite some time, so to work on the D200 for SEMA with them is simply awesome. We have a lot of respect for Gale's innovation and to consult with him and his company on a build like this is just a stellar opportunity."
For the D200, which utilized a 2006 Dodge 3500 Series pick-up chassis and powertrain as the backbone of the vehicle, ICON's customer wanted the power level to be kept less than 1,000 lb-ft. of torque, to maintain reliability as a daily driver with a manual transmission. Banks designed a powertrain configuration with 550 hp @ 3,200 rpm and 975 lb-ft @ 2,200 rpm using its 'Six-Gun' programmer and Banks' brand new 'StraightShot' water-methanol injection system.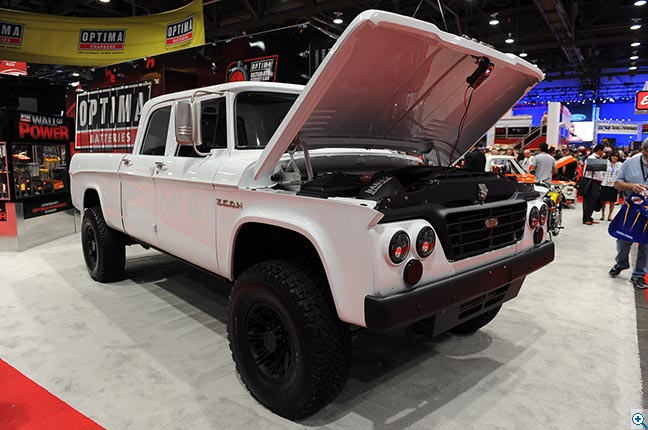 The ICON D200 was one of the most popular vehicles at this year's SEMA show in Las Vegas.
With six settings, all of the Six-Gun's programs include safety overlays. The safety settings measure EGT, water temp, boost pressure etc.– in short, critical temperatures and pressures to make it virtually impossible to hurt the engine. There are pure fuel economy settings and even economy elements built into the most powerful settings.
ICON also added the newest version of the Banks iQ 2.0 with a 5-inch color 16:9 touschscreen as a motorized unit that raises and lowers through a panel in the center of the dash. It features GPS for the 'Banks Nav' navigation system, full control of the engine and instrumentation, audible and visual drivetrain safety alerts, Bluetooth hands-free phone controls with a built-in microphone and speaker, an SDHC memory card slot with the ability to hold more than 8 gigabytes, audio streaming, video playback, and the ability to work as a display for the backup camera at the rear of the truck.
At the grill of the D200, you'll find the popular "Banks Ram-Air" intake system. With the oversized filter area and giant outlet, this system collects and directs more cool dense air to the engine; making more oxygen available for burning fuel. That means greater, more efficient combustion, which results in more power and greater cruise fuel economy.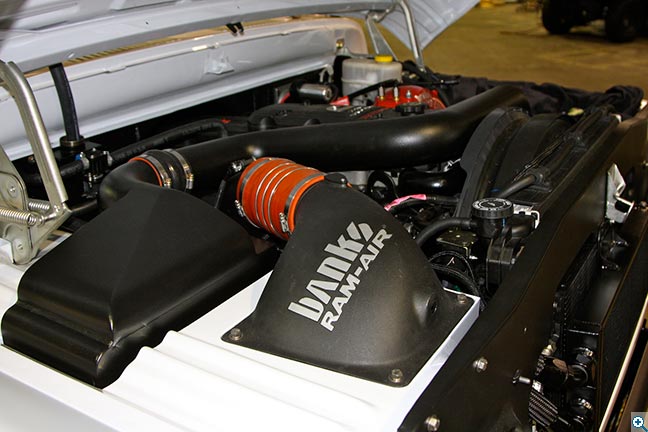 Banks Power boosted the power on the D200 to nearly 1000 lb-ft of torque.
With the large Cummins engine in the D200 engine bay, and limited space for radiators behind the grille, Banks' engineers had to design a unique intercooler system with the capacity to perform the duties required of a work truck. The custom air-to-water-to-air intercooler system uses large 1- inch lines and a 55 gallon-per-minute pump to move the coolant. Using a large reservoir with a lot of coolant in the system will help it avoid heat-soak, and the antifreeze in the coolant package should increase durability and keep it from freezing when temperatures are low. Now, the truck has a high-temp cooling system for the engine and a low-temp cooling system for the turbocharging configuration.
The 'Monster Ram' intake manifold was designed to maximize the density of the air (oxygen content) going into the head from the custom air-to-water intercooler. Finding ways to pump your engine full of cooler, denser air has always been the key to producing maximum power. It also features up to six 1/8-inch NPT ports for adding water/methanol/propane/nitrous injection or pressure and temperature sensors. The 'Banks StraightShot' water/methanol system uses graduating injection levels that ramp up with the amount of fuel being used by controlling the flow of water/methanol going into the nozzles, not just by turning on nozzle after nozzle. The system, using sensors before and after the pump, will also sense whether it is out of water/methanol, or if the pump is losing pressure. Testing in Banks' Emissions Lab has shown that with proper tuning, water/methanol injection also reduces emissions.
"The 'Banks BigHead' wastegate valve actuator prevents wastegate "blow open" preventing loss of torque at low and high engine speeds with the factory HX35 turbo. You can't ever totally eliminate turbo lag, but with a well-engineered wastegate, you can run a smaller turbine that spins up fast at low RPM and only blows off excess when more pressure than needed is produced.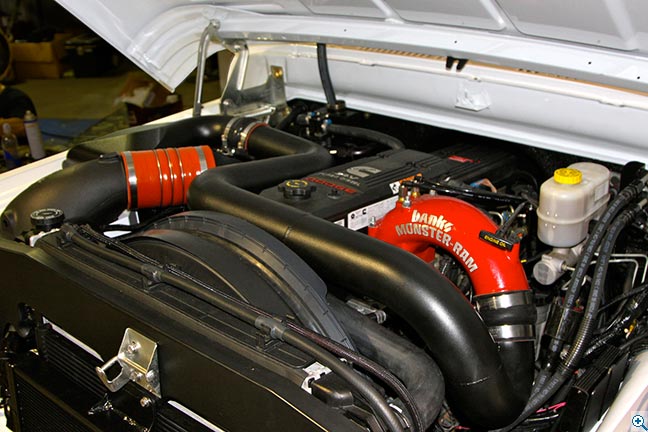 Another peek under the hood showing the Banks Monster-Ram and Ram-Air intake systems.
For the extra measure of safety during braking the '65 D200 crew cab developing nearly 1000 lb-ft of torque, the 'Banks Brake' exhaust braking system was added. It works by closing a large butterfly valve in the exhaust, which creates backpressure. The engine has to compress air against this restriction, which slows the truck. The Banks Brake has the added benefit of promoting engine power when not in use. This system produces higher, more sustained braking power than conventional exhaust brakes.
At the rear of the ICON D200, you'll find the 'Banks Monster Diesel Duals' 4″ exhaust system that flows up to 88% better than stock and virtually eliminates backpressure. The dual 3-1/2″ tailpipes are formed of stainless, heavy-wall tubing with constant-diameter bends to maximize airflow and lower exhaust gas temps. The dual tailpipes have 52% more flow area than a single 4″ tailpipe. The Banks stainless Monster muffler features a straight-through 4″-diameter flow-path with an exclusive expansion chamber to dissipate the annoying mid-range exhaust drone that accompanies most straight-through mufflers. ICON added its personal touch by having the entire system ceramic coated in a black finish.
Gale Banks says he's glad to have had the opportunity to work with Ward on the project and looks forward to future collaborations.
"I'm blown away with the 'Nostalgia Meets Excellence' character of ICON's vehicles," Banks said. "At Banks we define future engine technology. We've always been about what's coming next, in powertrain and electronics.
"With ICON, we've found the perfect mix of their leading edge vehicle construction, Banks Power components and Gale Banks Engines," he added. "Stay tuned, there's more to come from both of us."

Watch Adam Carolla's interview with ICON's Jonathan Ward on the CarCast podcast!
---
Photos from SEMA courtesy Autoblog.com
---
Find out what Banks Power can do for your vehicle here »