HURRY-HURRY-HURRY – Come see Jay Leno's Tank Car Now on Display
Now is your chance to see the infamous "Tank Car" up close and in person at the NHRA Museum at the LA County Fairgrounds
By John Espino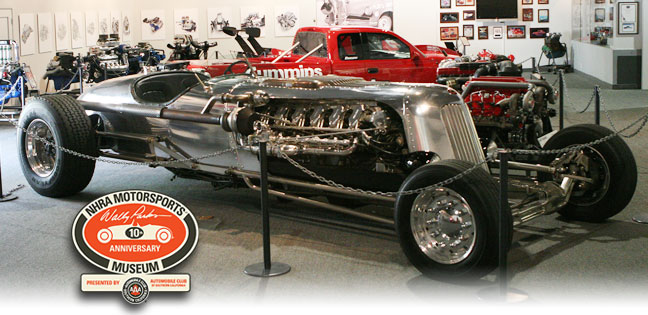 Jay Leno's Tank Car is now on display at the Gale Banks Engineering's exhibit in the Wally Parks NHRA Motorsports Museum located at the Pomona Fair Grounds in California. If you've never seen it before in person… well now's your chance. This powerful rolling piece of steam-punk art will be there for a limited time and is truly a feast for the eyes. Banks Power enhanced the behemoth with modern fuel injection technology and a custom built twin-turbocharger system which escalated the power output from 810 hp and 1,600 lb.-ft. torque to a staggering 1,600 hp and 3,000 lb.-ft. torque!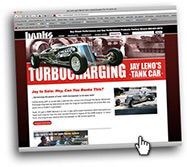 For those of you who are unfamiliar with the marvel we invite you to click on the thumbnails for not only the back-story of Leno/Banks endeavor, but a chronicle in video and photos of the extensive amount of work done to the stout 1953 tank powerplant.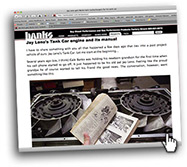 As an added bonus the Los Angeles County Fair is going on right now! So for those of you in California, or the ones just visiting, who want to have a truly great automotive and barnyard experience we recommend you gather all the folks and see the Tank Car, check out our exhibit, the museum and the fair. Whew… I'm winded just thinking about it all. Well, it's either that or the heart attack from the corn dogs and deep-fried chicken, cheese and bacon between two Krispy Kreme jelly donut sandwich (yes… they have that at the fair). Just remember to wash it down with a diet soda!
Remember… Jay Leno's Tank Car, the Gale Banks Engineering exhibit and fair are in Pomona for a limited time only!
PS: Here's a link to more Jay Leno and Gale Banks videos…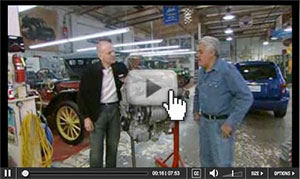 ---
Visit the NHRA Museum website »
---
11/01/2010 UPDATE: Please note that Jay Leno's tank car just left the NHRA Museum this morning. It may return soon, but in the meantime there's still plenty of cool stuff to see. Land speed record holders … the World's Fastest Diesel Truck … come on by!