Installation Made Easy at Banks Power
Installation—the last hurdle before your plan for your rig becomes real.  Options include doing it yourself, having your Banks dealer handle the install, or getting it done at the Banks PowerHouse.
By John Stewart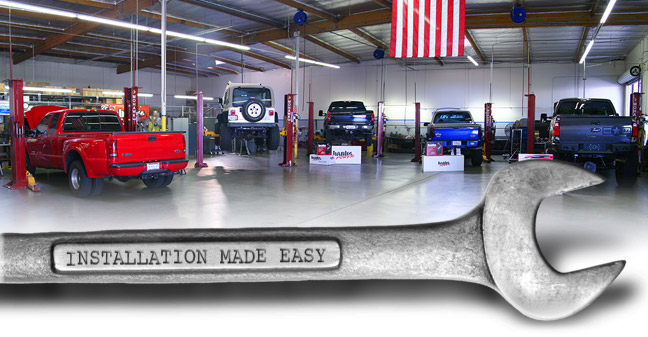 It's always a great day when your performance parts arrive. Whether you've had them shipped to your door or you ordered them at a dealer, it's exciting to see that your plans for your rig are about to become real. Only one thing remains-the installation. Until new parts are properly installed, all you really have are pieces of metal and wire.
You may choose to install your parts yourself.  And if getting under your truck is fun for you, and you've got the tools and a place to work, why not?   You can save labor costs and learn about your vehicle firsthand. This strategy works best, of course, when the manufacturer supplies decent instructions.  Especially when you're working on a new-to-you vehicle, instructions can be so important that we recommend checking out the instruction manual before even buying them.  That way, you'll know what you're getting into, installation-wise, and you can make appropriate plans.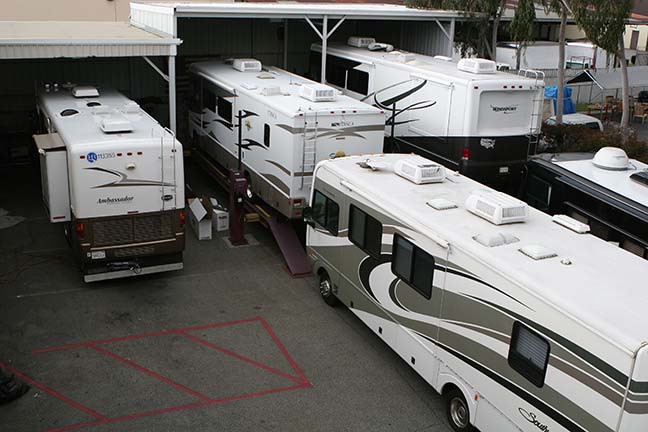 Motorhome upgrades take place in the adjacent bays, which includes two oversize lifts that can raise coaches of up to 50,000 pounds to a comfortable height for undercarriage work.
When you review supplied instruction manuals, there are a few things you should look for.  The instructions should define exactly what is in the kit using a clear parts list, so you can verify that everything is, in fact, in the box.  A tool list is helpful, so you know if welding will be required and if you'll need anything other than standard SAE tools.  Take a look at the illustrations-how good are they? Can you really see what is going on, step by step?  Are they printed clearly enough?  Is there a phone number you can call to talk to an experienced factory technician, in case you get stuck?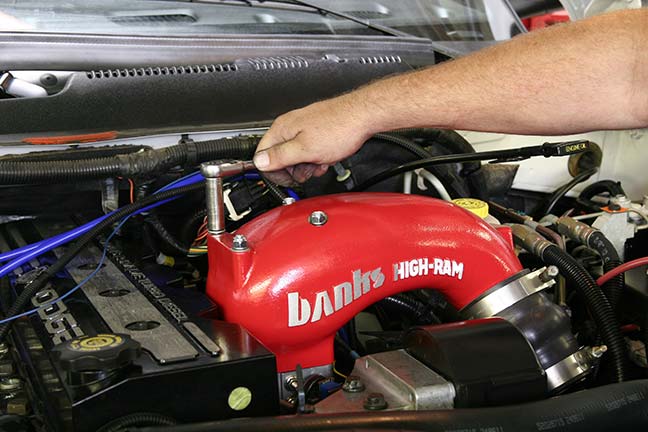 At the PowerHouse, installs of performance packages happen every day.  As a result, we can confirm the fit and finish of every part we make, and continuously improve our kits and instruction manuals.
Here at Gale Banks Engineering, we call our instruction booklets "Owner's Manuals," and make them available on the website. We consider the instructions to be equally important as the parts themselves. So we make every effort to include the most comprehensive instruction guides in the industry. For example, our Owner's Manual for the Banks Power Pack system for Dodge pickups is over 40 pages long.  It's available on-line for anyone to access. We'd like to think that any home mechanic could install our parts, given the right tools and enough time, based on the quality of our Owner's Manuals.
But let's say you'd rather someone else do the wrenching.  There may be a Banks dealer in your area that installs our parts all the time, who is completely familiar with the process, who you know and trust.  There are over 2500 Banks Power dealers around the country.  We don't know them all personally, but we're aware that many do very fine work. To improve our dealer base, we regularly offer dealer training sessions, so that they gain a factory-level understanding of what our parts are designed to do, how they are made, and how they should be properly installed. They come away with a solid understanding of the nuances of the installation process, and feel comfortable guaranteeing their work. If they have questions about anything, they have a personal relationship with the factory, and know who to call. True, when you have the install handled by a dealer, you'll pay to have it done, but chances are it will get done faster, you know it will be right, and you'll have a place to come back to when you need maintenance or adjustments.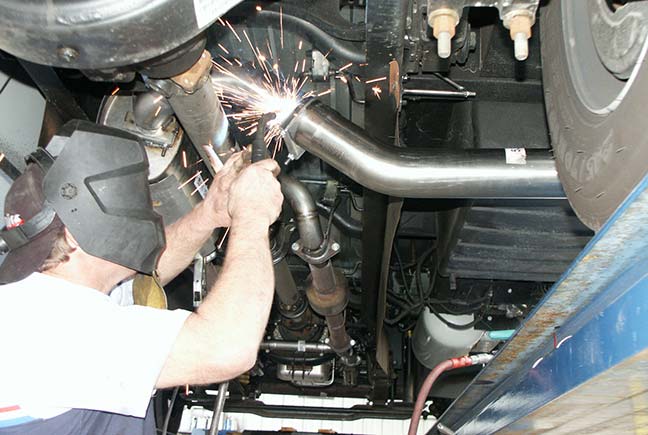 Banks PowerHouse technicians are some of the best in the business.  They have access to machining and fabrication equipment, balancing facilities, certified welders and all the tools and supplies needed for a speedy, clean installation.
There is a third possibility, which is having your parts installed at the Banks Engineering headquarters in Azusa, California.  It's not widely known, but we have our own retail showroom and installation facility, which we call The PowerHouse.  We install every part we make. As you might expect, The PowerHouse is brightly lit, clean as a whistle and extremely well equipped. It's currently configured with lifts for 4 trucks plus two lifts for motorhomes, which can handle up to 50,000 pounds.  At the time of this writing, there are two motorhomes in for upgrades, two full-size pickups, and one Jeep.  Customers can enjoy a snack in our comfortable lounge while they wait, and tap into RV hookups and free Wi-Fi internet access.
To the company, the PowerHouse is more than just a speed shop for trucks and RVs.  It serves as our quality assurance facility.  Because we are continuously installing our own parts, we can check fit, performance and packaging of everything we sell.  We can edit and improve our own instruction manuals, based on feedback from our own technicians.  If there is any kind of problem in manufacturing, our people find out about it first.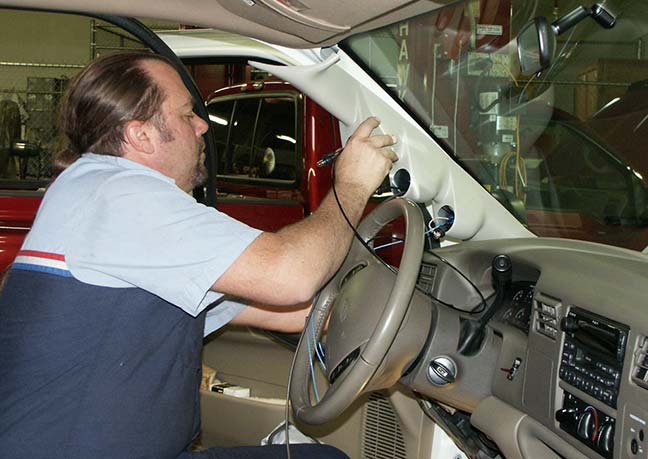 No matter how much experience you may have as a mechanic, there are always things you'd rather have someone else do.  Here a PowerHouse tech installs an array of gauges as the finishing touch following a complete performance makeover.
Our ASC-certified installers are another huge asset. We're extremely proud of the depth and professional aptitudes of our mechanics and technicians, many of whom are life-long enthusiasts or racers themselves. There are lots of good mechanics out there, no doubt, among the Banks Power dealer body, but we have a hard time imagining any better than those working at the Power House.
The PowerHouse is, in fact, open to any customers who care to make an appointment.  Possibilities range from simple installs to complete performance makeovers. We're experts at installing Banks parts, but if a vehicle comes in with modifications already made using another manufacturer's equipment, that's usually not an issue.  On occasion, we have found that it can be questionable to combine, say, another manufacturer's electronic chips with certain Banks products, and guarantee the outcome. But normally conflicts are minimal.  Those customers who would like to set up installs or makeovers at The Banks PowerHouse are invited to call toll-free 888-839-2700, or visit bankspowerhouse.com to find out more. Hours are 6 am to 3 pm, PSD.