ICON and Banks Power on Autoblog – Part 1
ICON vehicles are notorious for their attention to detail, performance, and exclusivity. So to power the '65 Dodge pickup they're building for SEMA, they teamed up with an engine builder that matched their high standard. You can guess who that was…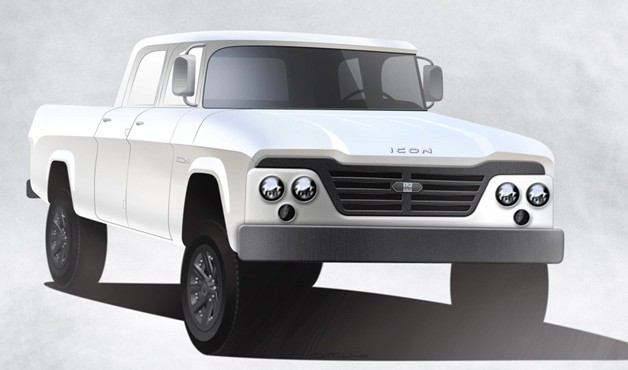 By Jeremy Korzeniewski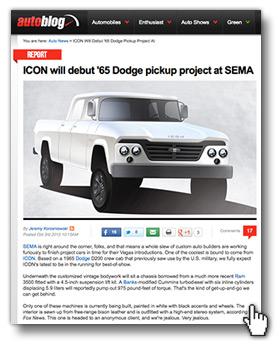 SEMA is right around the corner, folks, and that means a whole slew of custom auto builders are working furiously to finish project cars in time for their Vegas introductions. One of the coolest is bound to come from ICON. Based on a 1965 Dodge D200 crew cab that previously saw use by the U.S. military, we fully expect ICON's latest to be in the running for best-of-show.
Underneath the customized vintage bodywork will sit a chassis borrowed from a much more recent Ram 3500 fitted with a 4.5-inch suspension lift kit. A Banks-modified Cummins turbodiesel with six inline cylinders displacing 5.9 liters will reportedly pump out 975 pound-feet of torque. That's the kind of get-up-and-go we can get behind.
Only one of these machines is currently being built, painted in white with black accents and wheels. The interior is sewn up from free-range bison leather and is outfitted with a high-end stereo system, according to Fox News. This one is headed to an anonymous client, and we're jealous. Very jealous.
This is Part 1 of the story—check out Part 2 »
This story comes courtesy Autoblog.com. Be sure to check out their website!
---

"We couldn't be happier partnering with Gale Banks on a project offering us the rare chance to fuse the bolder design elements of the D200 into a modern-day custom filled with all the power and drivability enthusiasts have come to expect from each of our respective brands," comments ICON Lead Designer and CEO Jonathan Ward. "ICON and Banks Power have discussed potential collaborations for quite some time, so to work on the D200 for SEMA with them is simply awesome. We have a lot of respect for Gale's innovation and to consult with him and his company on a build like this is just a stellar opportunity." –Jonathan Ward, founder and lead designer, ICON 4×4 (photo courtesy brownsafe.com)

"I'm blown away with the 'Nostalgia Meets Excellence' character of ICON's vehicles. At 'Banks', we define future engine technology. We've always been about, 'What's next', in powertrain and electronics," comments Gale Banks Engineering CEO Gale Banks. "With ICON, we've found the perfect mix of their leading edge vehicle construction, Banks Power components and Gale Banks Engines. My thanks to Jonathan Ward for the opportunity. And, stay tuned, there's more to come from both of us!" –Gale Banks, president and CEO, Banks Power

Banks Power products included in this project: Ram-Air® Intake, Six-Gun® Diesel Tuner, Banks iQ® Man-Machine Interface with integrated backup camera, Monster-Ram™ Intake Manifold, Banks Monster® Diesel Dual Exhaust, and a Banks Brake® Exhaust Braking System, water injection, and a custom engineered air-water Techni-Cooler system. See what Banks Power products can do for YOUR vehicle here »