Becoming the Official Turbocharger of Ultimate Adventure 2014
With a Sidewinder Jeep turbo kit already finished & 50-state certified, Banks was looking for not only the ultimate torture test, but also a great way to show off-road enthusiasts how useful a turbocharger can be on a modified 4×4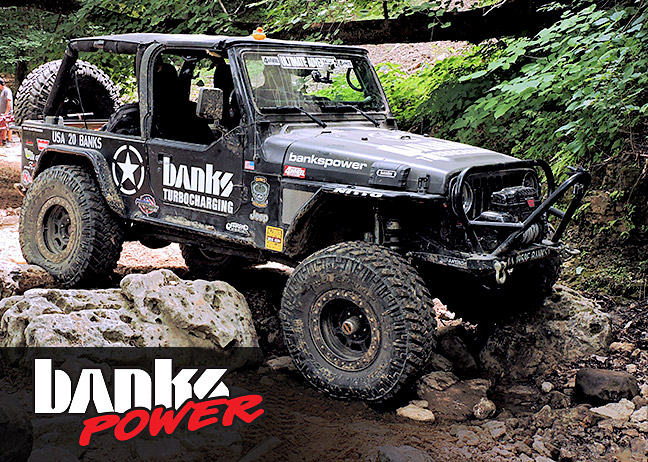 As Banks Power expands its lineup of equipment for gas-powered vehicles, a number of 50-state emissions-legal turbocharging kits are currently in development. It's an exciting time not only for Banks, but also for the automotive aftermarket since turbochargering is such an effective way to increase the efficiency and power of an engine with minimal parasitic loss. This translates not only into more usable power, but potentially better fuel economy as well.
With a Sidewinder Jeep turbocharging kit already finished and 50-state certified, Banks was looking for not only the ultimate torture test, but also a great way to show off-road enthusiasts how useful a turbocharger can be on a modified 4×4. When the idea of sponsoring and attending the 2014 Ultimate Adventure came to the table, a look of amusement shot across the room from the higher-ups. "You mean you think it's a good idea if we send you guys on a two-week paid vacation?"
Vacation? Well, sort of. More of an adventure than a vacation. But ultimate real-world testing conditions? Without question.
Put all the fun, the adventure, and comradery aside, and what's left was no walk in the park. Only the toughest, most reliable off-road vehicles would successfully make the Petersen 4 Wheel Off-Road's Ultimate Adventure trip. The Ultimate Adventure couldn't be a better trip to prove that the Banks Sidewinder Jeep 4.0L turbocharging kit can be put through the most grueling conditions—constantly run at a wide range of temperatures, elevations, barometric pressures, and loading conditions—and still perform flawlessly, delivering a healthy supplement of 85 horsepower to a venerable inline six-cylinder engine that can run for over 300,000 miles.
If the Sidewinder-turbocharged Wrangler equipped with the new intercooler could make the trip without a single problem, Banks would have undisputable real-world proof that the Sidewinder emissions-legal turbo kit was as reliable as the engine it was going on.