Here's something that's been a part of Gale Banks Engineering history almost since its inception, just now it is going to get bigger, newer power.
By John Espino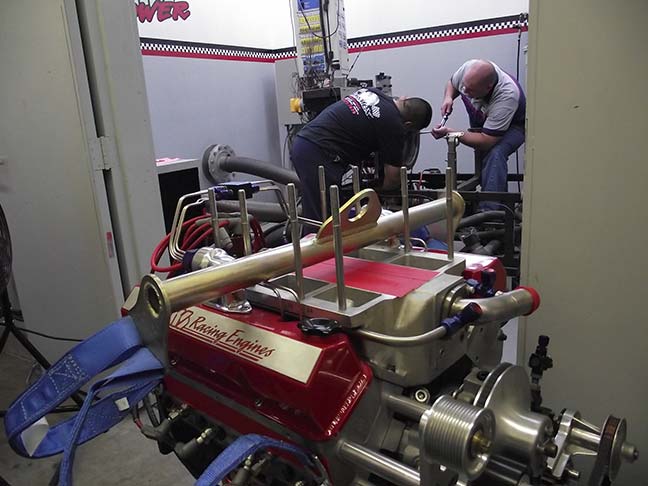 There are a few things in this motor-driven world that get folks excited about the automotive biz. I mean there were some dandy headlines this week about two eco-friendly vehicles, the Chevy Volt and the Nissan Leaf, but mostly it was dull. And when you consider that the scuttlebutt about those two was "how long will the batteries last?", "what's up with the price?" and the fact that you need premium grade fuel in one it doesn't add up to the kind of "excitement" you think about when talking cars. These days cars (and some trucks really) have become kinda like appliances, especially when you're talking about ones you can plug in to a wall socket and are plastic "Maytag White" inside. Don't get me wrong now, I absolutely love technology! In fact I'm the geekiest of nerds here at Gale Banks Engineering, but that's not what got me loving motor vehicles at a young age. What got me interested was watching Speed Racer cartoons and the guys next door shoehorning a blown big-block into an AMC Gremlin when I was a kid. The thrill of acceleration, the sweet smell of tire rubber being hazed and the thunder from an open set of headers… that's what made little Johnny want to get into this biz.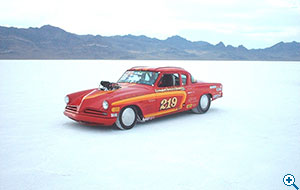 So you can imagine how I must feel about one of the latest things going on here at Banks. Correction… it's actually something that's been a part of Gale Banks Engineering history almost since its inception, just now it is going to get bigger, newer power. Real power, I mean. The car is a '53 Studebaker Starliner, and for the era it was constructed it was one of the most aerodynamic vehicles produced. Studebakers have been a favorite of Gale's since he was in high school… and that love affair has never diminished. In fact, of all the Bonneville and El Mirage racers, the Geisler-Vail-Banks Hanky Panky Special is probably the longest running salt corrosion test in existence. While there's plenty to talk about its past, I'm going to give you a glimpse of the engine that's dyno bound. The back story will have to wait till another week.
The engine is a rather strange one, so stay with me as I write about this. It is considered a class "E" engine type and will run on racing gas, most likely in the 116 octane range. It's a V8, but a really small one. How small? Well, try 258 cu. in. It's built for high RPMs with a redline of… 9,500! The car is running in a nostalgic class, a classic category, and what that means is that it cannot run with the help of any modern electronics (i.e. no engine control management and no electronic fuel injection). This has to run old school mechanical injection, which is a mixture of old world art and scientifically deduced educated guessing. Horsepower should be in the realm of 670 or so and power will be transferred through a Richmond 5 speed transmission. Remember this thing will have to be singing its power ballet in the upper 8,000 RPM range for its 5 mile run.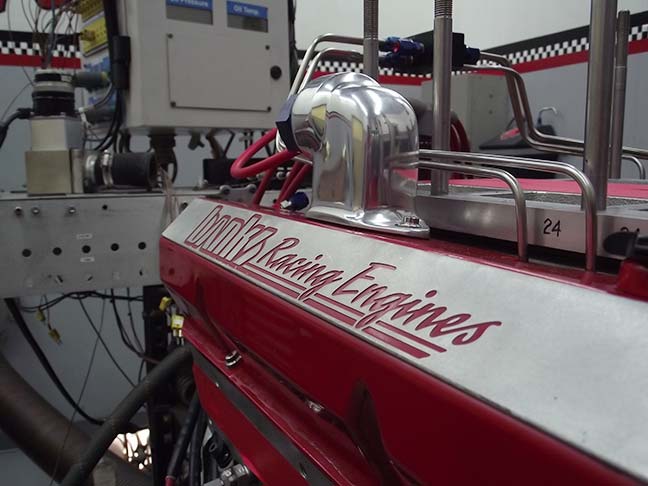 A relatively small V8, the Studebaker's engine is built for high RPMs with a redline of 9,500!
One other thing I need to go into more detail about, a special ingredient if you will, is the "power-adder". This is actually built to be a blown engine. Yes, "blower" as in a supercharger. We here at Gale Banks Engineering are an equal-opportunity forced induction company. What that means while we usually talk about turbochargers this and turbochargers that we have a place in our hearts for mechanically driven air compressors. And here's the cool part: while the engine will be run by old-fashion means, the supercharger doesn't necessarily need to be a relic. On the contrary, we intend to use something from today's era. Tune in next time for a sneak peak at that.
Till next time have a powerful week!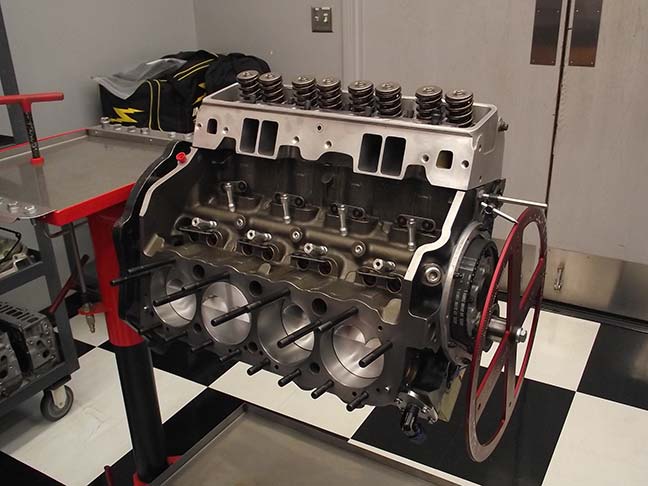 Banks' Studebaker engine being assembled in the "clean room"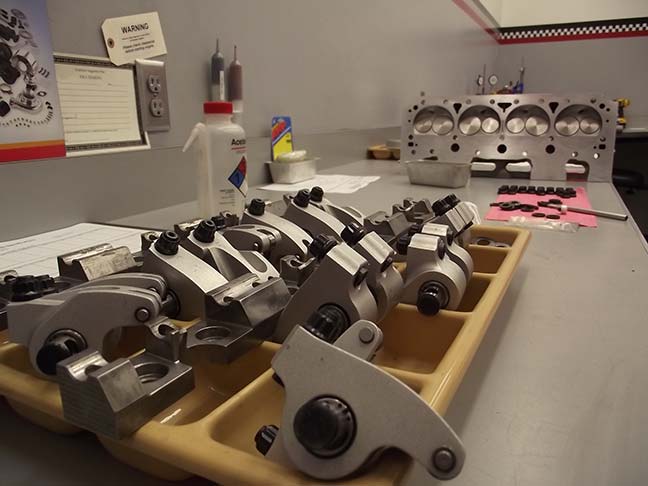 Pedestal mount Jesel rocker arms are strength tested up to 10,400 rpm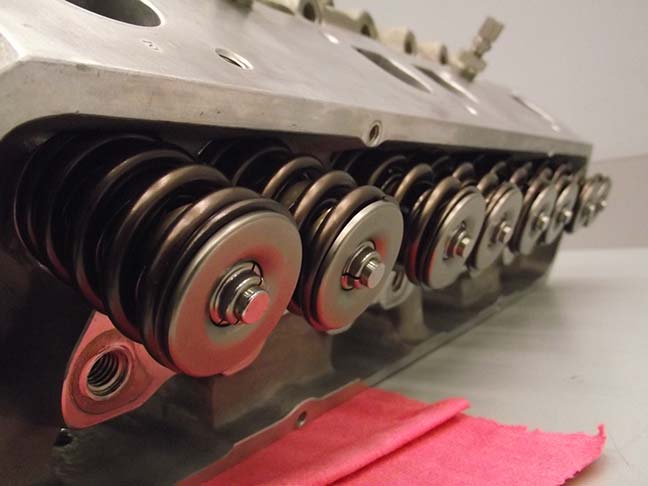 Valve springs with titanium retainers