Official Duramax Engine Distributor
The relationship that started in the 1960's is still going strong today. Find out what Banks and General Motors are collaborating on now…

Gale Banks Engineering and General Motors Powertrain have signed a new multi-year OEM engine supply agreement. Continuing a GM-Banks relationship dating from the late '60s, Banks' branded, Duramax-based engines, are now available to vehicle and boat builders worldwide. Finished Banks engines contain a blend of Banks and Duramax components appropriate to the application and power output. The Banks AutoMind ECU controls all engine and subsystem functions at power levels from 250 BHP work to 1500 BHP race. Full vehicle integration services are offered as well. Banks supplies turn-key powertrain solutions to customers who require exceptional levels of power density, durability, and reliability in a fully-integrated package.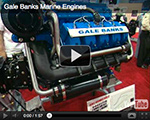 Check out the
Gale Banks Marine Engines
website to learn more about the program!