SEMA 2011 Spotlight on Banks Power
See what the gang from PowerTV discovered when they stopped by the Banks Power booth at the 2011 SEMA show.
Above: Moses Ludel grabbed his video camera and captured some of what went on at the Banks Power booth.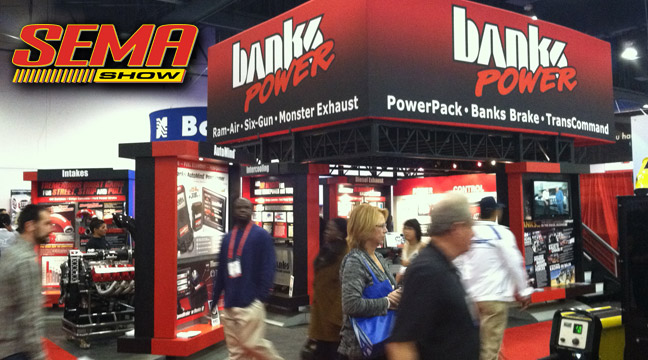 By Andrew Wolf
As both racers and automotive enthusiasts, we – and we suspect our readers as well – are into making anything go fast. This is where you harken back to thoughts one summer afternoon mowing the yard, envisioning a turbo on your Weedeater and grunting like Tim "The Toolman." And because racers have to get their cars to the track somehow, there's little doubt that pickup truck and diesel performance is of strong interest to those of you reading. And so while traversing the umpteen miles of displays at SEMA, we made a stop at the Banks Power booth, where a host of aftermarket diesel applications were being displayed by one of the undisputed leaders in the diesel performance industry.
Shots from the Show (click image for larger view)
Of particular interest in Banks' SEMA showcase for those Dodge fanatics out there was their PowerPack System for the popular 2003-07 Dodge Ram trucks with the 5.9L Cummins diesel under the hood. The PowerPack system is a complete system for towing or working, and optimizes air flow, air density, continuous power, durability, and fuel mileage. If you want to feel like you're in a Cadillac pulling your trailer, this setup will get the job done with gains of as much as 100 horsepower and 235 ft-lbs of torque.
"What we're presenting here with the PowerPack is the full approach to a vehicle, as we've designed and manufactured all of the parts for the vehicle," explained Banks Powers' Matt Laird.The PowerPack system for the '03-07 5.9L dodge Cummins diesel engine creates an additional 100 horsepower, 235 ft-lbs of torque, and noticeable fuel economy improvements – all plusses for those pulling a race car to the track.
Included in the PowerPack kit is Banks' own Ram-Air intake system, a hefty 4-inch stainless steel Monster Diesel Dual Exhaust system, an EconoMind Diesel Tuner with Banks IQ , a complete intercooler system, wastegate actuator, and is all topped off with Banks' Monster-Ram high-ram intake manifold. And one of Banks' latest new features, water/meth injection, can be plumbed right into this system for even more impressive gains.
These PowerPack systems aren't just limited to Dodge Cummins trucks either. Banks manufactures very similar offerings for Chevy/GMC Duramax, Ford Power Stroke, and earlier diesel engine offerings from Dodge, Ford, and GM.
Story and photos courtesy PowerTV and OneDirt.
Video courtesy 4WD Mechanix Magazine