Banks Dragster Update – March 5 2010
With all systems checked, the dragster and all the race gear loaded in the trailer, we're ready to make our mark on the dragstrip again…
By John Espino
There's been little to report on the Sidewinder Top Diesel Dragster since this past Summer. Back then we had to withdraw from an event in Indianapolis due to mechanical problems. At that time it seemed that mischievous gremlins inhabited the transmission of the rail, causing gears to slam into each other by engaging simultaneously.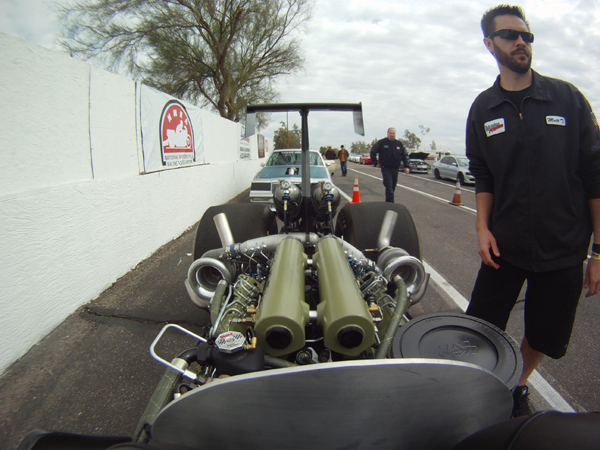 The result of this "mis-action" wasn't pretty, and it kept us from further developing and tuning the already proven powerplant recipe that has been so successful in the Sidewinder S-10. Even with these woes, the rail still managed to turn in a very respectable time of 7.17 seconds and a top speed of 190 mph (coasting mind you… due to the tranny failures mid track). What this proved to us was that there was far more usable firepower in our beast, we just needed a better way to harness it and put it to the ground.
Fast forward to Friday the 19th of February when the Sidewinder roared back to life ready for further testing and tuning. We took our sweet time in making the changes necessary to realize the potential of the vehicle. Modifications to the transmission included a clutch pedal over-ride that is linked to an engine RPM limiter. This effectively allows the clutching and unloading of the transmission in a sequential manner after a run has been completed.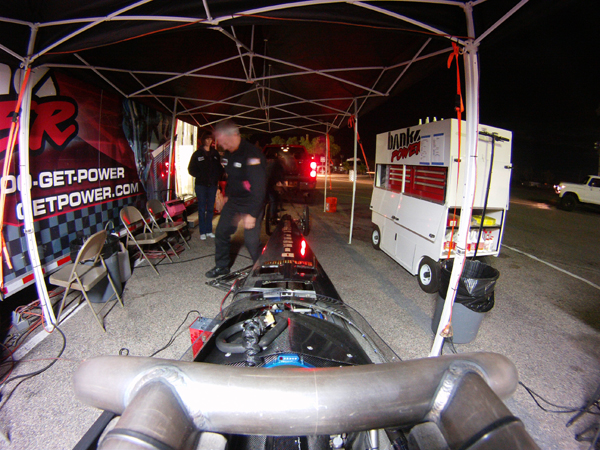 With renewed faith in this transmission upgrade the Banks crew assembled and installed its first diesel "stroker" engine. The new engine, dubbed the Sidewinder D.R.E. (the D.R.E. standing for drag race engine), is based on the tried and true twin-turbocharged Duramax configuration that has served Banks well for most of its diesel racing endeavors… but with added herbs and spices. The new components include the following:
• An increased stroke crankshaft with improved forging and material design. The improved strength and increased engine capacity affords improved reliability and higher power potential.
• A new camshaft with increased lift and duration for better engine breathing in the narrow, high RPM operating band allowed by the clutch and 5-speed design (5200 to 6000 RPM).
• Upgraded piston and piston ring material and design.
By developing this stroker, Gale Banks Engines® has literally made a Duramax engine bigger without changing the actual size. Well, sorta. These changes effectively bring the stats of the engine's cubic inch displacement up a bit: the D.R.E. is now 427 cid making it a 7.0 liter engine (VS the stock engines 403 cid and 6.6 liter size). Equipped with a valvetrain capable of an excess of 6,000 RPM, the new engine's power rating is estimated at being 1,400+ hp and 1,100 lb.ft. of torque! The result is pretty impressive.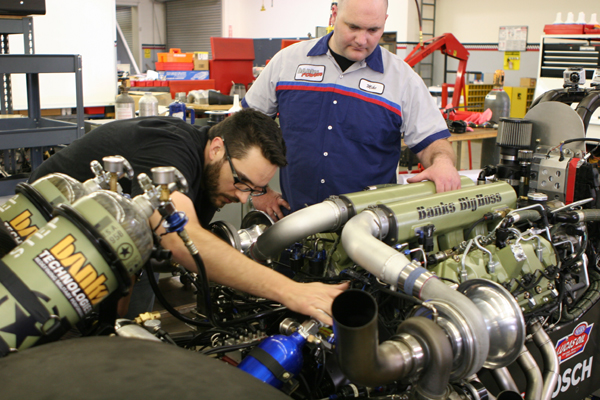 A new weapon was also added to our arsenal: water/methanol injection. This Banks-brewed progressive, high-pressure system is used to further enhance charge-air cooling and allows for higher power output. An additional byproduct is lower exhaust gas temperatures.
Although this Sidewinder was ready for action it wouldn't be able to bare its fangs for another week due to foul weather and a rained out track. So… what happened when we did actually get to try the whole combination? The answers are the following:
• Weather: Due to a threatening storm system it was very cool, overcast and was threatening to rain. Luckily for us there was no rain during Saturday, which is when we were able to do the bulk of the testing.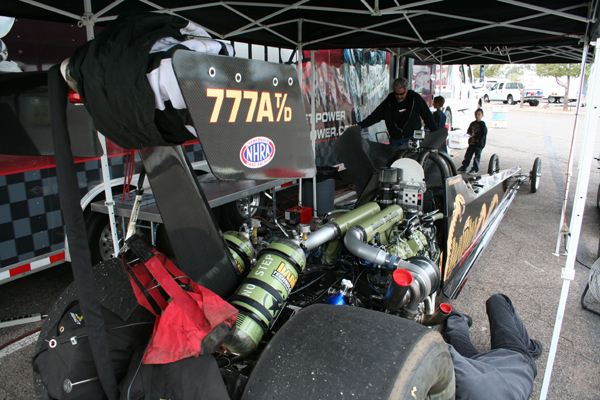 • Track: Well… it was rather slippery with the surface temperature being under 85 degrees (F) resulting in limited traction. Being that it was an open test-n-tune day the rail was running with street cars that occasionally regurgitated and dumped various fluids onto the track. Not the ideal conditions for a vehicle that is already in need of finding a way to stick to the track under better circumstances.
• Runs: We managed to get 2 initial complete runs, while we also got in 2 partial ones. The 3rd and 4th ones were traction limited due to worsening track conditions.
So what were lessons learned? Well, I'm glad you asked:
• The upgrades to the transmission system seemed to have all but eliminated the woes of last season.
• The new Sidewinder D.R.E. stroker engine produces better overall torque at launch for a lower fuel rate than the previous build (our first time that we've ever had consistent wheelie bar contact).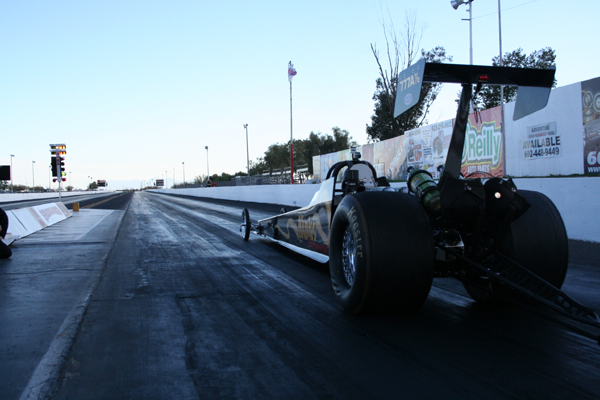 • The engine RPM range was considerably extended due to the camshaft change.
• The new pistons and rings seal even better than the previous design and develop wall seal faster to boot.
• The water/methanol system worked extremely well, even with a small injected quantity. We haven't settled on the mixture yet, but what we had definitely lowered both the intake air temperature and EGT.
With all systems checked, the dragster and all the race gear loaded in the trailer, we're ready to make our mark on the dragstrip again. On Saturday, March 6th in Arizona at the Speedworld dragstrip the NHRDA Desert Diesel Nationals will take place, and we'll be there. Look for a complete report coming soon.