Day 2 of Ultimate Adventure
Rick had mentioned it the first day, but we thought he might be joking. He wasn't really going to try to push the group of more than 20 vehicles nearly 700 miles in a single day, was he? Yep.

by Jerrod Jones
On the Road Again—Iowa or Bust
Rick had mentioned it the first day, but we thought he might be joking when we got back to our hotel in North Platte. He wasn't really going to try to push the group of more than 20 vehicles nearly 700 miles in a single day, was he? Yep.
At about 50 mph top speed, a lower average speed, and a fuel stop at least every 100 miles (believe it or not, some of the other 4x4s weren't super fuel efficient)…well, you do the math.
And our Jeep was clunking. A baaaaad clunk. So bad it was necessary to fix before leaving. And so very unfortunately, this would mandate us making the 700 miles of driving by ourselves. Okay, technically, the clunk may have not been that bad. But we did tear the lower trailing arm bushing which was allowing the lower rear link arms to clunk on the bolts under hard acceleration. And since we sort of expected this to be a point of wear, we were prepared with an extra set of new replacement bushings.
As the group set off, we waved goodbye and wished them luck from the hotel parking lot. It was time to find more food supplies and a place to fix our Jeep.
We spotted a local sitting in his '05 Wrangler Unlimited, eying our '05 turbocharged Wrangler Unlimited, and his Jeep indicated that he'd know where we could find help. After a short introduction and explanation, Rick Tilford from American Steel 4xOutfitters knew just where to take us. We followed him to Wyman and Son's welding shop where we addressed the bushings and a winch cable anchor bolt.
An hour later, we were back on the road and knew that we'd have some time to maybe do a tad more sightseeing than the rest of the group as we traveled solo in a turbocharged Jeep that easily held highway and interstate speeds.
We made a few stops—Cabella's, multiple food stops, tourist attractions, and gas stations—and saw a bunch of the country we'd not seen before. There's really nothing to compare a drive across the country in an open-top vehicle. While it can be a little rough at times, we'd do it again in a heartbeat.
After a long road day (even by ourselves—we can't imagine trying to corral 20+ 4x4s on the same path), we caught up with the back half of the group just before our Iowa campsite. They'd been on the road 22 hours, and none of them looked happy about it. We were glad that we didn't post a bunch of Facebook and Instagram selfies of our day—we didn't want our tents slashed in the middle of the night.
Tomorrow would bring a better day, filled with off-roading, after a good night's rest.
---
As the group left on the longest road day of the trip, we wished them well and went off to find a shop to do a little minor (but necessary) work at.
Rick Tilford, who we met in the parking lot of our hotel as the rest of the crew left, took us over to Wyman and Son Welding Shop. It was here that we addressed our two little issues and got our Jeep squared away.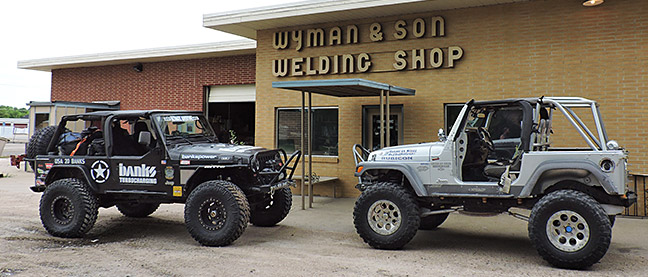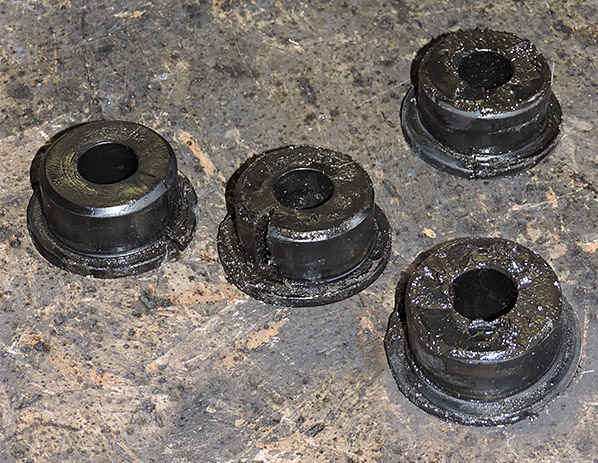 The bushings on our turbocharged Jeep's rear lower links had torn. We knew they were a little old and worn going into the trip, so we grabbed a spare set of new bushings prior to leaving. And we were glad we did!
Rick Tilford and Eric Wyman had the lower links unbolted and the bushings out in under 10 minutes. We greased the new bushings, and they were installed in the links.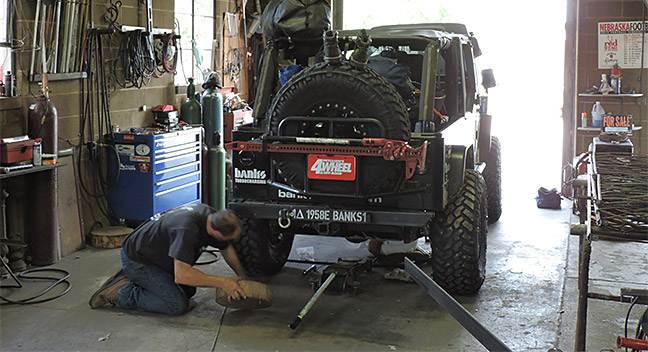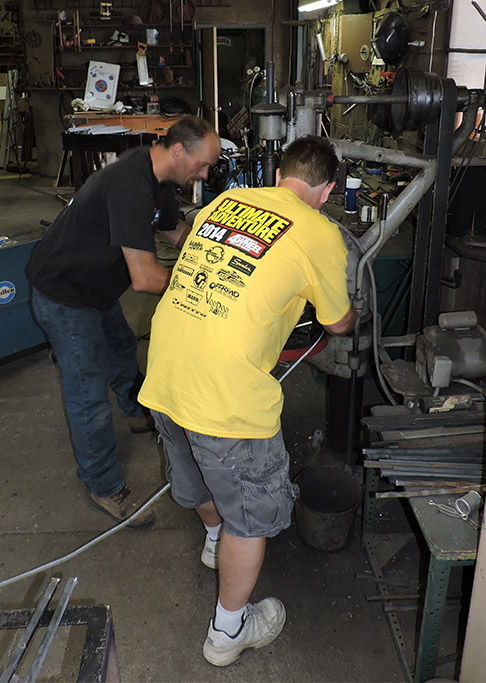 While the links were being addressed, we also took notice of the missing winch cable bolt that is supposed to hold the cable to the drum. And whenever we'd lost it, it also managed to tear the eye of the cable end. Pete worked on getting it "good enough" while the shop found a spare bolt we could use.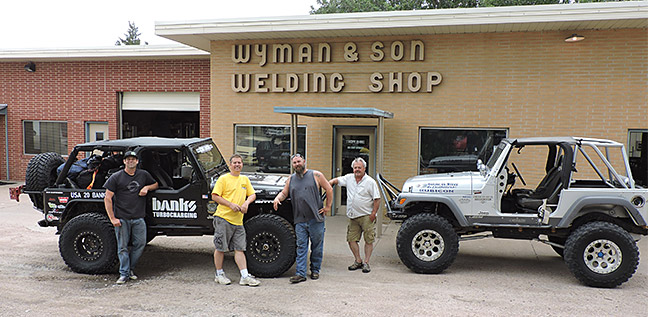 Thanks again for the help, Wyman and Son Welding Shop and Rick Tilford!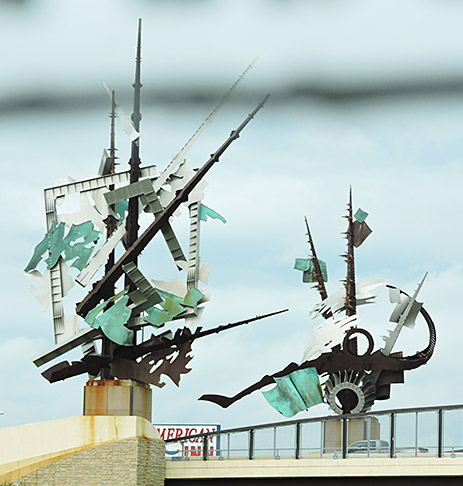 East we traveled, towards Iowa and our first day of camping. What you see on the road…well, sometimes only a picture can explain it. We're just sorry we didn't get to stop and see the vacuum cleaner museum.

A couple "forced" wrong turns took us onto some cool country roads that paralleled the route we were supposed to be on. Corn fields go for miles out in Nebraska and Iowa.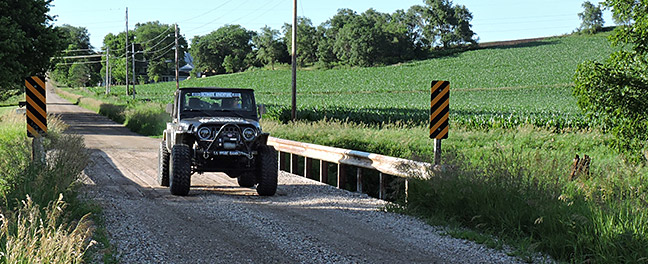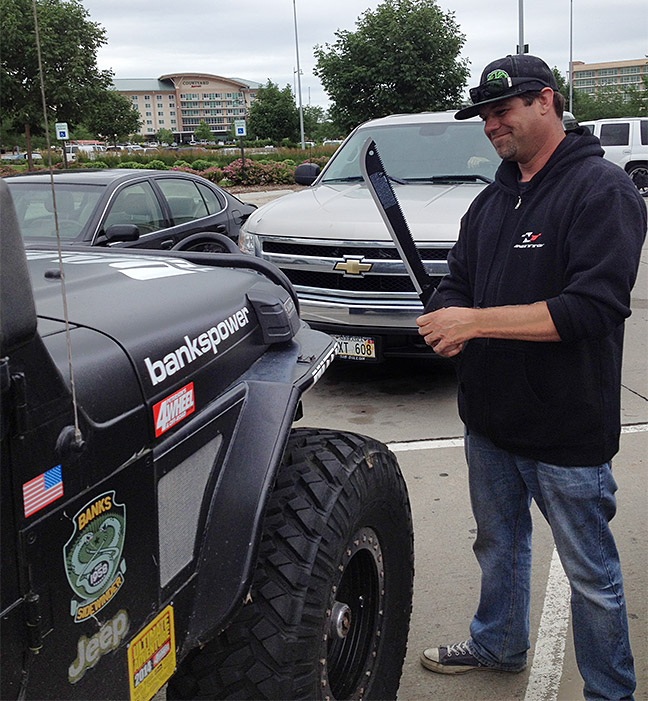 A few shopping stops added to the fun. We picked up a trail clearing knife at a Cabella's, ate at a number of greasy spoons, picked up some spare parts for a couple other guys, and took in local sights along the way. This 700-mile drive was shaping up to be pretty good for us.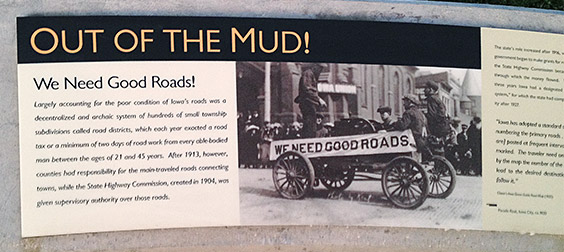 We even got a little educated about the Lincoln Memorial Highway.
There is no better education than traveling and being on the road, and we were proving it.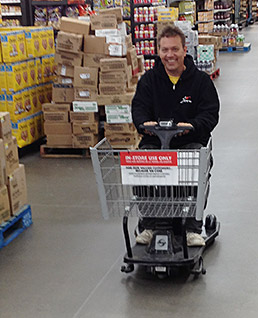 Tired, worn out, and a little delirious from hundreds of road miles, we made our final stop at a grocery store for some camping supplies around 2am. Luckily for us they had these nice motorized grocery carts….
If you missed any of the earlier stories in this series, check them out here:
Part 1: Becoming the Official Turbocharger of Ultimate Adventure 2014
Part 2: Building the Banks Sidewinder Jeep for a 4×4 Marathon
Part 3: Getting There is Half the Battle
Part 4: Exhausted, and It's only 8am on Day 1
Part 5: On the Road Again—Iowa or Bust
Part 6: Illinois or Bust