Day 3 of Ultimate Adventure
We woke up the morning of Day 3 in a grass field owned by a past attendee of the Ultimate Adventure. After our first night of camping, most of the group was more relaxed, rested after a horrendous drive the prior day, and ready for a great day of wheeling near Waterloo, Iowa.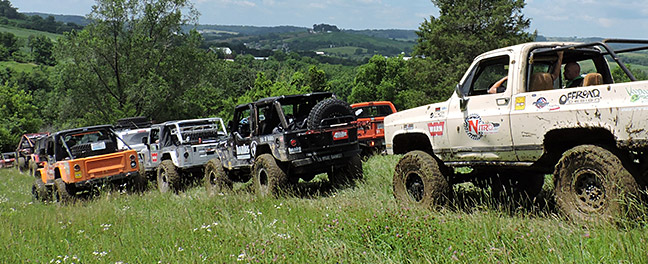 by Jerrod Jones
Illinois or Bust
We woke up the morning of Day 3 in a grass field owned by a past attendee of the Ultimate Adventure. After our first night of camping, most of the group was more relaxed, rested after a horrendous drive the prior day, and ready for a great day of wheeling near Waterloo, Iowa.
But a few of us were not. Tim Hardy—who was part of the group we caught up with the night—had blown an engine in his Suzuki Samurai. Sam Gillis, one of Rick Pewe's cronies (crony: loyal helper that helps Pewe orchestrate the Ultimate Adventure), ended up staying behind that night with Tim and they found a nice spot along the side of the road to set up camp. The next morning, Tim and Sam actually found a replacement engine and ended up getting the little 'Zuk back on route to finish the trip and meet up with us later that day.
Meanwhile, the rest of us were lined up and ready to hit the trails.
While we didn't know what to expect, we were told of big V-notches and lots of mud from rain that had come through just a day ahead of us. It was the beginning of a beautiful day and we were looking forward to some off-road miles.
In true Pewe fashion, he started the day with a muddy hillclimb that led to a bump that would stick many trucks (with too slow of speed) or send the front ends flying (with too much speed). From there it was off to a mud hole that would not only twist and bind up the suspension, but also test the strength of the drivetrain as tires spun and caught, spun and caught. Two obstacles, and we were already well into the day, lag time multiplied by a lot of vehicles all trying to make it through two nasty sections. This type of off-roading is fun, but makes almost no forward momentum. Total distance traveled was well under five miles for the day.
But the nice thing about not making it very far from camp, is that you're not very far from camp when you're ready for the day to end. With haste, most of the group made it back to camp in time with some daylight left to enjoy the naturals sights to be had from our grassy bluff camping spot in the middle of Iowa.
---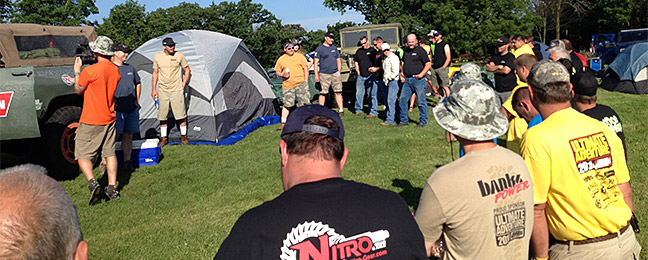 Day three started out with a driver's meeting; the same as every other day. Breakfast had been provided by our hosts, and we were grateful for a warm meal.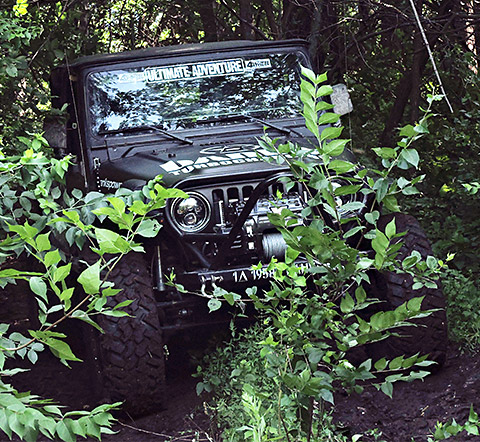 We've been through thick brush before but this was almost like bushwacking an entire new trail. They were so tight that our turbo Wrangler was almost squeezed. We're still not sure how those fullsize trucks on our trip got through…maybe that's why most of them are crushed in on both sides.
It wasn't a bad hillclimb, but one that definitely had tires spinning. Too slow and you wouldn't make it. Too fast, and you'd pop the front end up off the next lip (which you couldn't see until you were already up on top).
The short hillclimb led us to our next obstacle; a muddy hole that we were supposed to ride around the bowl in. Unfortunately that proved to be easier said than done. The clay mess packed in and left most trucks spinning. A few made it directly across in an effort to save time, knowing that a try would be futile attempt. The rest, tried to carve the bowl. Not much carving, but there was a whole lot of sliding around.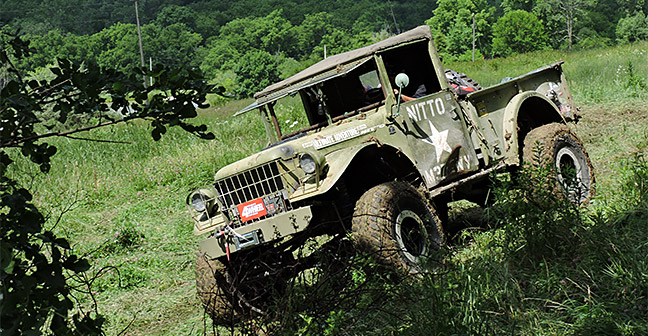 Fred Williams, longtime writer and newly-appointed Editor-in-Chief of Petersen's 4 Wheel Off-Road magazine, waited his turn as one of the last to try the hole. His Banks turbo-equipped first-gen Cummins Dodge was fitted with custom suspension from Pacific Fabrication that allowed his Dodge to flex amazingly well through the muddy hole.
Trent McGee is another of Pewe's cronies, but he was sans 4×4 before the Ultimate Adventure. Right before the trip, he quickly bought this K5 Blazer, added a couple things, and got it ready for UA. Cheap buy-in, great return on investment, and his plans are to sell it now that the trip is done. Nice job, Trent! And we really like that rear custom bumper!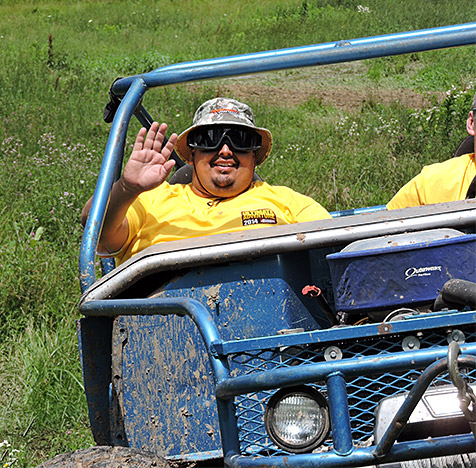 Agustin "Gusto" Jimenez is one of the magazine staff members of TEN Network, and he was along for his first Ultimate Adventure trip. He heard the word "mud" and was quick to get his eye protection out. But we don't know how he's going to shoot pictures like that.

| | |
| --- | --- |
| | While the road to the next trail had only a couple degrees of incline, it left a good number of guys spinning and a couple actually stuck in the no-traction mud. Those with a lot of weight, or not much weight at all, seemed to do best. Our semi-lightweight Wrangler pulled through it just fine. |
Day three and our Wrangler was working out great. We'd already put over 1,000 road miles on it and two hard days of off-roading. The Sidewinder turbocharging system was performing flawlessly and our G2 Gear axle-equipped drivetrain was holding up to the torture test.
And those JW Speaker LED headlights were almost too bright! Of course, we were running around with our high beams on.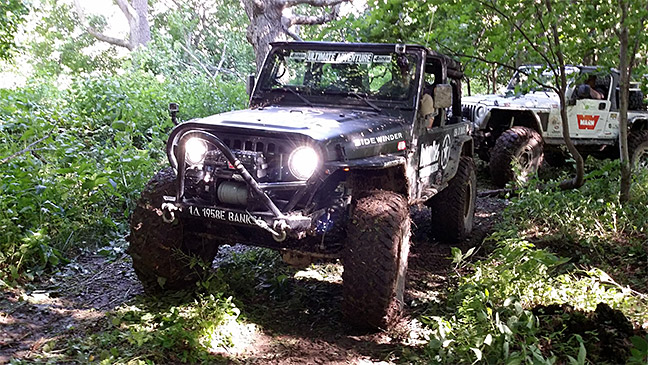 We dropped down into a muddy V-notch that was an extremely short, but extremely difficult piece of trail. A shorter wheelbase was key here, and the longer trucks had to get creative with their approaches or suffer body damage upon entrance of the muddy gulley.

A few of the crew figured out that using their VooDoo ropes to strap each other down into the gulley was the best plan. Slowly they lowered each other, avoiding potential body damage from sliding down to a sudden halt into the other hillside.
With a little skill Pete Treydte was actually able to maneuver our Wrangler Unlimited through the trees at the top and into the gulley. The RockKrawler long-arm suspension was flexing out excellently and allowed the Nitto Trail Grapplers on the TrailReady beadlocks to be contacting the ground at almost all times. We were really glad we upgraded the shocks to a Bilstein 5160 remote reservoir unit that could handle the extra weight of our modified Wrangler through rough off-road situations such as this, and still give us a smooth ride down the highway.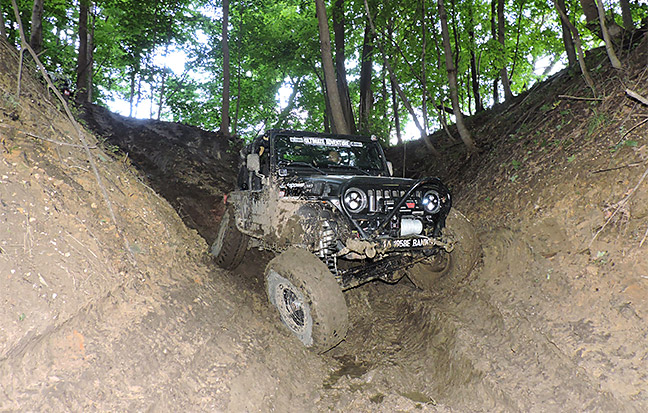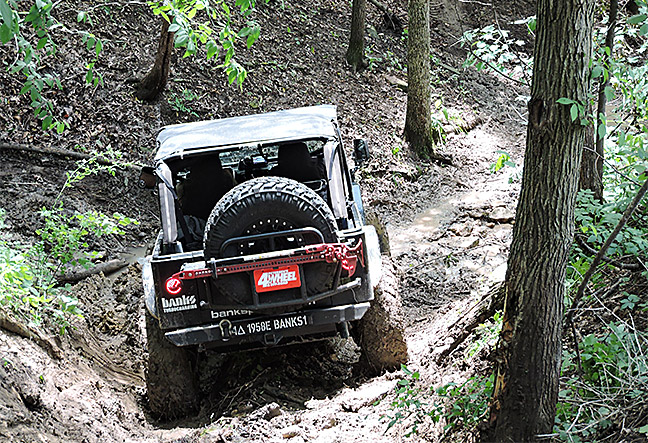 If you missed any of the earlier stories in this series, check them out here:
Part 1: Becoming the Official Turbocharger of Ultimate Adventure 2014
Part 2: Building the Banks Sidewinder Jeep for a 4×4 Marathon
Part 3: Getting There is Half the Battle
Part 4: Exhausted, and It's only 8am on Day 1
Part 5: On the Road Again—Iowa or Bust
Part 6: Illinois or Bust