Banks Power is proud to be the Official Turbocharger sponsor of the 2014 Ultimate Adventure.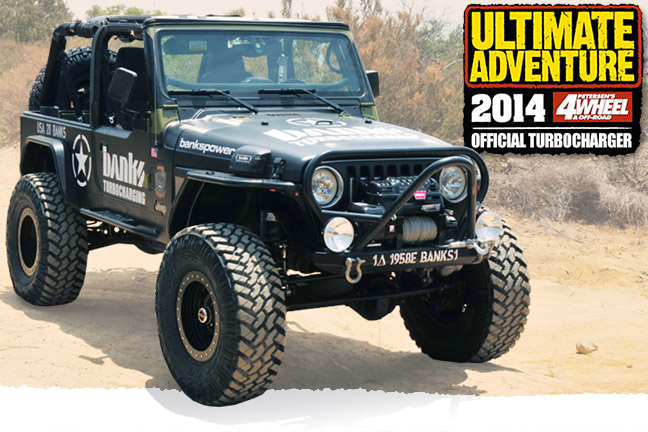 Banks Power is proud to be the Official Turbocharger sponsor of the 2014 Ultimate Adventure.
This year, we're taking our own Sidewinder turbocharged 2006 Jeep Wrangler Rubicon Unlimited on this grueling off-road trip—which includes a thousand road miles in between—to show that our turbocharger kits have what it takes and more to complete this trip and the drive back towards home.
Follow along on Facebook as we give updates when we can (signal is sometimes spotty out in the middle of nowhere!).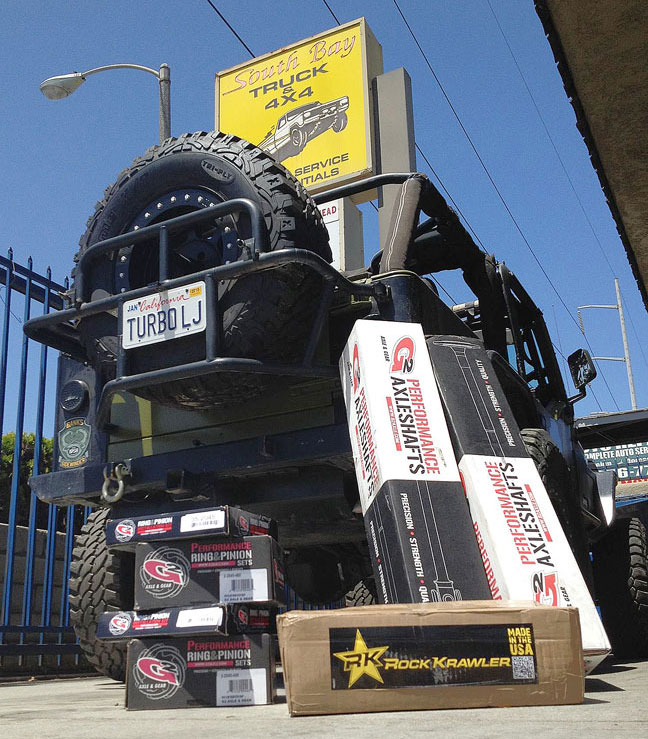 UPDATE: June 20, 2014…
Banks Power is getting ready to head out on the 4 Wheel & Off-Road's Ultimate Adventure next week! We're scrambling to get our turbocharged Jeep Rubicon Unlimited ready for an unbelievable 1,000+ mile journey across a lot of American highway and some of the most treacherous trails in the country.
Right now, the original axles are being torn down and loaded with G2 axleshafts and gears at South Bay Truck & 4×4 in Hawthorne, CA. We've got some more work to do, but we'll be ready for the trip and updating from the road as we complete our expedition.
UPDATE: June 23, 2014…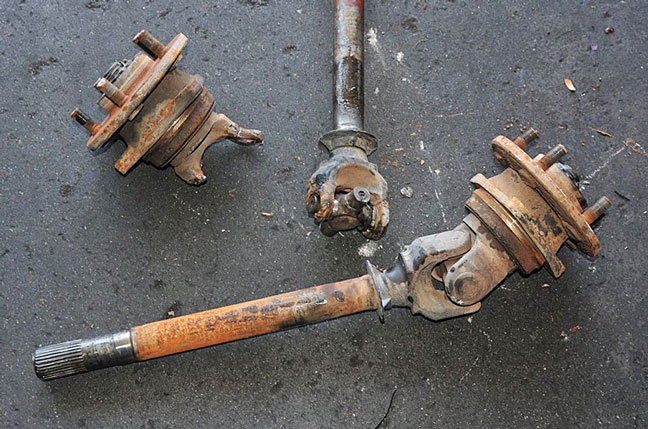 We found a couple weak points in the axles of our Sidewinder turbocharged Wrangler Unlimited after adding more power and bigger tires. That's why we installed 30-spline G2 replacement axleshafts, front and rear, to alleviate any potential issues we might have on the Ultimate Adventure. Only a few more days until Ultimate Adventure starts!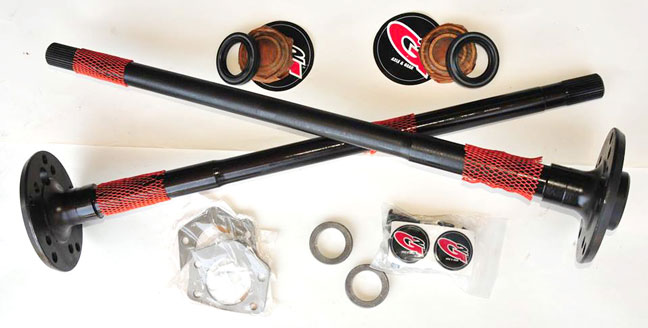 UPDATE: June 25, 2014…
Our Sidewinder turbocharged Wrangler Unlimited is almost ready to leave for the Ultimate Adventure!
We just finished adding a Yukon Gear 30-spline locking hub 5×5.5 conversion kit to the front Rubicon 44 axle. With extra turbo power and 37-inch Nitto Trail Grapplers, we didn't want the stock 27-spline outer axleshafts and unit bearings to offer any possibility for failure.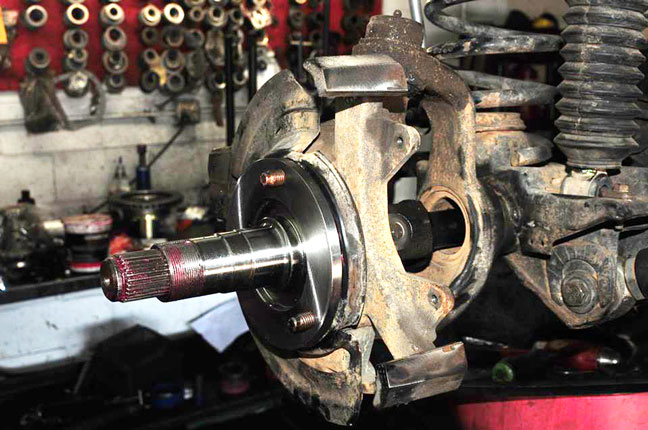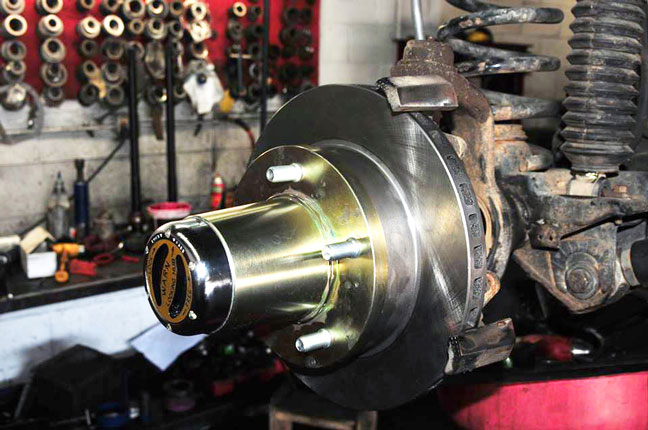 UPDATE: June 26, 2014…
Getting new 37-inch Nitto Tire Trail Grapplers on TR Beadlock Wheels and Bilstein Shock Absorbers remote reservoir shocks onto our Ultimate Adventure-bound Turbo Wrangler, at Mercenary Offroad in Camarillo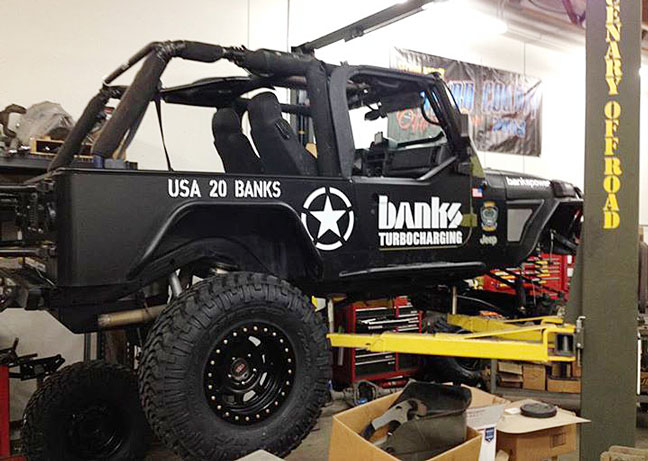 We've outfitted our turbo Wrangler with 37-inch Nitto Trail Grapplers on TrailReady beadlocks, and packed the axles with G2 axleshafts. A Yukon 5×5.5 hub conversion ensures a stronger hub and true 30-spline axles from the locker out to the locking hub.
With a RockKrawler long-arm suspension and Bilstein 5165 remote revservoir shocks, we think our Rubicon will have no problems completing this trip!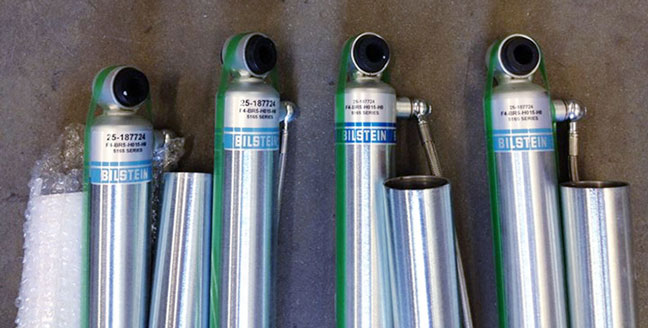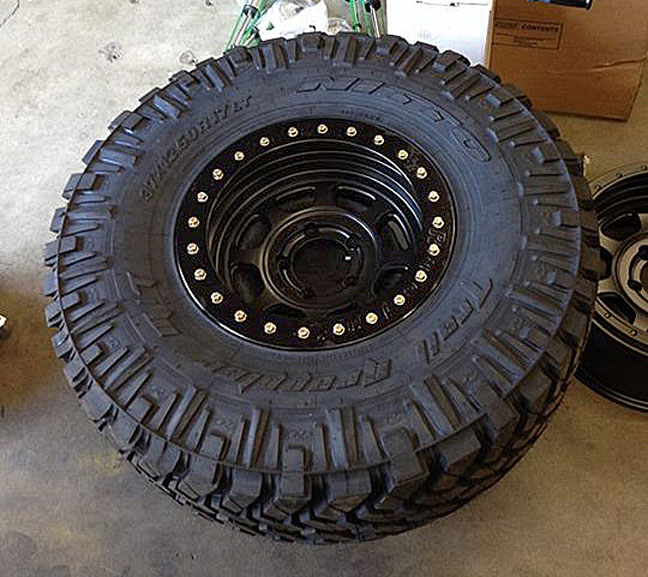 UPDATE: June 28, 2014…
x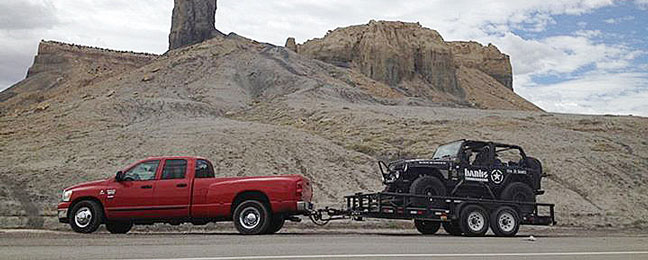 Our Sidewinder turbocharged 4.0L Wrangler is ready and on its way to the starting point of the Ultimate Adventure! We'd tell you where that was, but we've been asked to keep it a secret for a few more days
UPDATE: June 30, 2014…
Our Sidewinder turbocharged Wrangler is on the road for Ultimate Adventure and running great. We're easily holding highway speeds and even able to accelerate uphill without shifting out of overdrive. And that's with our Jeep totally loaded-down and armored-up!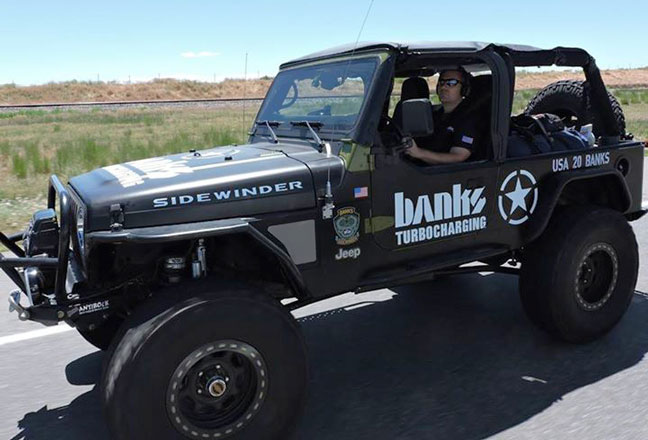 So while the rest of the Ultimate Adventure group took off early this morning for a 700-mile drive through tornado country, we split off to make a couple minor suspension and drivetrain repairs at Wyman and Son Welding shop in North Platte, Nebraska.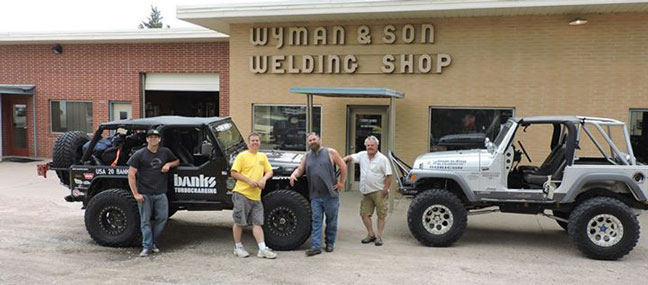 Now we're making such good time catching up that we were able to stop and buy a few much needed items like a small utility knife (aka machete) for opening boxes and such.
UPDATE: July 2, 2014…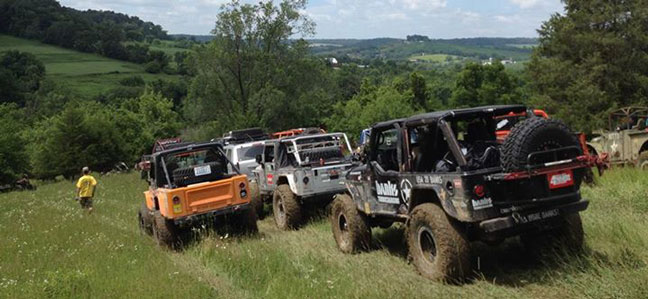 It's beautiful out here in tornado country when twisters aren't ripping through! We left Nebraska two days ago with the Ultimate Adventure crew in our turbo 4.0L Wrangler and headed east. After a couple days of camping and some great off-roading, we're back on the road and headed into…we don't know where! Group leader Rick Pewe won't tell us where the next stop is!
UPDATE: July 3, 2014…
<!– –>
While it may sound like one of those "famous last words" quotes, when Peter from Banks Power says, "Well I think I'm just gonna hit it and see what happens," it doesn't end badly—it ends up with everyone impressed at how cool the Banks turbo is.
This is a quick clip of the Banks Sidewinder Jeep Turbo on the Ultimate Adventure tour. The Jeep has been running and working great on some of the toughest trails in the country. They've only had to replace a couple small suspension components-the turbo system hasn't missed a beat.
If you can't view the video, check it out here: Banks Jeep Turbo on Ultimate Adventure 2014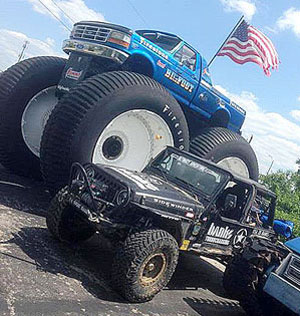 UPDATE: July 4, 2014…
Okay, so we may not be able to stomp cars quite as well, but our turbocharged Wrangler fits a lot better on the trail! The Banks Ultimate Adventure team made a stop at the Home of Bigfoot on the Fourth of July. Nothing says Americana like monster trucks!
Hope everyone is having a great 4th of July! And let those fireworks fly!!!
UPDATE: July 5, 2014…
We've seen some killer trails on private lands throughout Nebraska and then Illinois. Now we're on the road again for the Ultimate Adventure, heading towards our next destination.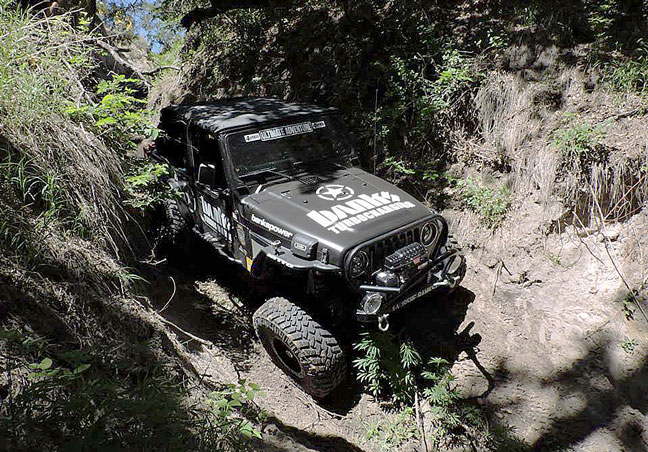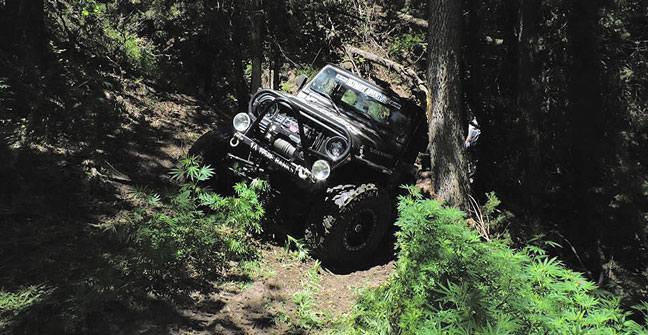 UPDATE: July 7, 2014…
The Ultimate Adventure was such a great time! Our turbocharged LE Wrangler is still running problem-free after thousands of harsh road (and off-road) miles. After off-roading through Nebraska, Illinois, and finally ending up at the Flat Nasty Off-road Park, we've turned west and are headed back to the facility in Azusa, CA.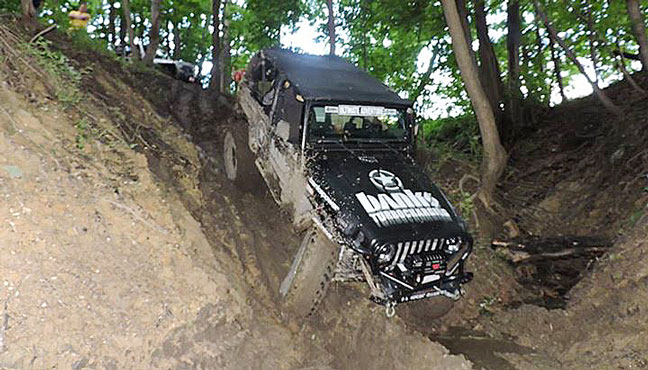 With Nitto Tire, Power Products Unlimited, JW Speaker, Nitro Gear & Axle , Trail Ready Bumpers, TR Beadlock Wheels, Voodoo Ropes, Offfroad Design, WARN winch, 4-Wheel & Off-Road Magazine
(8 photos)
UPDATE: July 10, 2014…
Recap video of the event, showing some of the off-road action, plus Peter and Jerrod from Banks talk about what went into building the Jeep.
---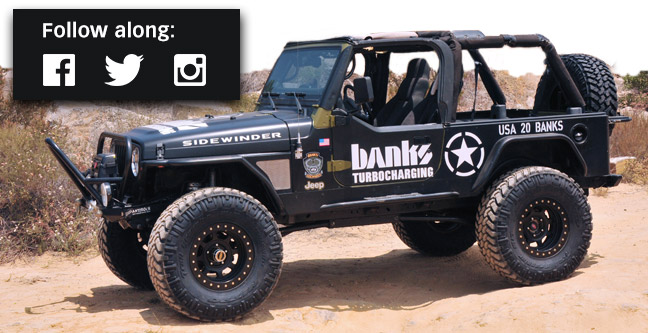 ---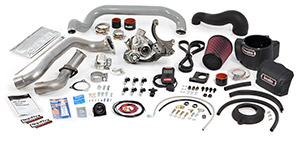 Ready for your own turbocharged Jeep adventure?
Check out what the Banks Sidewinder can do for your Jeep»