Wally Parks: In the Words of Those Who Knew HIm
DRIVE!
January 2008
This is one of many remembrances of the NHRA's late Wally Parks which were published in the January 2008 edition of DRIVE! magazine.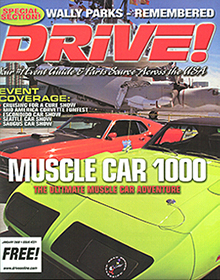 Wally Parks was a friend to thousands, and I am pleased to have been numbered among them. His gentlemanly demeanor was an example that I have tried hard to emulate in my career. His sense of humor was always a pleasant surprise. His leadership was the stuff of legend. In my life I have had few heroes, but Wally Parks was one of them.
Wally helped me out from time to time and sometimes without my asking. As an example, back in 1997, the SCTA asked me to write an article for the 49th Annual Bonneville Speed Week Program. I was wondering about the details behind the first Speed Week in 1949 when I received a letter from Wally. It transformed the article, "My Memories of Bonneville Are All A Blur." (Wally's letter may be found on www.banksblog.com)
That letter contained the essence of Wally Parks, a self-effacing man who was without a doubt the most important motorsports personality of the 20th century United States. Wally was the center of the creation and growth of the largest racing organization on the planet. Sure, there are guys who have written about racing and hot rodding. Absolutely, there are guys who have supplied the parts to build the hot rods. And, each of us are racers or fans of racing.
But Wally was the man -THE MAN -. Wally's leadership and vision affected us all and lead to the NHRA of today. Yeah, Wally had a lot of help, but, little gets done without a leader and that was Wally Parks. All the rest of us just orbit around in the racing and hot rod industry that Wally's organization, the NHRA, has led to.
With the rest of you, I celebrate the life of Wally Parks. He was, is, and will always be a hero, and he will occupy a special place in my heart for all of my remaining days.
Thank you, Wally!
GALE BANKS