Undercar Digest
June 2003
Winning Systems for Trucks, SUVs & Motor Homes
Although Gale Banks Engineering is one of many companies making performance exhaust systems, it takes a "systems approach" to improving horsepower, torque and fuel mileage for a niche market that includes gasoline- and diesel-powered light trucks, sport/utility vehicles and motor homes. Banks offers a variety of upgrades that include exhaust, air intake, turbochargers, and electronic fuel-calibration programmers.Gale Banks Engineering likes to get attention for its products by proving a point. The company's Dodge Dakota truck, the Banks Sidewinder, made that point Oct. 17 when it set a land-speed record for pickups – 222 mph – at the Bonneville Salt Flats using a modified 5.9-liter Cummins turbo-diesel powerplant.
In addition, it complements the performance packages with exhaust brakes and torque-converter lockup kits for specific models. Performance kits are available for full-size Dodge, Ford and Chevrolet/GMC trucks and the Jeep Wrangler. Diesel performance packages are available for 3/4-ton and larger trucks equipped with Ford Power Stroke, Dodge Cummins and Chevrolet/GMC Duramax engines and eventually will be available for the upcoming Jeep diesel models.
Gale Banks, company president and founder, has been involved in the performance business since he was 16, when he was contracted to build a racing engine for $1,100. Setting the land-speed record is not new for the company. Several years ago, Banks did it in the pickup category with a normally aspirated V-6 gasoline-powered truck called the Syclone, based on the GMC S15. That truck reached 210 mph. Prior to that, he built a third-generation modified Firebird which ran on the Salt Flats to a record 289 mph.
His resumé also includes designing prototypes of the turbocharged Volvo during the fuel crunch of the '70s and the grandfather prototype of the turbocharged Buick Grand National. Government agencies also have sought help from the company, which has built high-efficiency powerplants for crash-test vehicles used by the National Highway Traffic Safety Administration. For the second time, Banks is working with the military on engine development, this time involving a 5.9-liter Cummins engine based on the same engine used in 2003 Dodge pickups.
Banks' performance packages are designed to be top of the line but are offered in stages that are affordable for performance enthusiasts. The entry-level package for gasoline-powered engines, the Git-Kit, includes a cat-back performance exhaust; next is the Stinger, which also includes a Ram-Air intake or filter; the PowerPack® includes all those components plus TorqueTube manifolds.
On the diesel side, the Git-Kit includes a basic airflow improvement and a fuel-calibration module. The Stinger adds a Ram-Air intake or filter, a complete 4-inch stainless-steel performance exhaust, and Banks' DynaFact gauges. Stinger-Plus is the next level, adding a Quick-Turbo turbine housing. The PowerPack builds on the Stinger-Plus platform by adding an intercooler (for Ford Power Stroke applications), or High-Ram or Twin-Ram intake (For Dodge Cummins applications). The Sidewinder turbocharger package is offered for non-turbo diesels and includes Ram-Air intake and the Sidewinder turbocharging system, along with all the other necessary components. Exhaust components include muffler casings made of 409 or 430 stainless, pipes of 409 stainless and double-wall tips of 304 stainless.
Banks noted that the company's niche in designing and making "engine-power systems" provides an excellent opportunity for muffler- and undercar-shop operators to make up for flat sales in stock-exhaust replacements. And if a shop has a lift to handle school buses and utility trucks, it can become a magnet for motor home owners. Banks said the motor-home packages provide the power and torque these vehicles require to climb hills while also improving mileage at normal cruising speeds.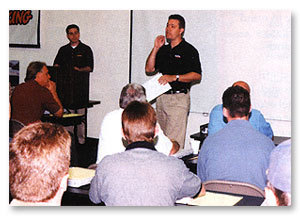 "If you're in the undercar business and you're looking for an additional profit center, don't be afraid to fly a little," he said. "For those who say 'I can't do this,' I say, 'If you can change a spark plug you can put our stuff on.' Our instructions are very good, and we have the very best illustrations. You don't have to know diesel to install our product on a diesel truck. But know this: The diesel guy gave $4,000 for that option. He's a gearhead and he wants this type of the stuff. You are now the source in your area for this kind of magic stuff, and the word gets around."
As an example, Banks said the entry-level Git-Kit for an F-250 retails to the consumer for about $700-$800, plus labor, and the PowerPack retails for about $3,200 plus labor.
Banks, who likes to deal directly with the shop operator, offers two dealer programs. Level 1 is designed for shops wanting a major profit center. Level 2 provides an easy buy-in to help establish the shop as a Banks dealer.
"There's got to be profit for the guys who are retailing this. That's why we have MAP (minimum advertised price). If you're selling my product you are free to negotiate any selling price directly with your customer, but if you advertise for more than a 5% discount we'll cease to do business with you. I don't want guys on the Internet competing against guys who have shops and all that overhead. It's unfair. As a result, we restrict the use of my artwork and logos on the Internet. If they have anything on the Internet about us, I prefer that they link to us. We have a dealer site where their customers can come and look and then go back to their site. We'll notify the dealer who linked to us about the inquiry."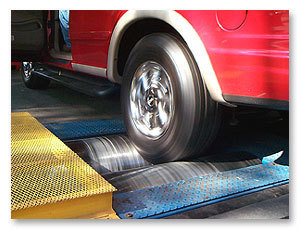 The company also regularly conducts Friday/Saturday sales and technical training seminars. Shop operators and technicians pay their way to Gale Banks Engineering headquarters in Azusa, Calif., and the company takes care of lodging and meals. Banks noted that even shop operators with a good "gift of gab" need to know the sequence of selling and how to ask for the sale.
The two questions that come to mind when people learn about Gale Banks Engineering is "Why trucks?" and "Why diesel?"
"Diesel inherently is the most-efficient engine on the market," he said. "They get 30% to 40% better fuel economy than an equivalent gasoline engine, and that efficiency is growing every year. They live two to three times longer than a gasoline engine before you have to rebuild them. However, the manufacturers leave an awful lot of luggage alongside the road as far as performance is concerned because of price and because they don't think outside the box like we do. We're California guys. I don't even know where the box is. This is the home of the speed-equipment industry, and we're racers so we think differently. We think, 'The glass is half full; I want to fill it up.' Seventy-four percent of the three-quarter-ton and 1-ton trucks produced by Ford this year were Power Stroke diesels. For Dodge, an equivalent amount were Cummins equipped. Chevrolet and GMC are constantly tooling up for more capacity. I think they're at 150,000 a year. From 1999-1/2 up, there are a million of those trucks out there.
"The beauty of diesel is the torque," he said. "If you are going to work the truck for heavy pulling or hauling, diesel is the way to go. Diesels make more torque at low engine speeds than a gasoline engine of the same horsepower rating. However, a diesel is not finished without turbocharging. Anything else is a crime against nature, as far as I'm concerned. They are real efficient with a turbocharger. Plus, the turbo gives you altitude compensation."
In making trucks and motor homes better able to climb steep grades, the company learned it also had to design an efficient exhaust brake.
"If a guy is looking for power, he's usually pulling a heavier load," Banks said. "We can get him to the top of the hill; now we help him get down the other side. After installing Banks performance packages, motorists were installing a competitor's exhaust brake, and the butterfly valve on the brake was right behind the outlet of the turbine on the turbocharger – spoiling the performance of the turbochargers," Banks said. "Our butterfly is away from there and our casting is bigger. The elbow on the Ford and the Dodge helps the turbine to increase power when it's open. We also sell it without the butterfly.
"The purpose of the exhaust brake is to keep your service brakes cool so you can use them when you need them. There's no fade, you have a 100% service, and they last longer, too. We had a test using a 1-ton truck pulling 18,000 pounds with the truck in third gear going down a 6% grade starting at 60 mph. The hill is 5.5 miles long. The vehicle got up to 72 mph before the driver chickened out and used the foot brake. With the exhaust brake, starting at 60 mph, it will slow down to the high 40s, and then you can back shift into second, never touching the foot brake, and it slowed to 26 mph."
On cold starts – when the coolant is below 125° F – Banks' computerized exhaust-brake control closes the brake to warm the engine. It opens up when you drive away. As a result, a vehicle can warm up in half the normal time, and the regular closing and opening of the brake prevents it from sticking or "carboning up," he said.
"With a normal exhaust brake, it's closed right down to idle. Ours opens up at 15 miles mph for better mileage, plus there's no turbo lag because it's open at idle."
By the end of the year Banks will offer a speed brake that works like cruise control. The driver sets the desired downhill speed and the exhaust brake takes over.
Banks Engineering continues to receive requests for additional model coverage, and the company continues to add more part numbers. Banks noted that the company is looking at many of the popular smaller SUVs and even some of the import trucks like the Tacoma and Xtera. It's not likely that Banks will be entering the sport-compact passenger-car market anytime soon. The reasoning is simple: Truck owners on average spend more on aftermarket accessories than owners of any other vehicles, and new-truck sales comprise about half of annual vehicle sales.
Meanwhile, the company continues to expand its research and manufacturing space with the recent purchase of land. Banks, who has been working closely with companies including DaimlerChrysler and Robert Bosch Corp., predicts that diesel powerplants will move to downscale vehicles in coming years.
"When that happens, we'll be ready."