Sideways Into the Record Book
Truck Trend
July/August 2003
Banks sets new world speed record with the Sidewinder diesel pickup…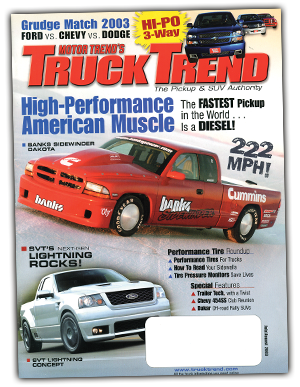 "I'll kick your ass on straight diesel"
217.314 Miles Per Hour
Quick Specs:
Engine type: 5.9-liter 1-6
Turbo boost: 48 psi
Max output: 735 horsepower
Max torque: 1300 lb-ft
Think you have a fast pickup truck? Are you convinced the big brute in your garage is at the top of the food chain? Sorry, Bunkie, it's time to settle in on the porch and watch the Big Boys at work. Unless your wheels can crank out over 700 horsepower and 1300 lb-ft of torque, it might be in your best interest to kick up your feet and crack open a cold one. Setting a new land-speed record is a bit more involved than just aiming the nose toward the horizon and planting your foot to the floor. Here's how Gale Banks put his name in the record books—again.
Banks has never thought small, and Project Sidewinder reflects that. A long-time diesel proponent, Banks felt the time was right to stuff a Banks-modified '03-model common-rail Cummins inline-six-cylinder diesel engine into a Dodge Dakota, upgrade the suspension with NASCAR-like bits, and point driver Don Alexander toward the far end of the Bonneville Salt Flats. The goal was to break 210 mph. When the salt settled, the Dakota had set a two-way record of 217.314 mph and an exit speed of 222.139 mph.
This assault on Bonneville was started in January 2002 with a Cummins supplied "Salt Quake" warmed-over engine at 393 horsepower. Having a full machine shop is handy, as Banks set about assembling the engine using as many stock production components as possible. Topped with an electronically controlled Holset HY55 variable geometry turbocharger that pumped out 48 psi of boost at 3600 rpm, the massaged engine head helped maximize airflow. Banks noted a 40 percent increase in airflow through the head after the porting work. One of the goals was to induce a high rate of swirl in the combustion chamber, increasing power as well as reducing emissions.
Any engine that develops the level of power like the Cummins will generate a huge amount of heat. On the street, the Sidewinder uses a Banks Techni-Cooler air-to-air heat exchanger. But at Bonneville, a pair of modified Cummins marine air-to-water intercoolers were utilized. Two Steward-EMP high-capacity water pumps push the cooling water from a 40-gallon tank located in the bed through the heat exchangers. The weight of the tank and water adds 400 pounds to the overall vehicle weight, from a street weight of 4800 pounds to tipping the scales in race-ready condition at 5205.
A modified engine-management computer, allowing the engine to be tailored for street and salt conditions, controls fuel delivery. Unlike some vehicles that pursue speed records using a potent brew of fuel, the Banks Sidewinder Dakota swills ordinary No. 2 diesel from a truck stop. Banks is proud to note that Project Sidewinder used "no swamp gas, no laughing gas; I'll kick your ass on straight diesel."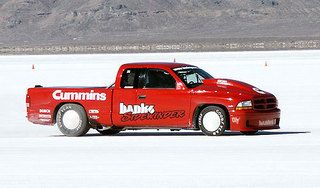 For shifting duties, Banks went with a New Venture Gear six-speed manual transmission. While it had been thoroughly blueprinted by New Venture technicians, it was filled with stock ratios, from a 5.63 for first gear to 0.73 for sixth. Robust, it tipped the scales at 300 pounds, but it handled Bonneville duties flawlessly.
On the dyno, the 5.9-liter straight-six turbodiesel punched out 735 horsepower as well as more than 1300 lb-ft of torque. During the development stage, Banks figured this was sufficient to break the 200-mph barrier, a first with a diesel pickup truck. With his extensive background in pursuing elevated speeds, he knew that a proper aerodynamic package was essential to maximizing the engine's output. A front air dam was designed, clearing the salt by only one inch with the race tires. To the airstream, a rigid, flush tonneau cover acted like a fastback, helping minimize parasitic drag. The result; driver Don Alexander noted, was a remarkably stable vehicle. "There's enough to concentrate on heading down the salt. Driving a vehicle that isn't trying to kill me makes breaking a speed record a lot easier."
Stability at speed is helped with a fitment of an unequal A-arm front suspension, using Grand National hubs and spindles, along with coil-over shocks. Aiding in high-speed stability is the four-link rear suspension with a Watts Linkage. Essentially a NASCA piece, it allowed Alexander to get the power down, despite the inherently slick conditions on the Bonneville Salt Flats.
"The hardest part of the runs was starting with minimal wheelspin. Full power comes up at only 3600 rpm, so breaking the rear tires loose didn't require any skill. Gently rolling in the torque was the key to getting up to speed as quickly as possible."
Rolling stock on the street is impressive, the front 255/45R18 Yokohama high-performance tires mounted on 18×8.0-inch Boyd Coddington Stingray forged-aluminum wheels. The huge Yokohama rear tires (295/45R20) surround 20x 0.5-inch Stingray wheels. But when it's time to chase speed records, 15-inch Circle Racing Wheels are used, holding 25.0×4.5 15 Goodyear Land Speed tires in the fronts, 8.00/8.20 15 Goodyear Land Speed tires in the rear. Rated at 300 mph, they afforded a comfortable margin of safety for the Sidewinder.
| | |
| --- | --- |
| Power, with Fuel Economy? | High horsepower usually means low miles per gallon. But that's not always true when you bring a powerful diesel engine into the equation. In fact, Banks tells us, with only a few modifications in the Dakota's "street configuration" (meaning lower gears, DOT-approved street tires, and less aggressive fuel injectors), the vehicle did a respectable 21.1 mpg over their standard fuel-economy course through Southern California. Even when you factor in these qualifications, the combination is still good for 192 mph and delivers over 600 horsepower, with more than 1000 lb-ft of torque |
This street-driven pickup hasn't seen the last of the salt. In 2003, Banks plans to return to Utah, dial up more boost, and break his own records. Having set nine records in seven runs in 2002, he has his work cut out for himself. But, by his own admission, up to 60 percent is still on the table regarding engine development. Banks foresees the Sidewinder cracking 240 mph. Anyone wanting to challenge his ability is welcome to show up on the salt. Just bring a comfortable chair.