Tiny Mavericks, BIG acceleration
Nestled between the conventional-sized trucks in Bank's North Engineering is a pair of tiny Mavericks. Both of these pint-sized trucks (one powered by a turbocharged 4-cylinder and the other the hybrid model) are visiting the Engineering Department for PedalMonster Reverse-Safety feature development and iDash DataMonster OBD-II PID (parameter research).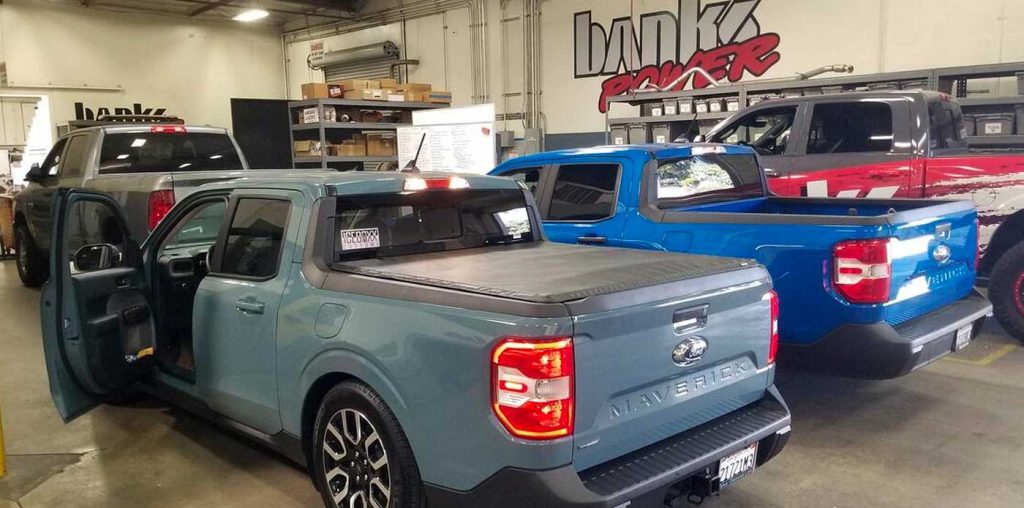 This new offering from Ford is a flashback to what the Ranger used to be before it plumped up. Look at the size comparison between the old Ranger and the all-new Maverick. You'll see that it's a tiny Maverick!
2008 Ranger
Height 67.7 in.
Length 203.6 in.
Width 69.4 in.
Wheelbase 125.9 in.
2022 Maverick
Height 68.7 in.
Length 199.7 in.
Width 72.6 in.
Wheelbase 121.1 in.
Ford boasts that the all-new Maverick is flexible, fun, and affordable. These tiny Mavericks will pack a powerful punch with the PedalMonster, which was designed for perfection.